Did you win one of the $25,000 in prizes we gave away at the National yesterday? We've got he recap for you to see if you are a big winner! We also wrapped up the National in Chicago with a dinner of epic proportions, got to meet a few more of you wonderful break-a-manicas, and had Brody the Kid on the show!

WHAT A WEEK! We just finished the National in Chicago and we had to go out in style. For our final guest, Leighton brought on Brody The Kid to open up 2018 Panini Contenders Basketball as we looked for a Luka Dončić rookie card. Brody has been in our hobby a while and loves trying to bring more kids like him into the card world. Hear about Brody's time the National, and his plans for the next convention!
BRODY THE KID
Thanks for joining us, Brody! Hopefully we can be on YOUR show at the next convention.
EVENT WINNERS
What better way to polish off the amazing days the crew had here with you than to give away over $25,000 in prizes! You've been entering our big EVENT all month long and it's time to dish out the goods. See if you're winner:
BREAK-A-MANIACS (BAM) APPRECIATION
This was a very special prize - you couldn't buy in! The only way you earned a spot in this promotion was through bonuses on our shows such as answering trivia questions, as a prize in our social media, or maybe making us laugh!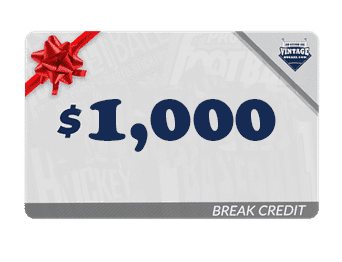 Tyler Y =

$500

Just Collect eBay

Store Credit
Ryan Steele =

5,000 Count Box with Vintage & Modern Cards

Ryan Steel =

Vintage Breaks Team-Signed Baseball + $50 Break Credit

Joseph B =

Vintage Breaks T-Shirt + $25 Break Credit

Ryan W =

Vintage Breaks Oversized Break Mat + $25 Break Credit

Jason L =

Vintage Breaks Graded Card Holder + $25 Break Credit
BUY ANY SPOT PROMO
We gave away 25 prizes in this promo! All you needed to do was simply buy anything - any spot - and you were entered! We'll list the top 3 winners here but be sure to watch the video below to see if you won any additional prizes!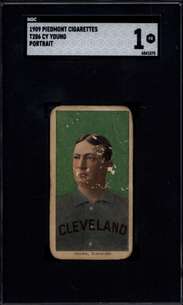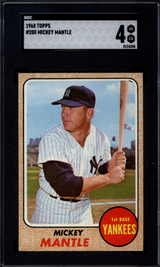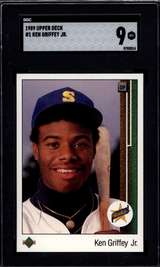 VIP BONUS PROMO
For every $1,000 you spent during our event, you earned an entry into the VIP Bonus promo with three huge prizes!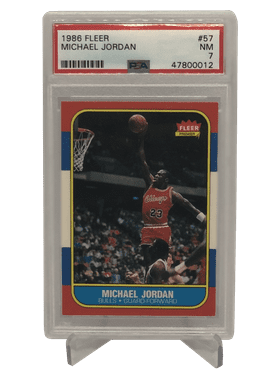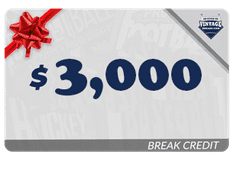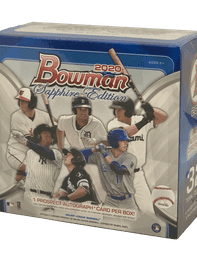 PLATINUM VIP BONUS PROMO
For every $4,000 you spent during our event, you earned an entry into the PLATINUM VIP Bonus promo with this huge prize!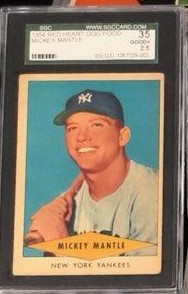 VIDEO OF EVENT WINNERS
CONGRATULATIONS to you all! We're so excited to give back to the best community out there; you are THE BEST.
FREE MICHAEL JORDAN ROOKIE CARD
We gave away a FREE 1986 Fleer Michael Jordan rookie with our friends Buster Scher and Otia Sports.
BIG CONGRATS to our Instagram winner, jblockwood513! A PSA 8 MJ rookies is yours for FREE!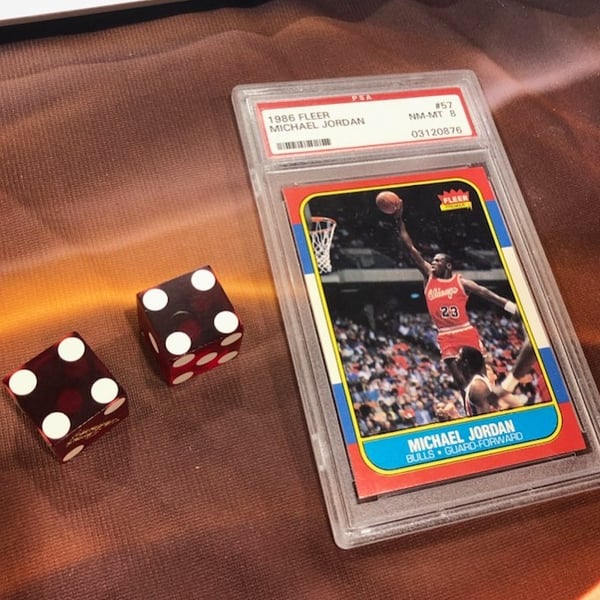 MEETING YOU
All week long you took the time to stop over to the VB booth #1519 and spend a few minutes with us. THANK YOU!
Day 1 we got to meet Scott Brewer, Mike Keller, and Brian Hawbaker.
Day 2 Jace and Dom Mancini came for a visit.
Day 3 brought Kevin W to the National
James The Threat Ector stopped by on Sunday with his sweet Karma Records t-shirt.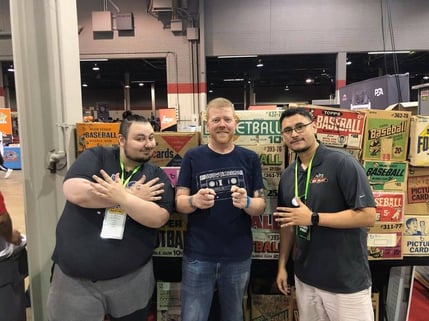 Charles Perry also rolled through to the VB booth - Hey, Chares!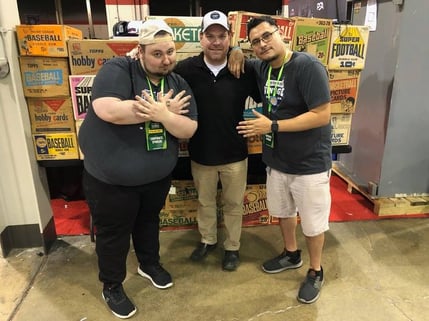 We got to chat with Tom O'Connor, JJ Grube, Mike Duerr, and Alex George! Thank you each for taking the time out of your day to hang with us.
If you came to the VB booth and grabbed photos, please send them our way; we'd love to post your pictures here on our blog!
WILT, THE BIG O, NEW BREAKERS, AND CHICAGO NEWS
Say that ten times fast...
Just to relive some of the crazy, fun time we had here in Chicago, look at what went down!
BIG DINNER AND JK'S GUM WORLD RECORD
Since arriving at the National, JK set out to break a world record for most vintage gum eaten. We kept you updated on his daily progress, but we're sad to say that JK fell just short. Heck of at try, though, JK. "The Beard" wanted to make sure we knew he wasn't a quitter and wanted to show off his amazing gift of putting away massive amounts of food with a big dinner. Behold - the before and after photos of what the team ordered. Note the size of JK's plate...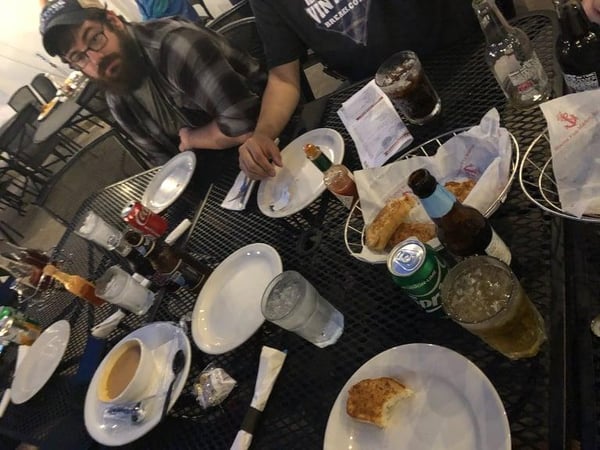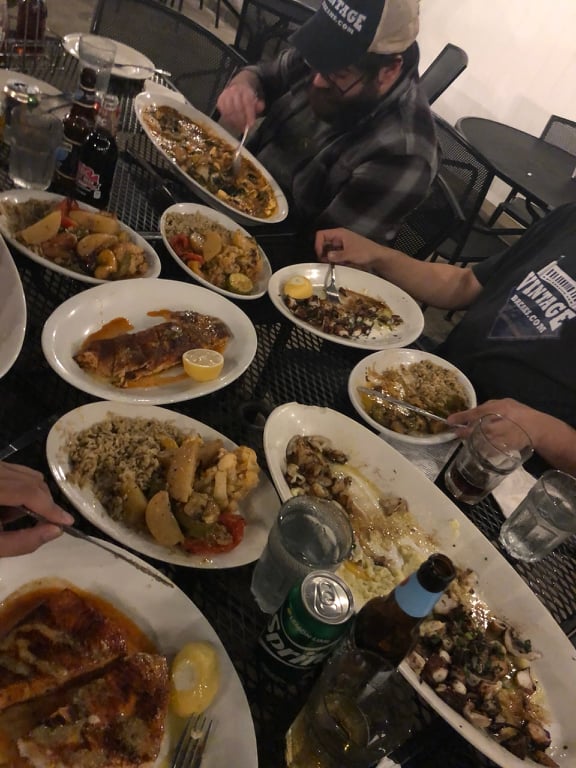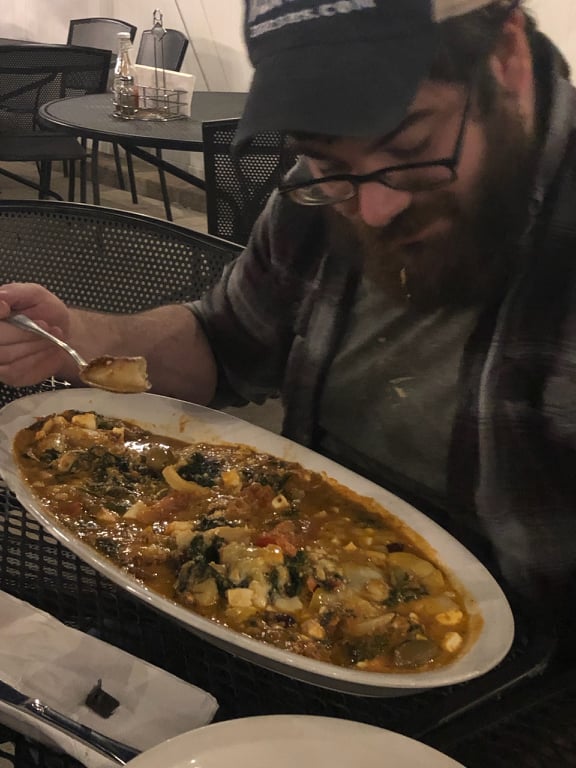 Thank you, thank you, thank you, Break-A-Maniacs! We can't wait to see you at the National in 2022!
Special shout out to the entire VB TEAM from everyone at the show to Kris, Lilly, and Ken working back in the NJ office. An entire team effort.
WHY CHOOSE VINTAGE BREAKS?
Vintage Breaks offers THE BEST VALUE IN BREAKING.
When you check out for a spot on the site, the price you see is the price you pay. Taxes and shipping are included! Your cards always come protected in holders. The last time you mailed a package out had to have set you back more than three bucks, right? If you buy a $3.00 spot, you get your card holdered and shipped for that price.
You NEVER go home empty-handed. You always get your spot! Unlike team breaks or division breaks where other breaking companies may pocket your cash and send the unlucky home without a card, you always get your spot at Vintage Breaks.
Lack of product in stores has been a problem; we see the same empty shelves that you do. Target has paused all card sales! If you can't find cards, Vintage Breaks is your solution!.
FUN! Cards are our passion! Isn't is just more fun to chat with other collectors? Come hang with us and other collectors just like you during our breaks.
Even if you just want to watch the show, chat, and meet new collectors, that's always welcomed!
A Vintage Breaks, we have our main breaking show in New Jersey (The North), to go with our night owls in the South (Georgia), and the West (Arizona). You can always check our CALENDAR to see when we're breaking.
CONTACT US ANY TIME
If you have any questions about a product, break, shipping, or even if you're interested in SELLING a collection, reach out any time!