History was made on the Main Stage at the National just minutes ago! We broke a 1969 Topps basketball wax pack for you and out came two, eye-popping Hall of Famers - back-to-back! Look at these beauties, and how Leighton nearly fell out of his chair.
Day 4 of the National has been our biggest yet! Yesterday we had some amazing trades that included a signed 1954 Topps Hank Aaron rookie card. Earlier in the week, Fox 32 News sat with us during a break and we pulled back-to-back Hall of Famers from 1978 Topps cloth baseball live on the news. A Diamond autograph of Mike Trout highlighted Day 1 of the National. We couldn't possibly top any of that today, right? Our team didn't have one more bit of National magic, did they? Yes, yes they did!
1969 TOPPS BASKETBALL WAX PACK BREAK
At 3:00 PM, the VB crew strolled to the main stage of the National with a sealed pack of 1969 Topps basketball in their hands. With ten spots in the break, the crowd began to circle in hopes to witness history. In 2018 we were able to pull Mickey Mantle out of a sealed pack of 1955 Bowman baseball at the National! We wanted to top Mickey for our customers and try to score HUGE out of '69 basketball.
As the countdown begun, our friends at Heritage Auctions came with us. PSA was in the building, waiting to see if some cardboard gold needed their grading services. We brought our card savers, phones, and whole crew. We were ready!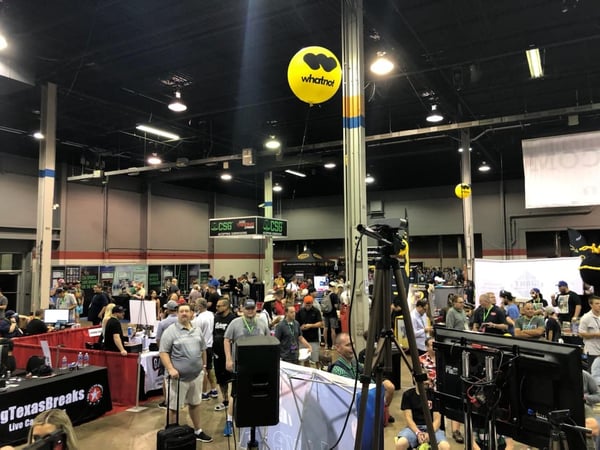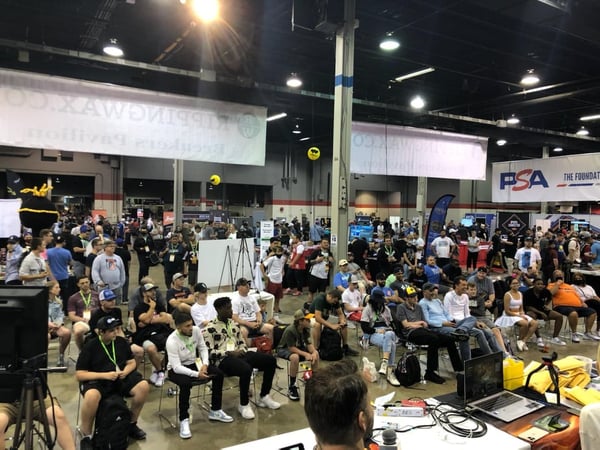 You never know what's hiding in a wax pack. Sometimes you pull Monsters and other times Duds, but we're with you every step of the way. We celebrate in your joy when you pull a card you love and share your pain when the wrong cards come your way. Vintage Breaks lives vicariously through you with each card you pull. You can only imagine our anticipation when the clock struck 3:00 PM. Then, this happened:
BACK-TO-BACK Hall of Famers! Wilt Chamberlain, card #1 in the set, and card #50 of the Big O, Oscar Robertson were in this pack!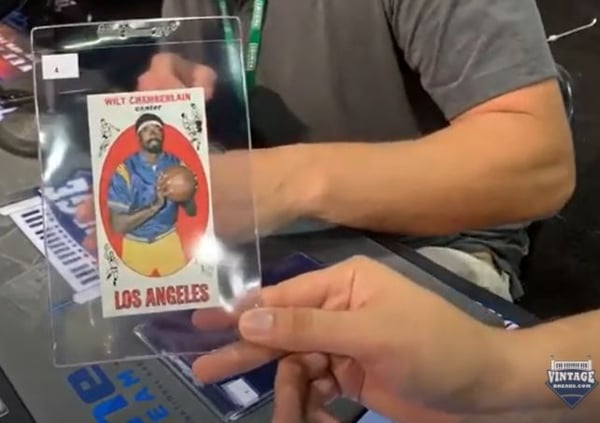 We are walking the Wilt over to PSA for grading as you read this! Can't wait to see how this grades for you, JJ Grube! Once the grade comes in we will post a follow-up and take up-close photos for you. Stop by booth #1519 if you're here at the National and see the other cards from the pack! We'll be shipping these beauties out to our break-a-maniacs the second we're back at the Vintage Breaks office on Monday morning. Congratulations on these pack-fresh pulls!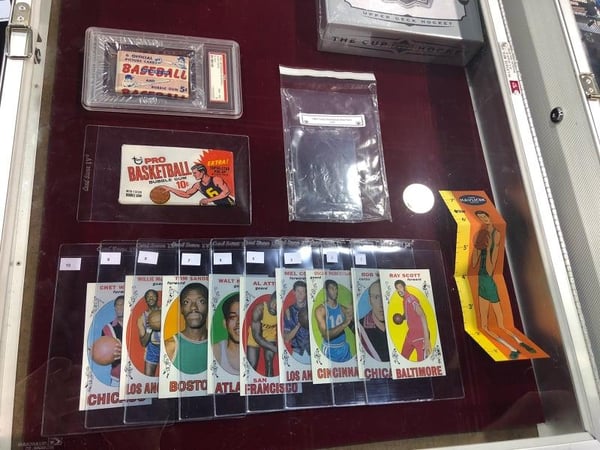 UPDATE - WILT IS BACK FROM PSA!
PSA graded the Wilt this morning! A solid 7 was assigned this this gorgeous, pack-fresh Wilt Chamberlain. Congrats again, JJ!
WHY CHOOSE VINTAGE BREAKS?
Vintage Breaks offers THE BEST VALUE IN BREAKING.
When you check out for a spot on the site, the price you see is the price you pay. Taxes and shipping are included! Your cards always come protected in holders. The last time you mailed a package out had to have set you back more than three bucks, right? If you buy a $3.00 spot, you get your card holdered and shipped for that price.
You NEVER go home empty-handed. You always get your spot! Unlike team breaks or division breaks where other breaking companies may pocket your cash and send the unlucky home without a card, you always get your spot at Vintage Breaks.
Lack of product in stores has been a problem; we see the same empty shelves that you do. Target has paused all card sales! If you can't find cards, Vintage Breaks is your solution!.
FUN! Cards are our passion! Isn't is just more fun to chat with other collectors? Come hang with us and other collectors just like you during our breaks.
Even if you just want to watch the show, chat, and meet new collectors, that's always welcomed!
A Vintage Breaks, we have our main breaking show in New Jersey (The North), to go with our night owls in the South (Georgia), and the West (Arizona). You can always check our CALENDAR to see when we're breaking.
CONTACT US ANY TIME
If you have any questions about a product, break, shipping, or even if you're interested in SELLING a collection, reach out any time!