Fox 32 News in Chicago was kind enough to drop by the Vintage Breaks booth at the National and watch a few breaks we did for you! Look what popped out of a 1977 Topps cloth pack, live on the news!

The National has been AMAZING! On Day 1 we pulled a Autographed, Diamond, Relic, Gold of MIKE TROUT out of Diamond Icons, saw Bill Russell's Olympic Gold Medal, and met you fine Break-A-Maniacs in-person. Day 2 saw us buy a 1970 Topps baseball sealed wax pack to break for you, a display of rare tickets including a ticket to Prince Charles and Princess Diana's wedding (holy moly!), and the chance to meet you at our booth #1519 again. While we were breaking a pack for you, Fox 32 News stopped by to watch a break!
Ryan Steele and Steve Z bought into out 1977 Topps baseball cloth pack when Joanie Lum from FOX 32 asked Leighton and S10 if they could learn more about breaking Vintage Breaks. We were delighted to have Fox join us for the break!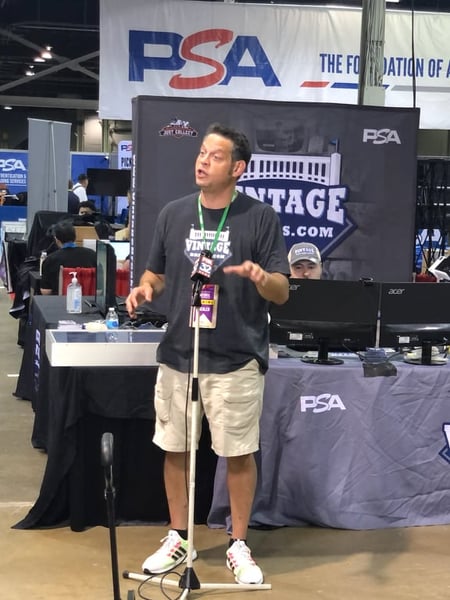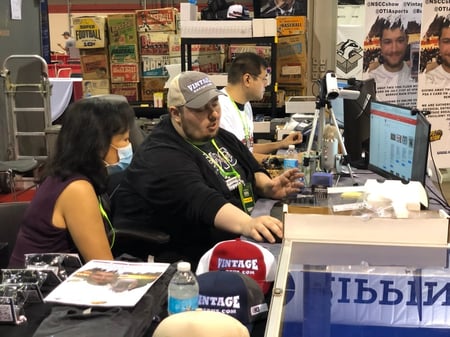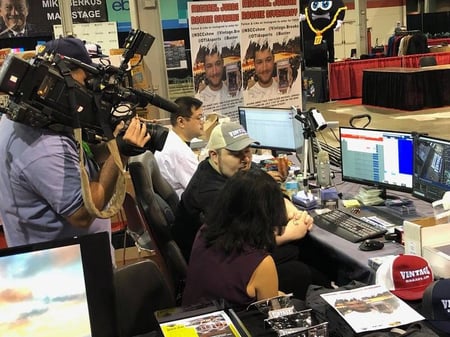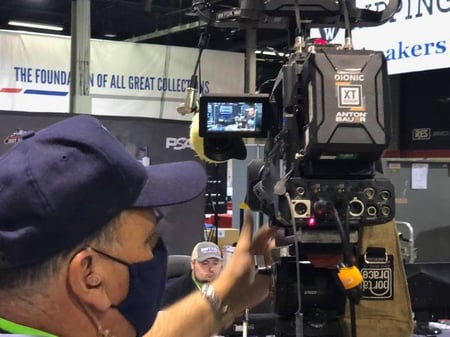 Fox 32 was brining the luck today as we hit TWO Hall of Famers in the pack! Jim Palmer AND Reggie Jackson both came out of this 1977 Topps cloth pack for Ryan and Steve! Congrats!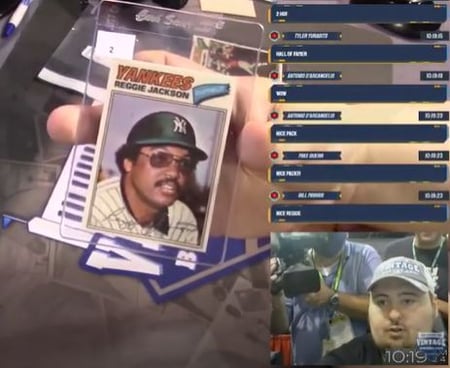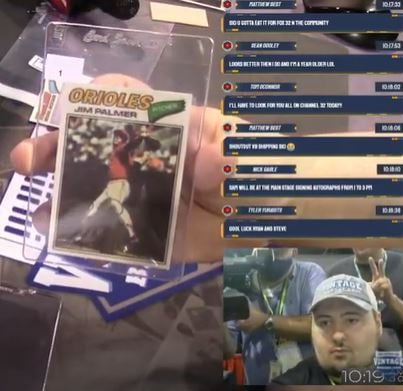 With that kind of luck, wonder if we can get Fox 32 to come watch us break the 1969 Topps basketball pack on the Main Stage this Saturday 🤔
You can see the FULL NEWS STORY HERE! Catch the entire interview with their staff. Thank you very much, Fox 32 and Joanie Lum!
We're going to tell Mama S10 and Leighton's wife, Julie, and son, Crosby, how famous we are right now, but we'll be back at the National all day today. Come stop by the booth! Say hi to the team; we're all here. You can also buy our spots into any break we have for you right here.
CONTESTS!
You still have time to enter our contests, too! We're giving away a FREE MICHAEL JORDAN ROOKIE that you can read about here. $25,000 in prizes is also up for grabs in our big EVENT that you can get in on here.
WHY CHOOSE VINTAGE BREAKS?
Vintage Breaks offers THE BEST VALUE IN BREAKING.
When you check out for a spot the site, the price you see is the price you pay. Taxes and shipping are included! Your cards always come protected in holders. The last time you mailed a package out had to have set you back more than three bucks, right? If you buy a $3.00 spot, you get your card holdered and shipped for that price.
You NEVER go home empty-handed. You always get your spot! Unlike team breaks or division breaks where other breaking companies may pocket your cash and send the unlucky home without a card, you always get your spot at Vintage Breaks.
Lack of product in stores has been a problem; we see the same empty shelves that you do. Target has paused all card sales! If you can't find cards, Vintage Breaks is your solution!.
FUN! Cards are our passion! Isn't is just more fun to chat with other collectors? Come hang with us and other collectors just like you during our breaks.
Even if you just want to watch the show, chat, and meet new collectors, that's always welcomed!
A Vintage Breaks, we have our main breaking show in New Jersey (The North), to go with our night owls in the South (Georgia), and the West (Arizona). You can always check our CALENDAR to see when we're breaking.
CONTACT US ANY TIME
If you have any questions about a product, break, shipping, or even if you're interested in SELLING a collection, reach out any time!