After a stellar Day 1 at the National, we are still here having a blast in Chicago! We brought a few special guests onto the show today, bought some vintage wax you'll love, and saw even more jaw-dropping treasures. RARE and we mean rare tickets are on display with a special anniversary today. We'll also check in on JK who was attempting to break the world record for eating the most pieces of vintage gum. Do NOT tell Leighton we took the photo of him at the end of this blog either 😂

A lot of action was happening at the Vintage Breaks booth #1519 here at the National. on Day 2! We found you a few gems in both vintage and modern breaks, had a very special guest on the show, saw even more ridiculously cool memorabilia, shopped the floor to get you new stuff to break (PS, we found something AWESOME), and we were able to meet you at our booth! We also spotted a rare ticket to a royal wedding that happened 40 years ago today!
We're also going to make sure JK is still kicking after his attempt at breaking a world record; he went HARD on some really gum earlier.
VINTAGE WAX FOR YOU
Leighton was on the floor today, shopping for new products we can break for you. Today the boss came back with some beauties you're going to love!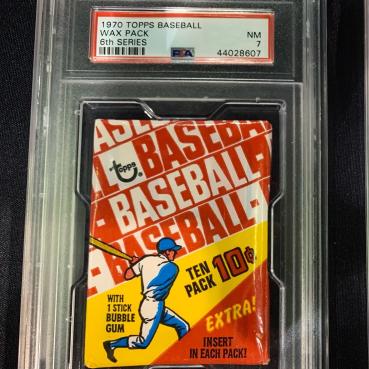 Imagine a pack-fresh Pete Rose coming out of this pack. The PSA pop report has only 4 graded packs from '70!
1971 O-Pee-Chee Hockey 2nd series wax pack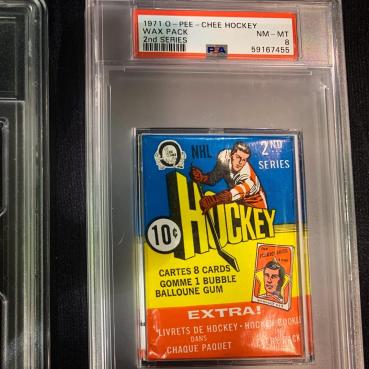 Is a Guy Lafleur rookie lurking in here? Can't wait until we can offer this pack for you when we get home from the National!
RYAN SCHULTE LOOKS FOR DONNIE BASEBALL
Friend of VB, Ray Schulte, The Director Of Media Relations for the National this year. Ray is also the agent a guy we LOVED pulling out of packs back in the '80's - Don Mattingly! We were thrilled to do something special today by having Ray's son, Ryan, open a pack of 1984 Donruss and go hunting for a Donnie Baseball rookie:
VINAGE AND MODERN LOVE
You asked us to break you both vintage basketball and modern today, and we hit on both! From a 1977 Topps basketball pack, S10 pulled Adrian Dantely's rookie card!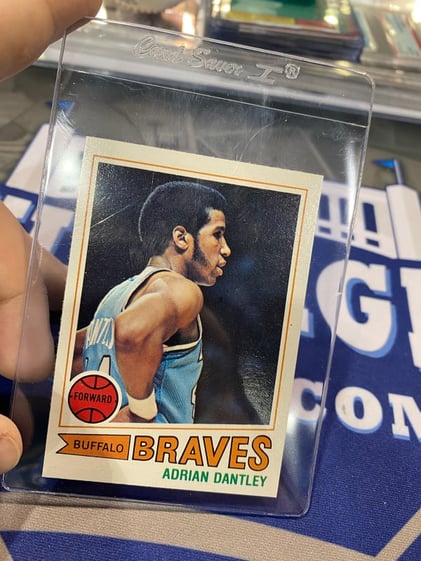 In the same 2021 Prizm Hanger box , TWO LaMelo rookies emerged.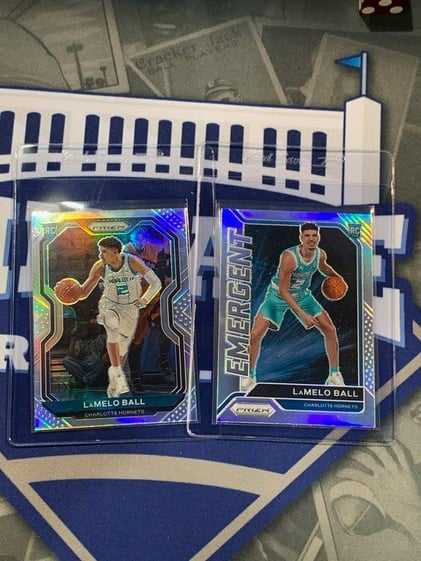 IMMACULATE TICKET COLLECTION
Darren Rovell brought his personal ticket collection today. There are rare tickets, autographed tickets, and tickets to some of the coolest events ever to take place.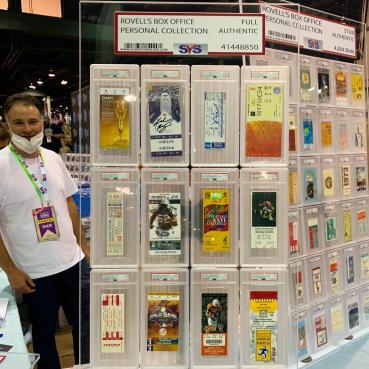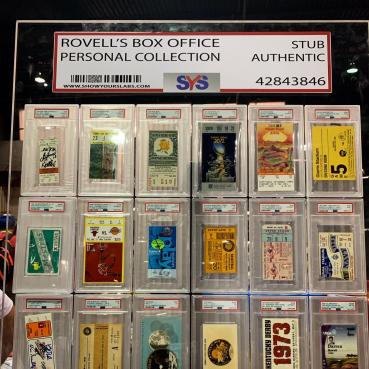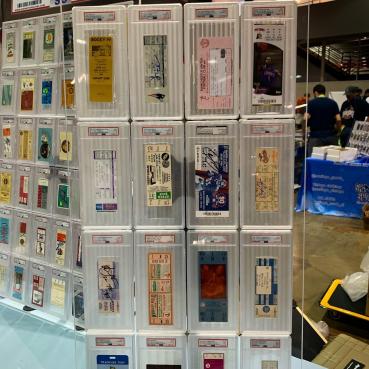 Aside from rare tickets to sporting events, there are some unique items you'll only see here at the National - Rovell has a ticket and program from Prince Charles and Princess Diana's wedding that took place 40 years ago today! Wednesday, 29 July 1981, at St Paul's Cathedral in London, United Kingdom. How in the world did he get this...
PACK-FRESH KAREEM ABDUL-JABBAR ROOKIES?
While walking the floor, we found a sealed box of 1969 Topps basketball that could hold a pack-fresh Kareem Abdul-Jabbar rookie! Look at the price tag: $500,000 +!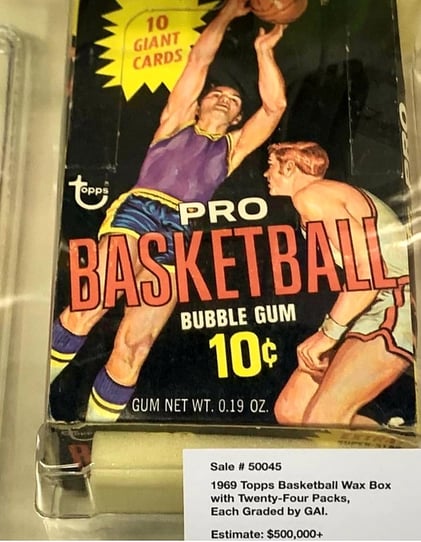 Only because it's you, we'll let you in a on a little secret: we're going to open one of these packs! Saturday on the main stage here at the National, we are breaking a pack of 1969 Topps and we can't wait! Check it out HERE.
MEETING YOU!
If you're at the National, please don't hesitate to come say hi! Stop by the VB Booth #1519; we'd love to meet you! Today some our favorite beak-a-maniacs came over - Jace and Dom Mancini are here with J5 and S10!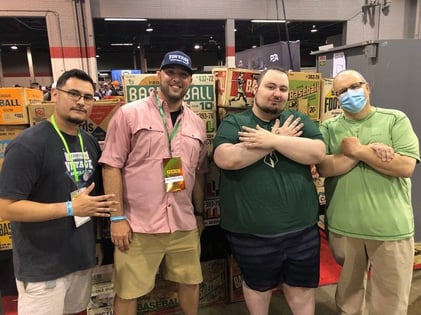 WILL JK BREAK THE WORLD RECORD?
Yesterday we told you that JK was on a mission to break the world record for eating the most pieces of vintage gum. The man is still chowing down!
S10 found a real ...err...tasty piece of gum from 1988 OPC hockey. "The Beard" stepped up to the plate and added to his count!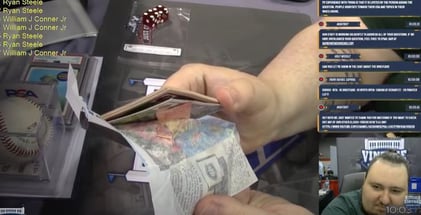 LEIGHTON AND TECHONOLGOY
"L-Train" is the owner of Vintage Breaks. If you ever want to get to know our team, here are some fun bios! Usually it's a good rule not to laugh at the big cheese; he signs our checks. However, it's 2021 - we have robots that clean our floors and movies on our phones. ...and L-Train still takes his notes with pen and paper. Don't tell Leighton we took this photo; we like getting paid.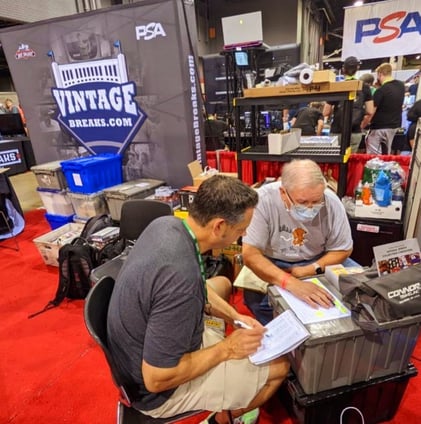 CONTESTS!
You still have time to enter our contests, too! We're giving away a FREE MICHAEL JORDAN ROOKIE that you can read about here. $25,000 in prizes is also up for grabs in our big EVENT that you can get in on here.
WHY CHOOSE VINTAGE BREAKS?
Vintage Breaks offers THE BEST VALUE IN BREAKING.
When you check out for a spot the site, the price you see is the price you pay. Taxes and shipping are included! Your cards always come protected in holders. The last time you mailed a package out had to have set you back more than three bucks, right? If you buy a $3.00 spot, you get your card holdered and shipped for that price.
You NEVER go home empty-handed. You always get your spot! Unlike team breaks or division breaks where other breaking companies may pocket your cash and send the unlucky home without a card, you always get your spot at Vintage Breaks.
Lack of product in stores has been a problem; we see the same empty shelves that you do. Target has paused all card sales! If you can't find cards, Vintage Breaks is your solution!.
FUN! Cards are our passion! Isn't is just more fun to chat with other collectors? Come hang with us and other collectors just like you during our breaks.
Even if you just want to watch the show, chat, and meet new collectors, that's always welcomed!
A Vintage Breaks, we have our main breaking show in New Jersey (The North), to go with our night owls in the South (Georgia), and the West (Arizona). You can always check our CALENDAR to see when we're breaking.
CONTACT US ANY TIME
If you have any questions about a product, break, shipping, or even if you're interested in SELLING a collection, reach out any time!