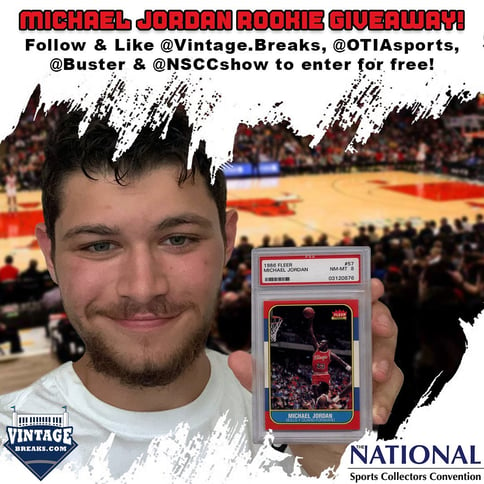 WIN A 1986 FLEER MICHAEL JORDAN ROOKIE CARD PSA 8!
The National Sports Collectors Convention is less than a month away and the Vintage Breaks office is buzzing with excitement. With the cancellation of the 2020 event, we are excited to get back out there and mix it up with other sports fanatics. Over the last year, the sports card hobby has exploded in size and we want to celebrate all of the new Break-A-Maniacs that have recently found the hobby. We figured the best way to welcome our new friends would be to create a giveaway focusing on introducing them to the Vintage Breaks Community and process. Together with our partners Buster Scher, Otia Sports, and The National, we will be giving away a PSA 8, 1986 Fleer Michael Jordan Rookie Card!

Vintage Breaks is proud to do things a bit differently and this giveaway is no different. We will be choosing 100 total entries for this giveaway. 50 entries will be selected from Instagram and 50 will be chosen from physical registrations taken during The National at the Vintage Breaks booth inside the Breakers' Pavilion.

HOW TO PARTICIPATE
PARTICIPATE ON INSTAGRAM:
PARTICIPATE IN PERSON AT THE NATIONAL:
You can enter to win a spot in the contest at the Vintage Breaks booth in the Breaker's Pavilion at The National! 50 entries will be chosen at random from new registrations made in person between 7/28/21 and 7/30/21. Keep a lookout for Sophia who can register you on the spot! She will be at the Vintage Breaks booth sporting a Vintage Breaks t-shirt! As an added bonus for new Break-A-Maniacs that are attending the show, new registrants will get a spin on the Wheel of Giveaways to win prizes including Break Credit, Vintage Cards, Packs, and Vintage Breaks swag!
Look out for Sophia: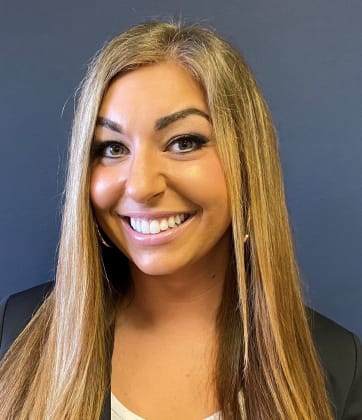 WINNER ANNOUNCEMENT
Once we lock in all 100 registrations, we will be announcing the giveaway winner on Saturday, July 31st at 4pm at The National on the Mike Berkus Main Stage. If the winner is not present at the national, they will be notified via email.
If you registered with VintageBreaks.com prior to 7/1/2021, there are still a handful of ways to get involved with our giveaways! In fact, we will be giving away over $25,000 in prizes at the National! Check out our National Event Blog for complete details on how to participate!