Very special guests stopped by booth #1519 at the National today, Leighton bought a MONSTER of a surprise you won't believe until you see, and trade night just wrapped up as we close in on the midnight hour here in Chicago!
Day 3 just wrapped at the National but we're still wired! We JUST finished a fun trade night at the Vintage Breaks after party. We had some incredible guests stop by the booth and holy moly did Leighton find an absolute treasure at the show. Think we found a new breaker to join our team, too; Let's meet future breaker, Will!
WILL THE KID - OUR NEW BREAKER?
During a break, Gilmore spotted a kid in the crowd rocking a throwback Hakeem Olajuwon jersey. Naturally "Uncle Gilmore" had to bring Will on camera to break 2020 Illusions basketball. Here is what Will pulled: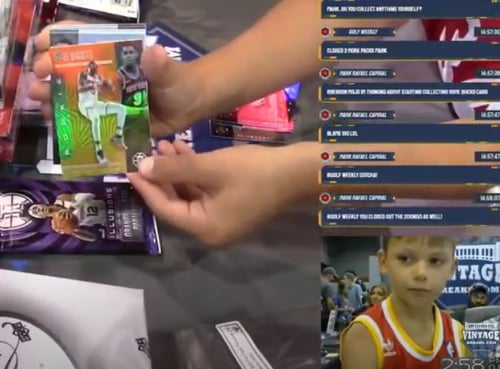 Nice RJ rookie, Will! We're already thinking about trading "The Beard", JK and a box of 1993 Topps baseball to get you on our breaker team. Speaking of JK - we told you yesterday that he was on a mission to set the world record for most pieces of vintage gum. How is JK doing?
JK'S GUM WORLD RECORD
Day 1 put a hurting on JK after he ate gum from a 1977 Topps cloth pack. Yesterday he successfully downed gum from 1988 OPC hockey. We thought a little prank was in order so when we ordered breakfast and coffees for the team, we gave JK simply a pile of gum from yesterday's pulls. He was not pleased: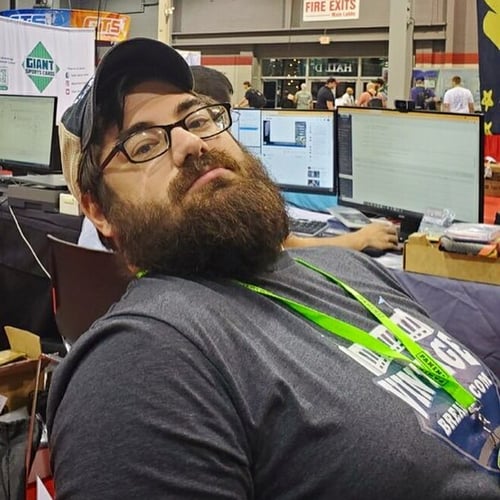 We'll check on the tally from today and let you know how many pieces of gum JK has downed so far!
RICH MUELLER FROM SPORTS COLLECTORS DAILY
Our friend, Rich, from Sports Collectors Daily sat down with Leighton to open a 1978 Topps baseball wax pack. After catching up for a bit the duo rips into a 1978 Topps Baseball Wax Pack and pulls a Lance Parish rookie!
BUSTER RIPS 1988 FLEER BASKETBALL
Buster stopped by the VB booth to prep for the FREE MICHAEL JORDAN ROOKIE CARD we're giving away! If you haven't entered yet, it's free to do so HERE!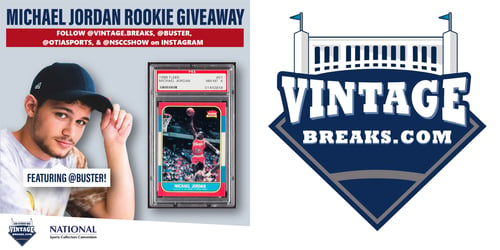 Naturally we wanted to open vintage hoops and try to pull and MJ so we grabbed a 1988 Fleer wax pack. MJ is in this set along with Reggie Miller or Dennis Rodman rookies. Can Buster pull the heat?!
Did you see what Leighton teased at the end of the video!? This is a 1952 Bowman baseball pack. Only at the National can you find something like this! Hopefully we can offer this for you on VintageBreaks.com!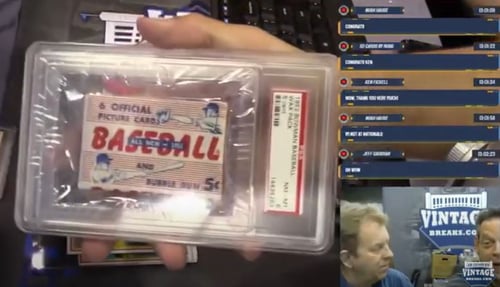 MEETING YOU!
If you're here at the National, make sure you stop by the VB booth! We're having a great time meeting you and all the break-a-maniacs this week! Here is an O.G. VB'er - Kevin W along with J5.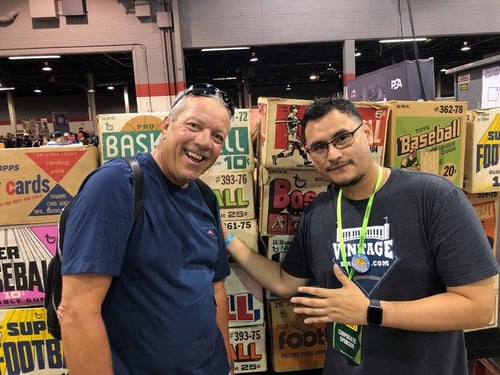 TRADE NIGHT AT THE AFTER PARTY
After the show it's the after party! We invited you to a special, VIP party to enjoy some food, drinks, and make trades! We started out with Charlie G from VB West looking to trade modern studs like Ohtani and Soto for a vintage Clemente.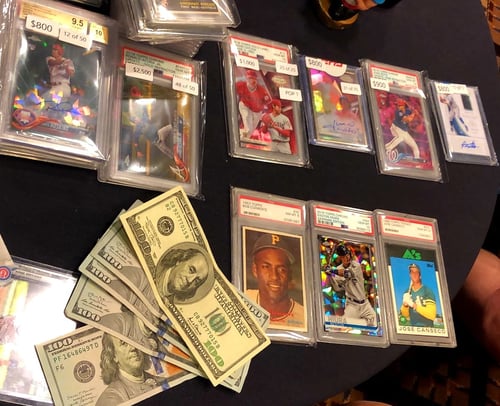 Drew got behind the camera to watch Gilmore from VB South get in on Mosaic football.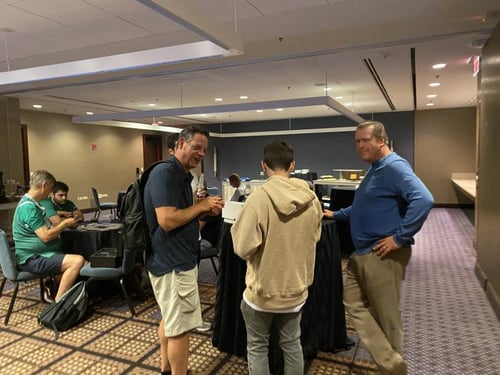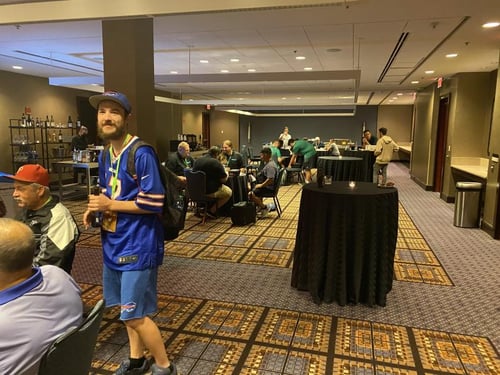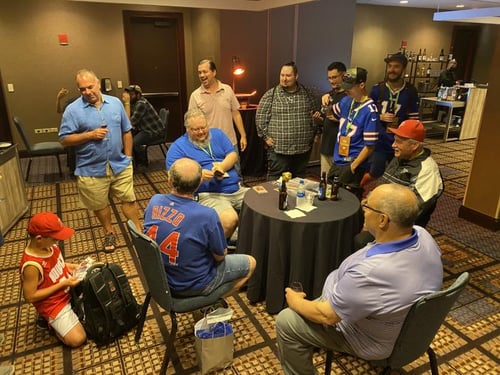 Usually no phones are allowed at the After Party but this is TRADE NIGHT! We want to capture some of the action, and we're glad we did. Rob Giese and Leighton worked out a deal that included a signed 1954 Bowman Hank Aaron rookie card!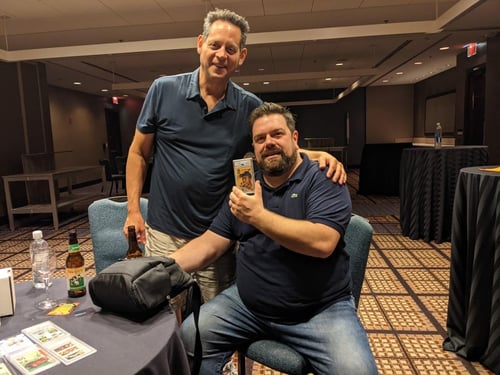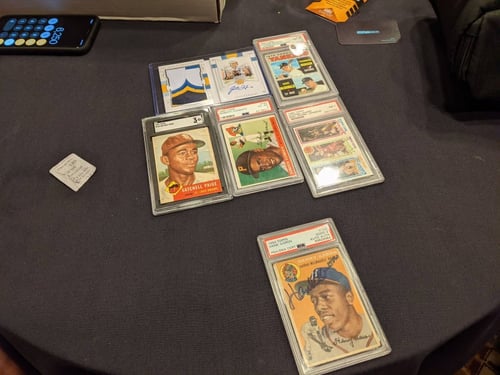 THANK YOU for coming out to trade night with us! Loved making all of these trades with you tonight. So happy you each could come out and join us.
BEHIND-THE-SCENES
The VB team is working hard and still going strong! Thought you'd enjoy a few photos of what happens behind the camera!
L-Train: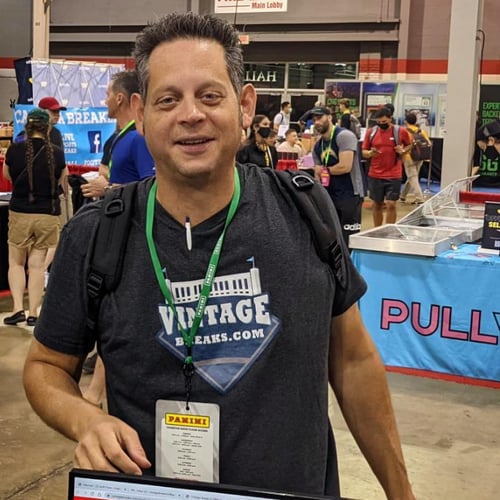 Gilmore: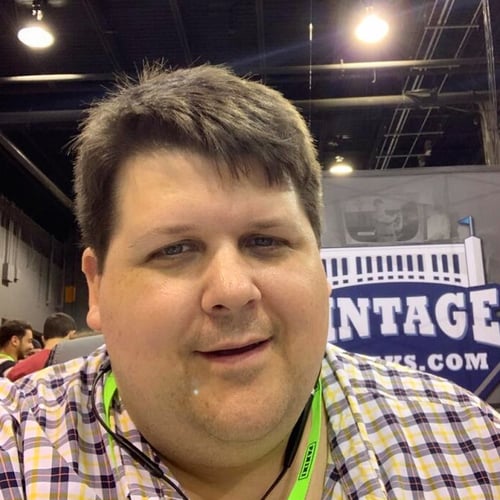 Charlie G: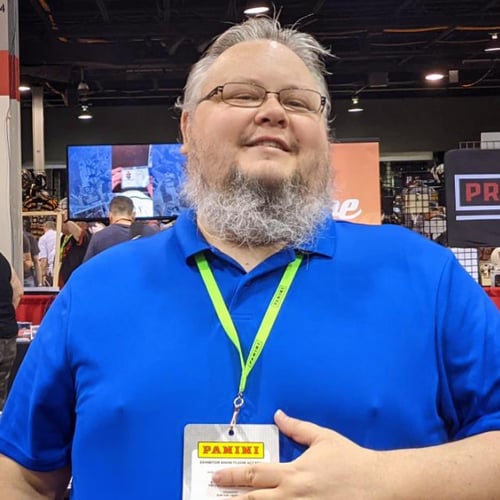 Mark:
S10 (with the "Why you taking my photo at 6:00 AM?" look):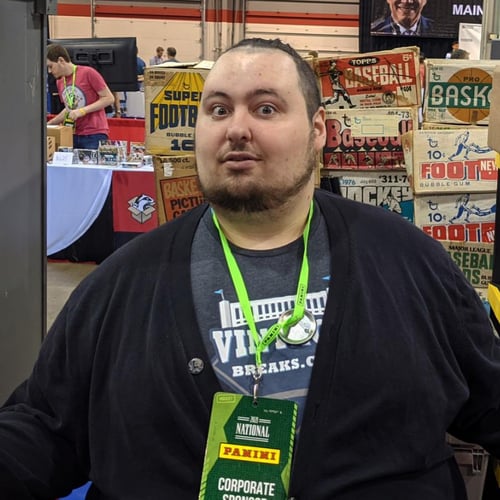 Drew: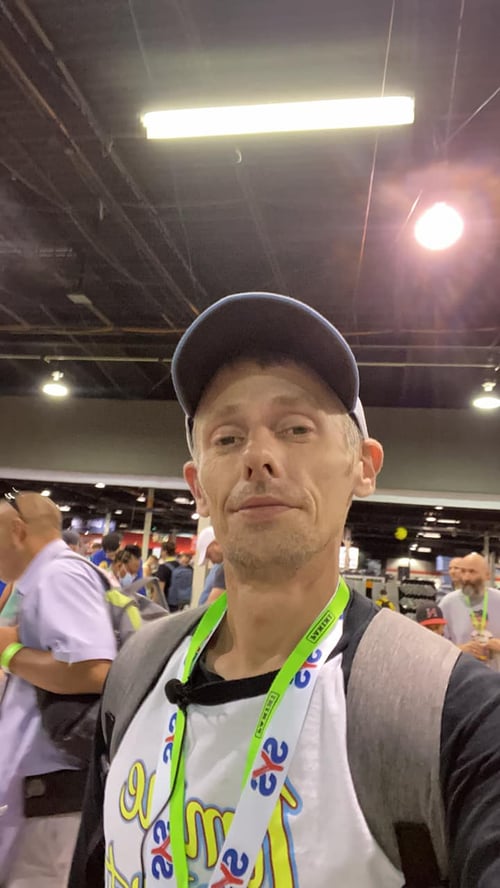 J5: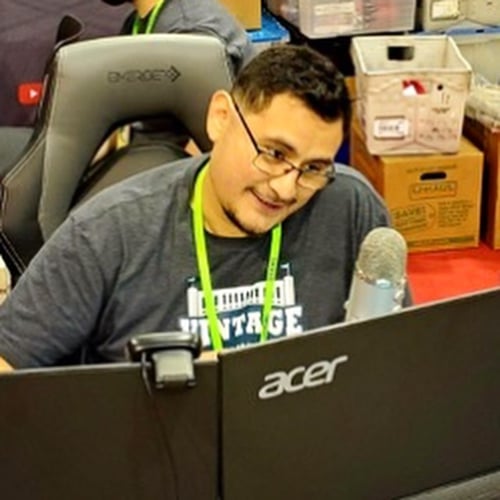 Sophia: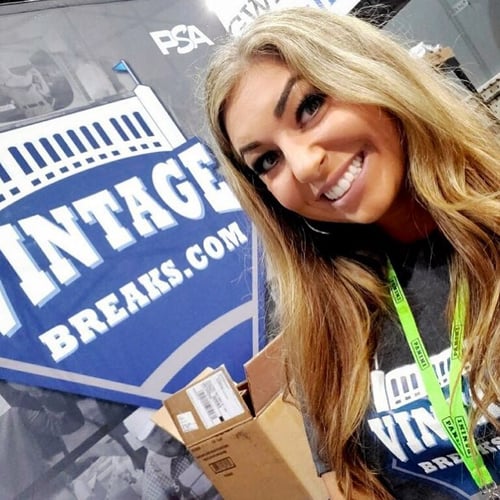 If you're at the National and haven't registered for FREE on VintageBreaks.com yet, stop at booth #1519 and talk with Sophia! She'll get you all ready to get in on your first break with us!
CONTESTS!
You still have time to enter our contests, too! $25,000 in prizes is also up for grabs in our big EVENT that you can get in on here.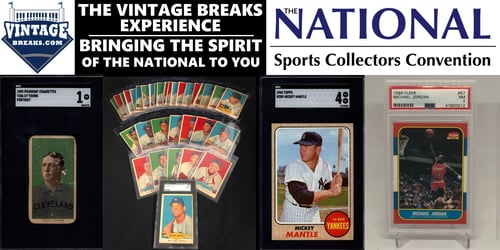 WHY CHOOSE VINTAGE BREAKS?
Vintage Breaks offers THE BEST VALUE IN BREAKING.
When you check out for a spot the site, the price you see is the price you pay. Taxes and shipping are included! Your cards always come protected in holders. The last time you mailed a package out had to have set you back more than three bucks, right? If you buy a $3.00 spot, you get your card holdered and shipped for that price.
You NEVER go home empty-handed. You always get your spot! Unlike team breaks or division breaks where other breaking companies may pocket your cash and send the unlucky home without a card, you always get your spot at Vintage Breaks.
Lack of product in stores has been a problem; we see the same empty shelves that you do. Target has paused all card sales! If you can't find cards, Vintage Breaks is your solution!.
FUN! Cards are our passion! Isn't is just more fun to chat with other collectors? Come hang with us and other collectors just like you during our breaks.
Even if you just want to watch the show, chat, and meet new collectors, that's always welcomed!
A Vintage Breaks, we have our main breaking show in New Jersey (The North), to go with our night owls in the South (Georgia), and the West (Arizona). You can always check our CALENDAR to see when we're breaking.
CONTACT US ANY TIME
If you have any questions about a product, break, shipping, or even if you're interested in SELLING a collection, reach out any time!