How quickly could you card saver a baseball card? We had a few Vintage Breaks future breakers on the show to test their skills in the Kids Card Saver race! We think the winner may just be faster than J5... Let's take a look at the fun Vintage Breaks is having at the 2021 National and who may end up as a breaker here at VB!
We're always on the lookout for new breakers here at VB and he main skill required is knowing how to place a card into a holder. Chris Gilmore went scouting on the floor of the National for prospects. Up to the plate stepped Derek, Will, Josh, and Jackson
Each breaker was put to the rigorous test of:
1) Open a 1986 Donurrs wax pack

2) Place all 15 cards into a Card Saver
The pressure was on! We're at the National here in Chicago. All eyes are on Vintage Breaks at booth #1519. Potential jobs as VB breakers were on the line, under the big lights! That, and the prizes - oh, the prizes! At the end of the race, each breaker would be given a free prize! Could the men do it? Let's see all the action as "Uncle Gilmore", VB Scout, walked the breakers through the rules.
Congrats, breakers! You each did an AWESOME job! Love the different techniques you used, too! Kidding aside, everyone went home with boxes or packs of 2020 Chronicles football. Kids are the future of our hobby and we want to keep this beautiful world of cardboard going for many years to come; we love giving back to the kids.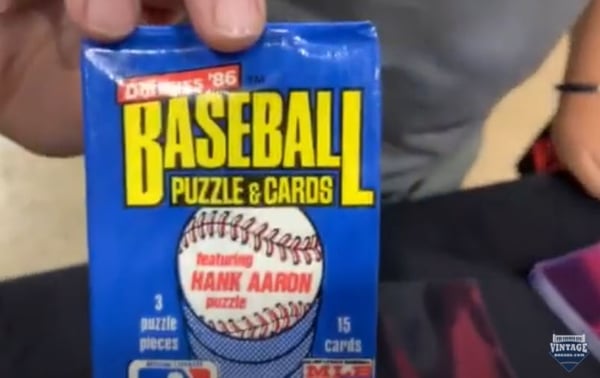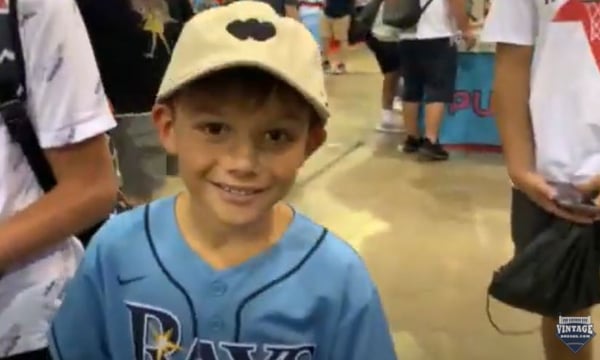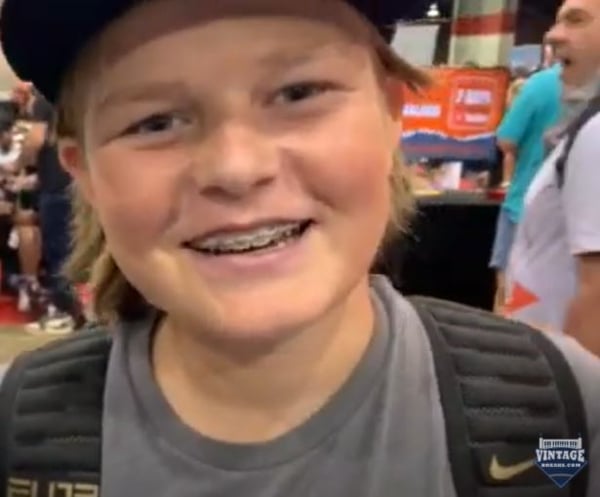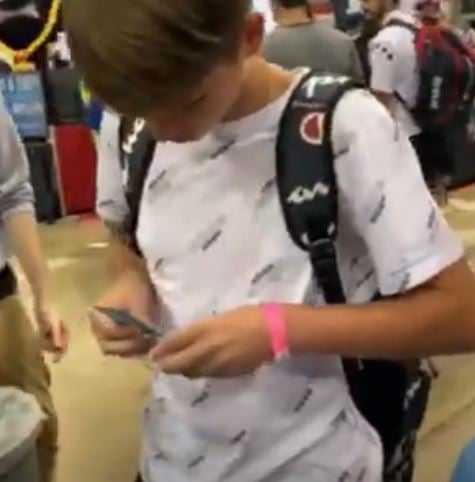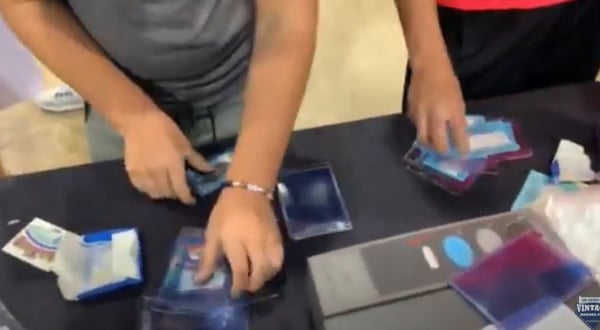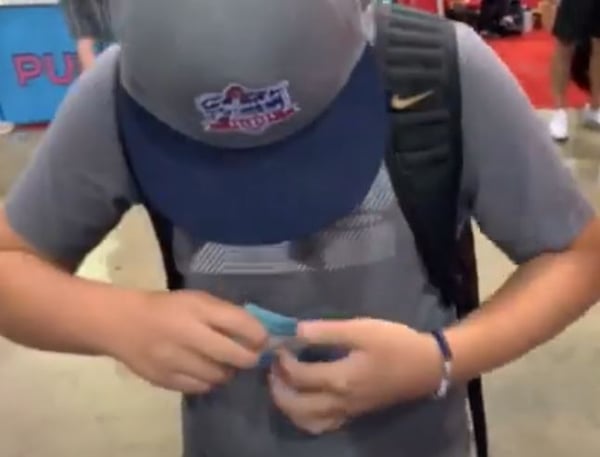 WHY CHOOSE VINTAGE BREAKS?
Vintage Breaks offers THE BEST VALUE IN BREAKING.
When you check out for a spot the site, the price you see is the price you pay. Taxes and shipping are included! Your cards always come protected in holders. The last time you mailed a package out had to have set you back more than three bucks, right? If you buy a $3.00 spot, you get your card holdered and shipped for that price.
You NEVER go home empty-handed. You always get your spot! Unlike team breaks or division breaks where other breaking companies may pocket your cash and send the unlucky home without a card, you always get your spot at Vintage Breaks.
Lack of product in stores has been a problem; we see the same empty shelves that you do. Target has paused all card sales! If you can't find cards, Vintage Breaks is your solution!.
FUN! Cards are our passion! Isn't is just more fun to chat with other collectors? Come hang with us and other collectors just like you during our breaks.
Even if you just want to watch the show, chat, and meet new collectors, that's always welcomed!
A Vintage Breaks, we have our main breaking show in New Jersey (The North), to go with our night owls in the South (Georgia), and the West (Arizona). You can always check our CALENDAR to see when we're breaking.
CONTACT US ANY TIME
If you have any questions about a product, break, shipping, or even if you're interested in SELLING a collection, reach out any time!