After the show it's the AFTER PARTY! The Vintage Breaks After Party to celebrate the amazing time we had at the National last week is coming up and we want to get you hyped for the fun. We're warming you up for the party with free break credit! See how you can win a $250 break credit!
We had such a great time at the National in Chicago last week, we want to keep the good times rolling. We're conjuring up something awesome for a Vintage Breaks After Party on Friday, August 27th. We'll drop the details on the party on our blogs soon. We've already sent the team out in search of champagne, music, and definitely some Swedish Fish. First, we gotta get you PUMPED for the After Party because your are cordially invited 😁 To get your mouth watering, our first appetizer for the After Party is a $250 Break Credit!
BUY ANY SPOT PROMO - $250 BREAK CREDIT PRIZE
ANY spot you buy at VintageBreaks.com now through Friday, August 13th at 8:30 PM EST. gets you one entry into the contest. ZERO limits to this contest - if you buy twice on the Vintage Breaks site, you are entered into the contest twice. Checkout 50 different times now through the end of the contest and you'll get 50 cracks at the break credit! We'll random the list of entries live on our show and the top name takes home a $250 break credit!
In the spirit of the Olympics that are wrapping up, we can't just give out a gold medal either! Top THREE names on our list after the random will take home a free prize!
Your chance a second-year Michael Jordan card, pack fresh!
Third place = 1962 Topps NL Strikeout Ldrs w/ Sandy Koufax PSA 7
We are called "Vintage Breaks" for a reason - we want to give you this vintage Topps Sandy Koufax!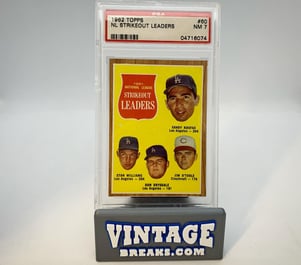 MORE PRIZES!
Missed your chance to buy into the contest? Perhaps you JUST found this post a week too late - no, you didn't! We are going to run this Buy Any Spot contest with new prizes for the next THREE weeks! All the way up to the After Party!
Next week, between 8/14 - 8/20, any spot you buy gets you an entry for: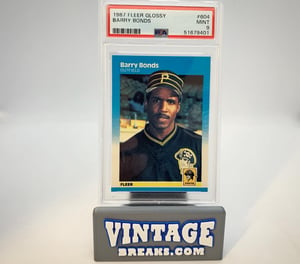 Between 8/21 - 8/27, any spot you buy gets you an entry for: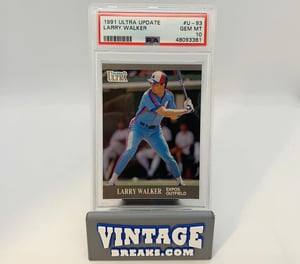 The best part about the Buy Any Spot promo is that spots cost as little as $3.00! Make sure to start window shopping now at VintageBreaks.com.
USING THE SITE:
If you've never been on our site before, head to VintageBreaks.com.
Step 1
In the upper right, press the LOGIN/SIGNUP button.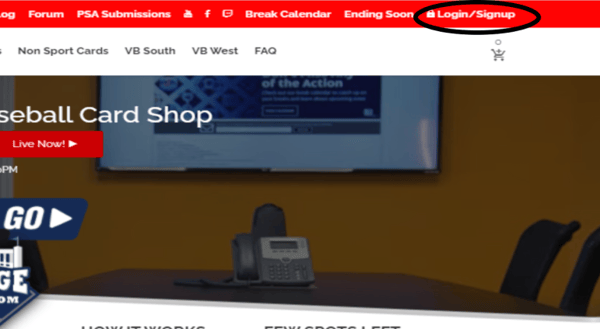 Step 2
Create your account.
Step 3
Browse items and press Add to Cart when you see something you like. Press the cart icon in the top right when ready to checkout.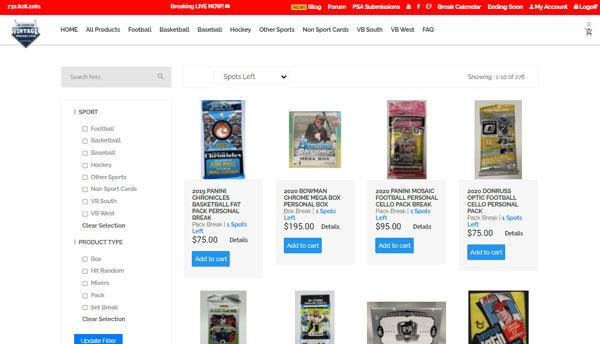 Step 4
Update your quantities for additional spots by toggling the number in the quantity column, and then pressing the Update Quantities button. Press Checkout button, and you're IN!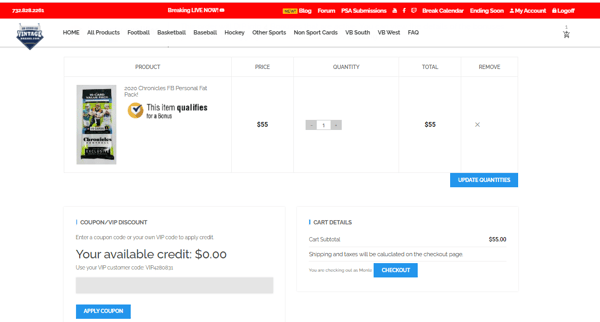 Pretty simple - buy anything ...anything at
VintageBreaks.com
this week and you're entered to win a $250 break credit!
Our special Buy Any Spot promo may also put you in for a few other prizes, too! We're always letting you "DIP" when you break with us. For example, on our live show, we may offer a free vintage card to the next ten purchases. If you were to buy into that break, you'd get that free card (1 dip) and an entry into the Buy Any Spot promo (double dip), and yes, you still get your purchase! Some days we have TEN or more dips! You can keep up with the latest dips on your dashboard. Here is an example of bonus promos you would see on the dashboard (We even tell you the number of entries and the odds of your chances of winning that free prize!):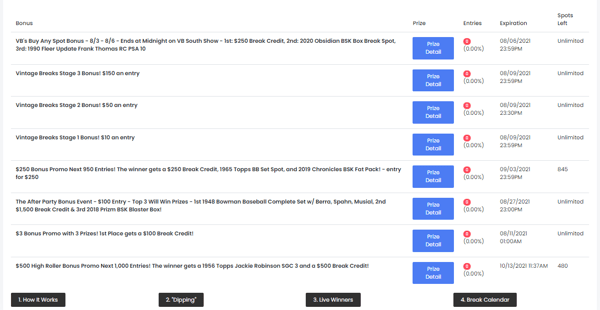 If you want a high-end break like 2011 Topps Update with a possible Mike Trout rookie, we have that here. How about 1975 football? Or our non-sport selection like 1977 Star Wars? Our breaks start at $3.00 like this 1986 Donruss baseball pack break, and we have the a wide variety - all years, sports, non-sports, and everything in between for you to collect.
Can't wait to see YOU at the AFTER PARTY!
WHY CHOOSE VINTAGE BREAKS?
Vintage Breaks offers THE BEST VALUE IN BREAKING.
When you check out for a spot on the site, the price you see is the price you pay. Taxes and shipping are included! Your cards always come protected in holders. The last time you mailed a package out had to have set you back more than three bucks, right? If you buy a $3.00 spot, you get your card holdered and shipped for that price.
You NEVER go home empty-handed. You always get your spot! Unlike team breaks or division breaks where other breaking companies may pocket your cash and send the unlucky home without a card, you always get your spot at Vintage Breaks.
Lack of product in stores has been a problem; we see the same empty shelves that you do. Target has paused all card sales! If you can't find cards, Vintage Breaks is your solution!.
FUN! Cards are our passion! Isn't is just more fun to chat with other collectors? Come hang with us and other collectors just like you during our breaks.
Even if you just want to watch the show, chat, and meet new collectors, that's always welcomed!
A Vintage Breaks, we have our main breaking show in New Jersey (The North), to go with our night owls in the South (Georgia), and the West (Arizona). You can always check our CALENDAR to see when we're breaking.
VINTAGE BREAKS IS BUYING!
If you have sealed wax, vintage or modern, that you are considering selling, contact us today to discuss or get our industry-leading purchase offer. We're always interested in both sealed product of both sport and non-sport. Whether you have a wax box of 1984 Topps football, 1977 Topps Star Wars, or 2020 Panini National Treasures football you'd like to sell, we'd love to hear from you!
CONTACT US ANY TIME
If you have any questions about a product, break, shipping, or even if you're interested in SELLING a collection, reach out any time!