Vintage Breaks made history on Friday night when they pulled pack-fresh Hank Aaron AND Roberto Clemente cards from a PSA-graded, sealed, 1960 Topps baseball cello pack! Watch the video and see one of the best card breaks of all-time.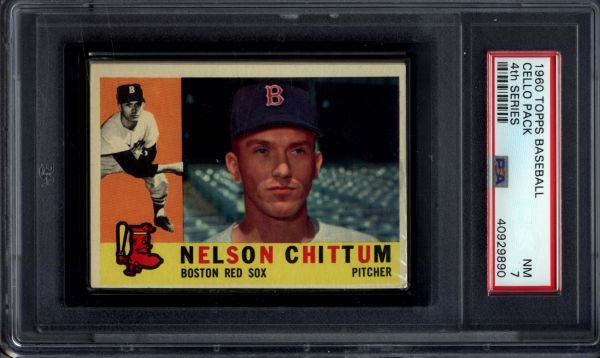 Since 1960, this 4th Series cello pack of Topps baseball cards had remain untouched; 61 years without the cards seeing the light of day. For just a dime, you or your parents may have picked up this cello pack of 12 cards from your local store. A time when you'd spend your allowance to pull your favorite players out of the pack, stash your good cards in a shoebox and play flip with your doubles. The cards from teams you hated ended up in your bike spokes. This exact pack, though, managed to avoid being opened since 1960!
So much has changed around us since this pack of cards rolled off of the assembly line at the Topps factory! There was no Fred Flintstone - we didn't meet him until the Flintstones debuted on September 30th, 1960. John F. Kennedy hadn't been elected President yet; he won the Oval Office on November 8th, 1960. From landing on the moon (July 20th, 1960), to something we rely on daily, the Internet (April 30th, 1993), this pack of 1960 Topps baseball cards has remained sealed as the world changed around it. On Friday night, November 12th, you helped Vintage Breaks made card breaks history when we opened this pack and introduced two legendary cards to the world for the very first time.
1960 Topps Hank Aaron
There are 572 cards in the 1960 Topps baseball pack, and just 12 cards in this cello pack that was graded by PSA as a 7. Long odds to pull a star player out of this pack! After we randomized the list of your names, cracked open the sealed pack with the utmost care and caution, we were dreaming of pulling you a star card. Our breaker, J5, even made a bold move; he called his shot earlier in the day. J5 believed he could pull you one of the big stars that the 4th series could hold. Then ...he did it. In spot 4 for James Ector, THIS HAPPENED: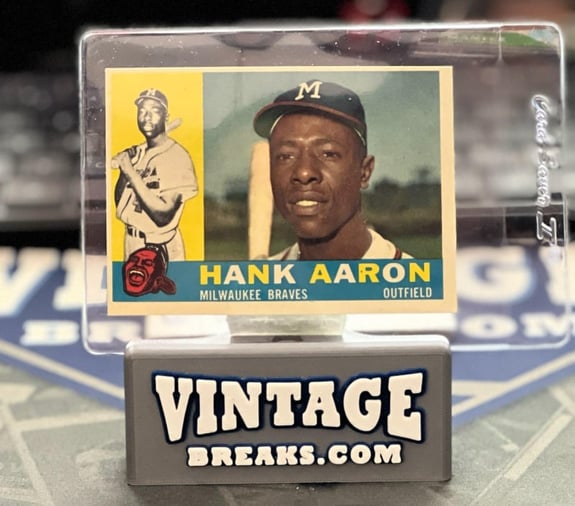 😯😯😯 Card number 300, Hank Aaron, fresh from a sealed pack! Hammer staring us in the face here at just 26 years old in 1960, back when he only had 179 of his 755 career home runs.
1960 TOPPS ROBERTO CLEMENTE
We could barely contain ourselves in the Vintage Breaks office here in New Jersey. Hank Aaron, pack-fresh? AMAZING. We were riding that high all the way through the break. Then, the impossible happened. J5 stopped the break, and called Larry Herbinaux in spot 9.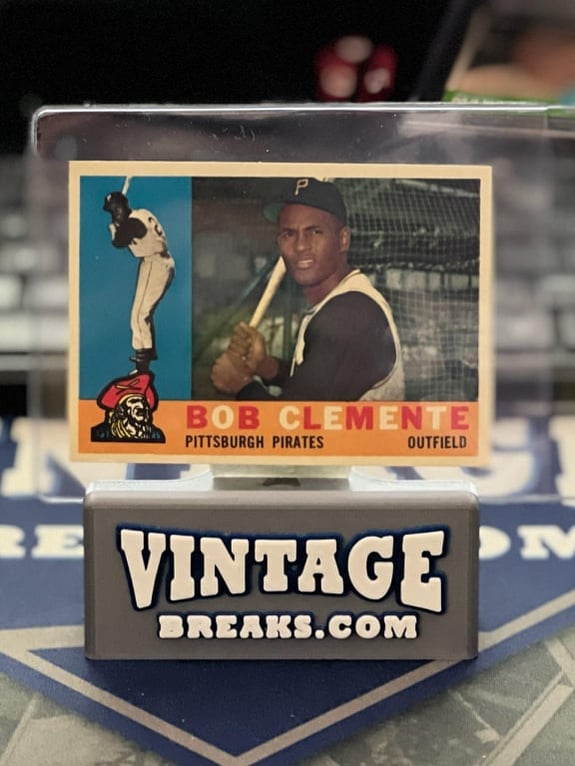 In the same pack. THE SAME PACK. THE SAME PACK! THE SAME PACK!
Card number 326 for Larry is Roberto Clemente! In the year he would make his first (of 15!) all-star team, and lead the Pirates to the World Series over the Yankees, Clemente posed for this amazing 1960 Topps card. Talk about must-see Break TV!
We checked the PSA population report and there area zero PSA 10's of either Aaron or Clemente, This Hank Aaron is a little off-center, and the Clemente won't get a 10 either, but we have our fingers crossed that both cards grade well. At the moment, PSA has on report, without qualifiers:
Hank Aaron:
PSA 10 = 0
PSA 9 = 9
PSA 8 = 199
PSA 7 = 444
PSA 6 = 676
PSA 5 = 668
PSA 4 = 682
PSA 3 = 296
PSA 2 = 119
PSA 1 = 41
Roberto Clemente:
PSA 10 = 0
PSA 9 = 49
PSA 8 = 593
PSA 7 = 1,131
PSA 6 = 1,264
PSA 5 = 918
PSA 4 = 725
PSA 3 = 311
PSA 2 = 128
PSA 1 = 40
HUGE congratulations goes out to not just James and Larry but everyone in the break. If you were in the break with us, you're taking home a gorgeous card that is over 60 years old and has never been touched until this pack break! You'll be the first and original owner of a card that was created before - get this - Rudolph the Red-Nosed Reindeer was a Christmas Special (December 6th, 1964)!
Here is the full video of the entire pack break to see the other cards we pulled.
Want to try and pull your own vintage Hall of Fame card? We have spots in our pack breaks available like 1971 Topps baseball , 1971 Topps football, and 1972 Topps basketball. You can hunt a Wayne Gretzky rookie card in 1979 O-Pee-Chee hockey or a Michael Jordan rookie card from 1986-87 Fleer basketball! We'd love to see YOU make history next with Vintage Breaks.
1955 Bowman MICKEY MANTLE
Pulling a Hank Aaron and Roberto Clemente from a 1960 Topps pack reminds us of when we were fortunate enough to pull you a pack-fresh Mickey Mantle out of a sealed 1955 Bowman pack! You can read about the incredible break done live at the National Card Show in 2018 HERE.
WHY CHOOSE VINTAGE BREAKS?
Vintage Breaks offers THE BEST VALUE IN BREAKING.
When you check out for a spot on the site, the price you see is the price you pay. Taxes and shipping are included! Your cards always come protected in holders. The last time you mailed a package out had to have set you back more than three bucks, right? If you buy a $3.00 spot, you get your card holdered and shipped for that price.
Lack of product in stores has been a problem; we see the same empty shelves that you do. If you can't find cards, Vintage Breaks is your solution.
FUN! Cards are our passion! Isn't is just more fun to chat with other collectors? Come hang with us and other collectors just like you during our breaks!
Even if you just want to watch the show, chat, and meet new collectors, that's always welcomed!
A Vintage Breaks, we have our main breaking show in New Jersey (The North), to go with our night owls in the South (Georgia), and the West (Arizona). You can always check our CALENDAR to see when we're breaking.
VINTAGE BREAKS IS BUYING!
If you have sealed wax, vintage or modern, that you are considering selling, contact us today to discuss or get our industry-leading purchase offer. We're always interested in both sealed product of both sport and non-sport. Whether you have that rare 1955 Bowman cello pack, a wax box of 1984 Topps football, 1977 Topps Star Wars, Pokémon, or 2019 Panini National Treasures basketball you'd like to sell, we'd love to hear from you!
CONTACT US ANY TIME
If you have any questions about a product, break, shipping, or even if you're interested in SELLING a collection, reach out any time!