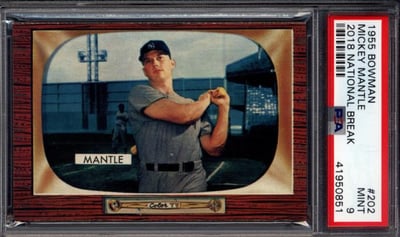 The Mickey Mantle card we pulled out of a sealed 1955 Bowman cello pack at the National in a break for you was just auctioned off at Memory Lane for a price of $375,483! Let's revisit what is perhaps the greatest break of all-time, and discuss: for the first time ever, are collectors now recognizing that cards with provenance as being valued at twice (or more!) than the same cards with either no known origin or a lesser history?
THE PACK HEARD ROUND THE WORLD
On August 3rd, 2018, the Vintage Breaks team went to The National., the biggest sports card and memorabilia convention in the Country. Securely packed with our items to break for you was a sealed 1955 Bowman baseball cello pack! You were able to purchase a spot in this vintage gem for just $500. Like you, we were day dreaming the entire way to the show of what could possibly be sitting inside this pack. We tried to break the math down:
20 cards in the cello pack
320 cards in the complete set
25 cards of players in the Baseball Hall of Fame
What were the chances that a Hall of Famer - or simply a star player - was sitting inside this pack that had been sealed for 63 years? Just imagine how long these cards had been untouched. When the baseball season started in April of 1955, the following didn't exist yet:
Disneyland (July 17th, 1955)
McDonald's (April 15th, 1955)
TV Remote Control
The Microwave

14

current MLB teams
Bowman used the television set as the design for this iconic 1955 set, the year the TV remote became a thing? Maybe they knew something we didn't...
Regardless of what came out of the pack, we were eager to see 20 new, pack-fresh 1955 Bowman cards come to the hobby. As we sat down at the Main Stage at the National, we could NEVER have imagined this would happen:
In spot 19 - there he was - THE MICK! What a massive hit for Vintage Breaks customer, Chris Rothe! In a spot that was only $500, Chris landed cardboard gold.
As you can tell, we were slightly shocked. In our wildest dreams, we couldn't have pictured such a pull. Straight from the 63-year-old pack was card #202, Mickey Mantle. The best part about the break being live? The Mantle is now documented; we know exactly when and where this Mick came from!
We had the card professionally graded by PSA and Mickey received a grade of 9. Currently, there are only 8 copies known with a grade of 9, and just 3 other copies in the world with a grade of a perfect 10. An unbelievable grade given the fact there are 3,893 copies that PSA has reviewed.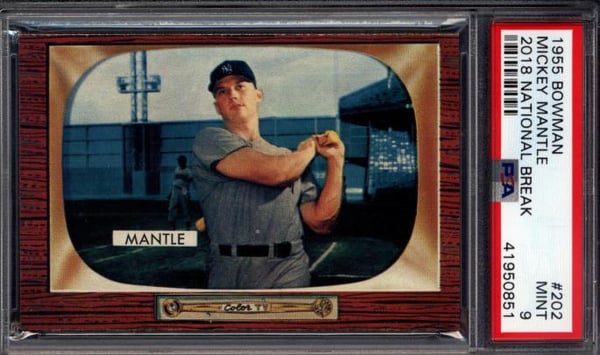 THE $375,483 SALE
Memory Lane auctions had a PSA 9 1955 Bowman Mickey Mantle that sold for a price of $209,793 on July 10th, 2021; just three months ago.
The same auction house, Memory Lane, posted the Vintage Breaks-pulled 1955 Bowman PSA 9 Mickey Mantle card in their auction on October 9, 2021, and the card sold for $375,483!
In just three months, the same card with the same grade had a sale price difference of $165,690!
This isn't the first time the Vintage Breaks Mantle has seen a price higher than other PSA 9 copies. The day after we pulled this historic card in 2018, the last PSA 9 copy had been sold for $35,089, but within 24 hours of the break, an offer was out for $50,000 on the VB Mantle! You can read about the initial offer in a great ESPN article HERE.
The big question: For the first time ever, are collectors now recognizing that cards with provenance are valued at possibly TWICE as much as those without a known origin or a lesser history?
THE VALUE OF CARDS WITH PROVENANCE
The owner of Vintage Breaks, Leighton Sheldon, has said it for years: YES, cards with provenance are more valuable.
The sales of the 1955 Bowman Mickey Mantle pulled by Vintage Breaks is a great example. We'll always be able to know when, and where that Mickey Mantle card came from. Do you know where the other Mantle PSA 9 that was sold in July originated from? Does anyone?
Cards with provenance allow you to track the entire life cycle of the card! Such cards can be tracked almost like a Panini Blockchain card. If you've ever owned a blockchain, you know that a new chain is created every time there is a transaction associated. Each time the card changes hands, no matter how many times, when you obtain the card - you can trace everything back to day one.
Since August 3rd, 2018 you know where that the Vintage Breaks Mantle came from. You know the date, time, and place the card first saw the light of day. You'll rest easy knowing the card has never been tampered with, and never altered. Collectors will pay a premium for the provenance.
Cards with a great backstory always command more value, too. When you add in provenance, the value can skyrocket! Cards in this instance are no different than say a game-worn jersey. A jersey worn by Babe Ruth in 1927 may be valued around five million dollars, but what would the value be on the jersey The Babe wore to hit home run number 60 that season? Now picture having video of Ruth wearing the jersey, and handing it off to a fan. That fan then records himself handing it down to his kids. What is the value of the Ruth jersey with such provenance? Much, much more.
We once did a pack break with NFL Hall of Famer, Emmitt Smith, opening 1990 in search for his rookie card. Think how much you would pay for an Emmitt rookie on eBay. Now, how much would you pay for that same card only to know that Emmitt himself pulled it! You can now trace this exact Emmitt Smith through the entire life cycle, starting with this video:
When you get in on a pack break over at Vintage Breaks, you see every pull happen live; no breaks are ever done out of view of the camera. You'll always know the provenance of your card; the cardboard version of Carfax.
With that knowledge -how about you? Do YOU think cards with provenance should be valued at twice - or more- than those without?
Want to try to pull a monster card like the 55 Bowman Mantle of your own? Check us out at VintateBreaks.com - we're must-see Break TV!
WHY CHOOSE VINTAGE BREAKS?
Vintage Breaks offers THE BEST VALUE IN BREAKING.
When you check out for a spot on the site, the price you see is the price you pay. Taxes and shipping are included! Your cards always come protected in holders. The last time you mailed a package out had to have set you back more than three bucks, right? If you buy a $3.00 spot, you get your card holdered and shipped for that price.
Lack of product in stores has been a problem; we see the same empty shelves that you do. Target has paused all card sales! If you can't find cards, Vintage Breaks is your solution!
FUN! Cards are our passion! Isn't is just more fun to chat with other collectors? Come hang with us and other collectors just like you during our breaks!
Even if you just want to watch the show, chat, and meet new collectors, that's always welcomed!
A Vintage Breaks, we have our main breaking show in New Jersey (The North), to go with our night owls in the South (Georgia), and the West (Arizona). You can always check our CALENDAR to see when we're breaking.
VINTAGE BREAKS IS BUYING!
If you have sealed wax, vintage or modern, that you are considering selling, contact us today to discuss or get our industry-leading purchase offer. We're always interested in both sealed product of both sport and non-sport. Whether you have that rare 1955 Bowman cello pack, a wax box of 1984 Topps football, 1977 Topps Star Wars, Pokémon, or 2019 Panini National Treasures basketball you'd like to sell, we'd love to hear from you!
CONTACT US ANY TIME
If you have any questions about a product, break, shipping, or even if you're interested in SELLING a collection, reach out any time!