BREAK OF THE YEAR! Vintage Breaks opened up a box of 2014 Upper Deck Exquisite and out popped a gem of a gem - a Dimensions Tiger Woods auto! We've had some great pulls for you this year. Some fire like a Justin Herbert National Treasures RPA , or a Derek Jeter gold rookie come to mind. Just last week we opened you a 1969 Topps basketball pack and found pack-fresh Wilt Chamberlain and Oscar Robertson cards. We think the pull of the year just happened, though! Lookie what was in 2014 Upper Deck Exquisite!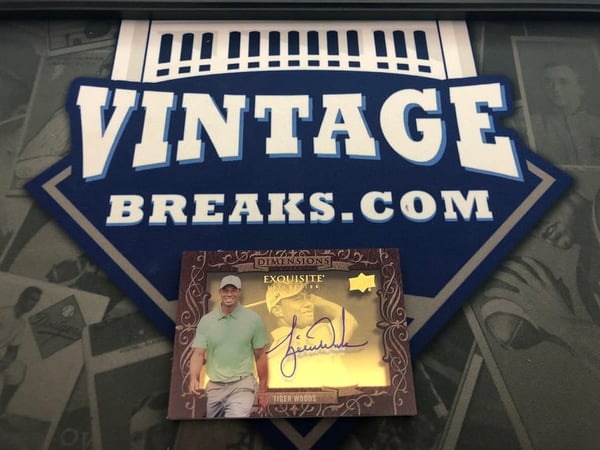 This Tiger auto is a DIMESNIONS signature; a shadowbox behind the autograph. This card is a thing of beauty for sure! Congratulations, Jace Mancini! In spot 3, Jace gets to bring Tiger home.
Tiger is definitely a BELT card. When one of the breakers here at Vintage Breaks pulls you a card worth $1,000 or more, they become "the breaking champion." What started off as a fun game and made-up title (assistant to the regional manager, anyone?) has turned into a competition between the staff - they each want to be the one that pulls you the heat! The big cheese, Leighton, even bought the team a championship belt to rock - true story. GIVE J5 THE BELT!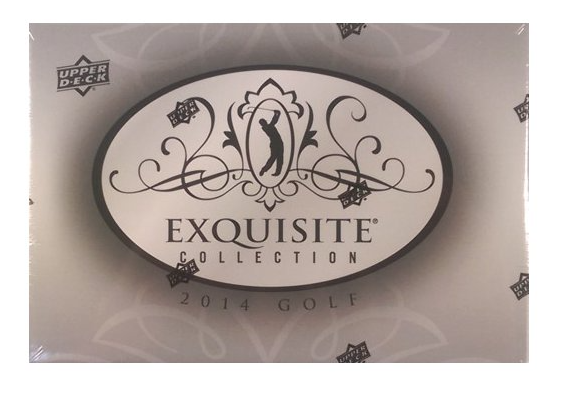 Want in the next Exquisite break? You can get your spots HERE and try to chase your own Tiger auto!
WHY CHOOSE VINTAGE BREAKS?
Vintage Breaks offers THE BEST VALUE IN BREAKING.
When you check out for a spot on the site, the price you see is the price you pay. Taxes and shipping are included! Your cards always come protected in holders. The last time you mailed a package out had to have set you back more than three bucks, right? If you buy a $3.00 spot, you get your card holdered and shipped for that price.
You NEVER go home empty-handed. You always get your spot! Unlike team breaks or division breaks where other breaking companies may pocket your cash and send the unlucky home without a card, you always get your spot at Vintage Breaks.
Lack of product in stores has been a problem; we see the same empty shelves that you do. Target has paused all card sales! If you can't find cards, Vintage Breaks is your solution!.
FUN! Cards are our passion! Isn't is just more fun to chat with other collectors? Come hang with us and other collectors just like you during our breaks.
Even if you just want to watch the show, chat, and meet new collectors, that's always welcomed!
A Vintage Breaks, we have our main breaking show in New Jersey (The North), to go with our night owls in the South (Georgia), and the West (Arizona). You can always check our CALENDAR to see when we're breaking.
VINTAGE BREAKS IS BUYING!
If you have sealed wax, vintage or modern, that you are considering selling, contact us today to discuss or get our industry-leading purchase offer. We're always interested in both sealed product of both sport and non-sport. Whether you have a wax box of 1984 Topps football, 1977 Topps Star Wars, or 2020 Panini National Treasures football you'd like to sell, we'd love to hear from you!
CONTACT US ANY TIME
If you have any questions about a product, break, shipping, or even if you're interested in SELLING a collection, reach out any time!