Not sure what the difference is between a O-Pee-Chee and Topps products? These two products look so similar on our site, and we want to make sure you understand the differences when buying your spots here at Vintage Breaks.

While you're window shopping on Vintagebreaks.com, you may notice a few wax packs that look extremely similar and wonder why there are two breaks of the same product. These breaks aren't doubled up; you're seeing a Topps wax pack and an O-Pee-Chee wax pack. These products are quite similar but there are big differences you'll want to know before you buy into the next break.
Topps Brand
Topps has a rich history of sports cards. If you've ever purchased a pack of cards, chances are you've held Topps in your hands. Did you know Topps began as, and STILL manufactures candy, though? In 1938, Topps began the Topps Chewing Gum, Inc. in Brooklyn, NY.
In 1947, Topps created a brand of bubble gum you're familiar with: Bazooka. Think back to the days of Little League and you had a pocket full of Bazooka in your pocket as you took the field. Those little comics inside each wrapper made you laugh between innings. That was all Topps!
In 1951, Topps ventured into baseball cards. For many years after, a stick of bubble gum was inserted into the packs, which is why you'll often hear the phrase "bubble gum cards'." Using baseball cards to sell gum and candy? Smooth marketing by Topps.
O-Pee-Chee Brand
O-Pee-Chee (OPC) also started out as a confectionary company, with their roots going back to 1911 in London, Ontario. OPC was ahead of the game when it came to inserting their gum into sports cards; they released a set in 1934! Here we thought Topps was smooth - OPC was years ahead on the marketing idea.
In 1958, O-Pee-Chee reached a marketing agreement with Topps to produce their cards in Canada under the OPC brand. The agreement worked out so well for OPC, they created an annual release for baseball from 1965 up through 1992 in Canada.
The Difference Between Topps and O-Pee-Chee
At first glance, both the O-Pee-Chee boxes, packs, and cards look identical to Topps. Let's take a closer look at a one our favorites, 1984 baseball.
TOPPS WAX PACK: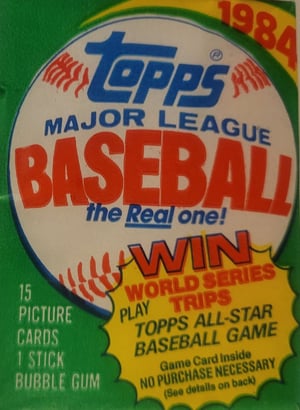 O-PEE-CHEE WAX PACK:
Here are a few easy differences you can spot between the wax packs:

Topps wrapper is in the English language
O-Pee-Chee wrapper is in the French language


Topps Logo text at the top of the baseball
O-Pee-Chee in text on top of the baseball


Topps has no price on the wrapper
O-Pee-Chee has a price (35 cents) on the wrapper
What's not so easy to spot on the wrapper is the number of cards in each pack.
Topps packs in 1984 have 15 baseball cards
O-Pee-Chee packs in 1984 have 12 baseball cards
Now let's see what's under the wrappers for a closer inspection at the cards each company produced.
TOPPS VS O-PEE-CHEE CARDS: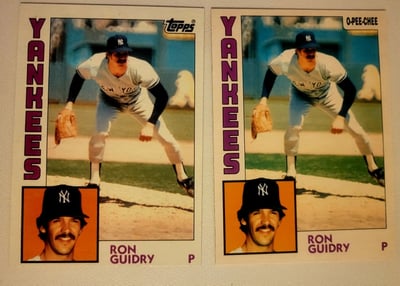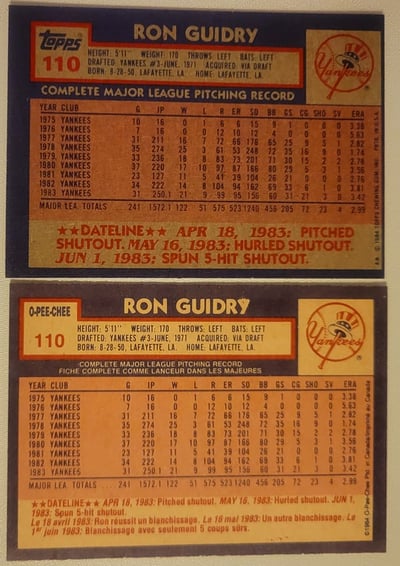 Topps is the logo in the upper-right corner of the card on the front of the Topps brand
O-Pee-Chee is the logo upper-right corner of the card on the front of the OPC brand
Topps is the logo in the upper-left corner of the card on the back of the Topps brand
O-Pee-Chee is the logo upper-left corner of the card on the back of the OPC brand
Topps cards are in the English language on the back of the card
O-Pee-Chee are in the French language on the back of the card
The manufacturer in tiny print also explains which brand your card is. In our example of Ron Guidry above, you can see O-Pee-Chee or Topps vertically adjacent to the stats.
One super-important fact to know about the Topps and O-Pee-Chee sets are the number cards produced each year. Using this lovely 1984 baseball set we see:
Topps has 792 cards
O-Pee-Chee has 396 cards
Most Topps and O-Pee-Chee packs will follow suit. The wrappers may change slightly each year, the number of cards per set may vary, but using the above tips will ensure you are buying the break into the product you want.
If you grew up in the US, we know you chased Don Mattingly in the Topps brand. If Canada is your home, then Donnie Baseball was in your O-Pee-Chee brand. What we love about card breaks here at Vintage Breaks is we speak a universal language: cards. We are proud to offer both Topps and O-Pee Chee breaks!
If you'd like to chase an OPC Don Mattingly, just click here:
We recently pulled a pack-fresh OPC Don Mattingly rookie live on our show! You can see that awesome pull HERE.
To view ALL of our OPC card breaks, simply click here:
WHY CHOOSE VINTAGE BREAKS?
Vintage Breaks offers THE BEST VALUE IN BREAKING.
When you check out for a spot on the site, the price you see is the price you pay. Taxes and shipping are included! Your cards always come protected in holders. The last time you mailed a package out had to have set you back more than three bucks, right? If you buy a $3.00 spot, you get your card holdered and shipped for that price.
Lack of product in stores has been a problem; we see the same empty shelves that you do. Target has paused all card sales! If you can't find cards, Vintage Breaks is your solution!
FUN! Cards are our passion! Isn't is just more fun to chat with other collectors? Social distancing has made that hard, too. Come hang with us and other collectors just like you during our breaks!
Even if you just want to watch the show, chat, and meet new collectors, that's always welcomed!
A Vintage Breaks, we have our main breaking show in New Jersey (The North), to go with our night owls in the South (Georgia), and the West (Arizona). You can always check our CALENDAR to see when we're breaking.
VINTAGE BREAKS IS BUYING!
If you have sealed wax, vintage or modern, that you are considering selling, contact us today to discuss or get our industry-leading purchase offer. We're always interested in both sealed product of both sport and non-sport. Sealed O-P-CHEE would be AWESOME! Whether you have a wax box of 1984 Topps football, 1977 Topps Star Wars, Pokémon, or 2019 Panini National Treasures basketball you'd like to sell, we'd love to hear from you!
CONTACT US ANY TIME
If you have any questions about a product, break, shipping, or even if you're interested in SELLING a collection, reach out any time!