This week we welcomed a new member of the Vintage Breaks team, and she's already pull HEAT! D20 sat in the breakers' chair and pulled a Donnie Baseball rookie card.

We hope you join us in welcoming a new breaker to the VB family - D20! On her first day of training, she pulled you some FIRE that tugged at the heart strings of every eighties baby - a 1984 O-Pee-Chee Don Mattingly rookie card.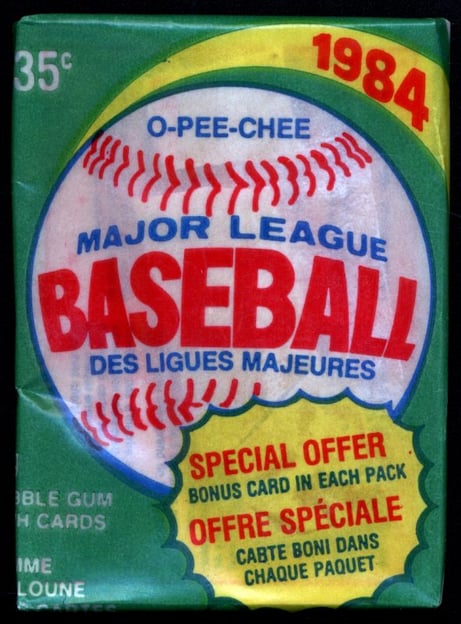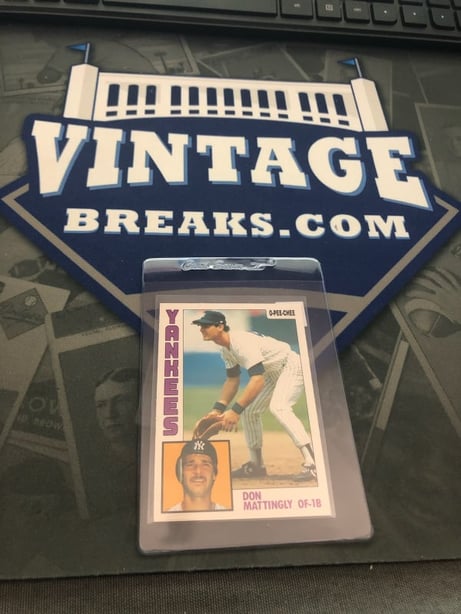 Congrats to EE for hitting Donnie Baseball in spot 7! "EE" has been hitting some big cards here at VB - he pulled THIS one of one black refractor auto from 2021 Bowman baseball a few weeks ago.
The O-Pee-Chee brand is very similar to Topps, but comes with just 396 cards to the complete set rather than the 792 total cards Topps released. A batting title in 1984 followed by an MVP award in 1985 drove the demand for a Donnie Baseball rookie in the mid-eighties. The love for the former Yankee captain still remains with collectors like us, especially for the O-Pee-Chee brand. A PSA 10 Topps version currently sells for around $900 but the OPC in a ten recently sold for around $1,700.
Let's get another look at this Donnie - it's NICE!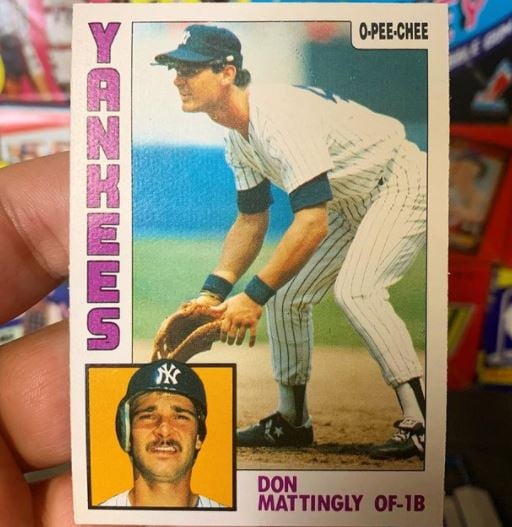 If you want D20 to try and pull you a Mattingly rookie from '84 O-Pee-Chee, we have spots for you HERE.
WHY CHOOSE VINTAGE BREAKS?
Vintage Breaks offers THE BEST VALUE IN BREAKING.
When you check out for a spot on the site, the price you see is the price you pay. Taxes and shipping are included! Your cards always come protected in holders. The last time you mailed a package out had to have set you back more than three bucks, right? If you buy a $3.00 spot, you get your card holdered and shipped for that price.
You NEVER go home empty-handed. You always get your spot! Unlike team breaks or division breaks where other breaking companies may pocket your cash and send the unlucky home without a card, you always get your spot at Vintage Breaks.
Lack of product in stores has been a problem; we see the same empty shelves that you do. Target has paused all card sales! If you can't find cards, Vintage Breaks is your solution!.
FUN! Cards are our passion! Isn't is just more fun to chat with other collectors? Come hang with us and other collectors just like you during our breaks.
Even if you just want to watch the show, chat, and meet new collectors, that's always welcomed!
A Vintage Breaks, we have our main breaking show in New Jersey (The North), to go with our night owls in the South (Georgia), and the West (Arizona). You can always check our CALENDAR to see when we're breaking.
VINTAGE BREAKS IS BUYING!
If you have sealed wax, vintage or modern, that you are considering selling, contact us today to discuss or get our industry-leading purchase offer. We're always interested in both sealed product of both sport and non-sport. Whether you have a wax box of 1984 Topps football, 1977 Topps Star Wars, or 2020 Panini National Treasures football you'd like to sell, we'd love to hear from you!
CONTACT US ANY TIME
If you have any questions about a product, break, shipping, or even if you're interested in SELLING a collection, reach out any time!