The Kid makes an appearance at Vintage Breaks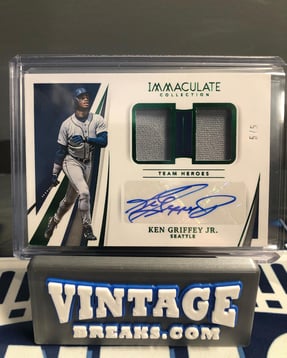 It's been 33 years since Ken Griffey Jr first appeared on a baseball card, but that doesn't mean we no longer get excited when we pull one of his cards. That is what happened recently on a Vintage Breaks live stream when, from a box of 2021 Immaculate Baseball, an autographed jersey card of The Kid himself emerged from the last spot. With spot #6, David Re landed himself a jersey auto Team Heroes card of Ken Griffey Jr. numbered out of 5! Congratulations, David!
A tough pull for sure, the card pictures Griffey Jr at the plate and a signature as smooth as his swing. We are no stranger to big hits. From the same product, we hit a Ken Griffey Jr. Cleats card that features the Nike Air logo that is placed on the tongue of the shoe. That one is numbered 1/2!
It's always fun to watch a big pull as it happens. If you don't believe me, you can check it out for yourself.
By the way, we are currently offering a team break with a box of 2021 Immaculate Baseball. Each box contains 6 autographs or memorabilia hits per box. The price for each spot is $33. To purchase your spot and to get more information about the break, click here:
WHY CHOOSE VINTAGE BREAKS?
Vintage Breaks offers THE BEST VALUE IN BREAKING.
When you check out for a spot on the site, the price you see is the price you pay. Taxes and shipping are included! Your cards always come protected in holders. The last time you mailed a package out had to have set you back more than three bucks, right? If you buy a $3.00 spot, you get your card holdered and shipped for that price.
Lack of product in stores has been a problem; we see the same empty shelves that you do. If you can't find cards, Vintage Breaks is your solution.
FUN! Cards are our passion! Isn't it just more fun to chat with other collectors? Come hang with us and other collectors just like you during our breaks!
A Vintage Breaks, we have our main breaking show in New Jersey (The North), to go with our night owls in the South (Georgia), and the West (Arizona). You can always check our CALENDAR to see when we're breaking.
VINTAGE BREAKS ARE BUYING!
If you have sealed wax, vintage or modern, that you are considering selling, contact us today to discuss or get our industry-leading purchase offer. We're always interested in both sealed products of both sport and non-sport. Whether you have that pack of 1977 Star Wars, that rare 1955 Bowman cello pack, a wax box of 1984 Topps football, Pokémon, or 2019 Panini National Treasures basketball you'd like to sell, we'd love to hear from you!
CONTACT US ANY TIME
If you have any questions about a product, break, shipping, or even if you're interested in SELLING a collection, reach out any time!