As the kids would say - this card is THICC. OK, so I'm not cool enough to pull that word off, but this Ken Griffey Jr Jumbo Cleats cards from 2021 Immaculate baseball is just pure awesomeness. Watch this incredible break we had here at Vintage Breaks and see how you can hop in on our next card breaks to pull your own monster card.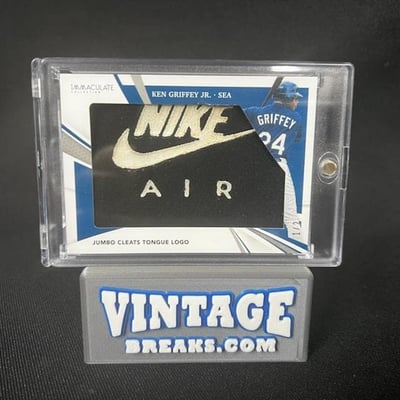 Now THAT is a nice pull. From 2021 Immaculate baseball popped out this Ken Griffey Jr card. A Jumbo Cleats Logo card from the tongue is numbered 1/2. Few played baseball as well or as smooth as Griffey did, so this pull is about to be prominently displayed in the PC of Alexander Patterson. Congrats on the hit!
Hopefully Jr wasn't rocking these cleats in the 1995 ALDS when he scored to knock out my Yankees and end Don Mattingly's career. Any other jumbo cleat - any other! 😂
I was kidding around about using the word THICC, but seriously, look THICK this card is: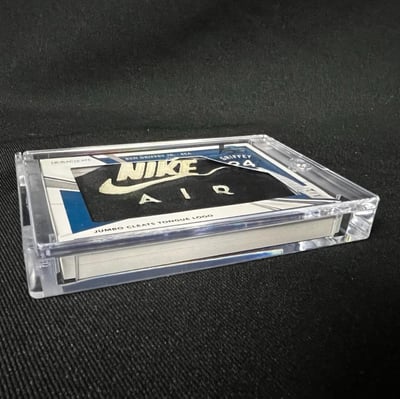 VIDEO OF THE PULL
Immaculate is loaded. There are six cards per box and each are hits - 4 autos and 2 relics. The checklist is filled with current stars like Aaron Judge and Shohei Otani, as well as legends with Babe Ruth and Ted Williams. There are relics of jerseys, bats, gloves, autographs, and more.
You can join the next 2021 Immaculate baseball break by clicking here:
WHY CHOOSE VINTAGE BREAKS?
Vintage Breaks offers THE BEST VALUE IN BREAKING.
When you check out for a spot on the site, the price you see is the price you pay. Taxes and shipping are included! Your cards always come protected in holders. The last time you mailed a package out had to have set you back more than three bucks, right? If you buy a $3.00 spot, you get your card holdered and shipped for that price.
Lack of product in stores has been a problem; we see the same empty shelves that you do. If you can't find cards, Vintage Breaks is your solution.
FUN! Cards are our passion! Isn't is just more fun to chat with other collectors? Come hang with us and other collectors just like you during our breaks!
A Vintage Breaks, we have our main breaking show in New Jersey (The North), to go with our night owls in the South (Georgia), and the West (Arizona). You can always check our CALENDAR to see when we're breaking.
VINTAGE BREAKS IS BUYING!
If you have sealed wax, vintage or modern, that you are considering selling, contact us today to discuss or get our industry-leading purchase offer. We're always interested in both sealed product of both sport and non-sport. Whether you have that pack of 1977 Star Wars, that rare 1955 Bowman cello pack, a wax box of 1984 Topps football, Pokémon, or 2019 Panini National Treasures basketball you'd like to sell, we'd love to hear from you!
CONTACT US ANY TIME
If you have any questions about a product, break, shipping, or even if you're interested in SELLING a collection, reach out any time!