If you're looking to meet your favorite athlete to perhaps sign their rookie card you pulled right here with Vintage Breaks, we have a great app for you to use! This app lists signings and shows in every State.
Have you ever seen posts in Facebook groups with other collectors in the hobby with them meeting your favorite athletes, and you wonder - how did I not get in on that? Maybe you want to get a player to sign their rookie card you pulled right here with
.or you'd like to take a picture that'll hang in your office. I use an app called CRAVE THE AUTO and it's perfect to find appearances in your State.
CRAVE THE AUTO
For a while I've been working on completing a team-signed 1996 Yankees photo. It's rare that an entire team goes to one card show, even if it's the biggest show of the year like The National. You may know of the National lineup or the big shows in Philly. Vintage Breaks is always set up prominently at these shows, so you have heard us talk about the autograph guests. We've even had guests on to do pack breaks like Goose Gossage, Rollie Fingers, and Emmitt Smith.
What about events at smaller places, businesses, or even before and during games? Did you know that Nestor Cortes of the Yankees did a signing at a La Quinta Inn & Suites by Wyndham in Secaucus, New Jersey this month? I once met a player I needed on my 1996 Yankees photo in a Dicks' Sporting Goods store.
I use an app called CRAVE THE AUTO. Here you'll see shows and signings in EVERY STATE! You can also find miscellaneous signings like WWE appearances, short-notice signings, and a spot to submit a signing if you've noticed one not on the list. You'll get lost all day in the app planning out your autograph trips, but it's worked well for me! Hopefully you meet your favorite players.
Here is me dorking out while adding Wade Boggs to my 1996 Yankees photo after I found him doing a signing on Crave the Auto: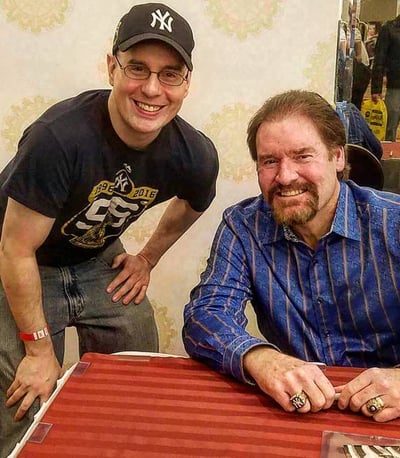 If you do come to The National next month, we will be there! Come stop by our booth and say hello; we'll be breaking the entire week and weekend!
WHY CHOOSE VINTAGE BREAKS?
Vintage Breaks offers THE BEST VALUE IN BREAKING.
When you check out for a spot on the site, the price you see is the price you pay. Taxes and shipping are included! Your cards always come protected in holders. The last time you mailed a package out had to have set you back more than three bucks, right? If you buy a $3.00 spot, you get your card holdered and shipped for that price.
Lack of product in stores has been a problem; we see the same empty shelves that you do. If you can't find cards, Vintage Breaks is your solution.
FUN! Cards are our passion! Isn't is just more fun to chat with other collectors? Come hang with us and other collectors just like you during our breaks!
A Vintage Breaks, we have our main breaking show in New Jersey (The North), to go with our night owls in the South (Georgia), and the West (Arizona). You can always check our CALENDAR to see when we're breaking.
VINTAGE BREAKS IS BUYING!
If you have sealed wax, vintage or modern, that you are considering selling, contact us today to discuss or get our industry-leading purchase offer. We're always interested in both sealed product of both sport and non-sport. Whether you have that pack of 1977 Star Wars, that rare 1955 Bowman cello pack, a wax box of 1984 Topps football, Pokémon, or 2019 Panini National Treasures basketball you'd like to sell, we'd love to hear from you!
CONTACT US ANY TIME
If you have any questions about a product, break, shipping, or even if you're interested in SELLING a collection, reach out any time!