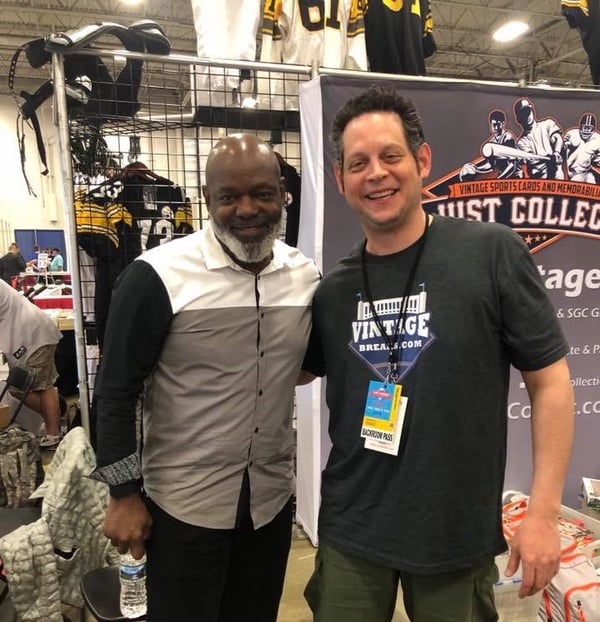 Vintage Breaks was joined by one of the greatest football players in NFL history, Emmitt Smith, to open up packs of football cards. Live on our show, Emmitt pulled his own rookie card!
With the Thanksgiving holiday here, we wanted to share a great moment in Vintage Breaks history - a pack break with Dallas Cowboys legend, Emmitt Smith! Minus 1975 and 1976, the Cowboys have played in every Thanksgiving Day game since 1966. In 13 career Thanksgiving games, Emmitt carried the ball 27 times for 1,178 yards with 13 TDs. Emmitt basically had a Pro Bowl season on Thanksgiving!
Can you believe that Emmitt Smith, the NFL's all-time leading rusher (18,355 yards) and touch down leader (175) had never opened up the set of football cards that contained his rookie card? Not until he joined Vintage Breaks live on the show!
Leighton Sheldon sat down with Emmitt to chat about his career that had included three Super Bowl championships with his Dallas Cowboys, the 1993 NFL MVP award, and a trip to Canton, OH. with enshrinement into the Football Hall of Fame. When Leighton opened up a sealed 1990 Score football Supplemental set that would have Emmitt's rookie card, the legend admitted he had NEVER opened the set before.
Watch Emmitt open the set, talk about his career, his own personal and game-used memorabilia, and the advice he gives to young kids: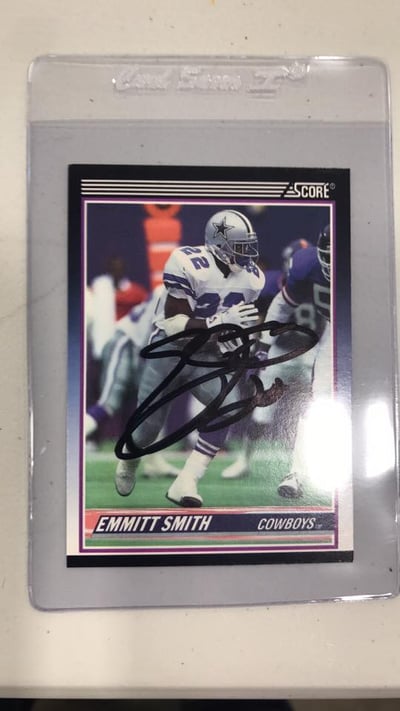 As awesome at it is to share the first-ever moment of Emmitt Smith opening the 1990 Score Supplemental set to find his rookie card, it was incredible to hear about Smith's business of authenticating his own game-used memorabilia and how he began to document his own uniforms and equipment to ensure authenticity years later! Emmitt was far ahead of the game when it comes to true provenance, wasn't he?
If you want to shop our football breaks, check out our website HERE. Perhaps you'd love to land a rookie card of Emmitt's teammate, Troy Aikman or another legendary running back in Barry Sanders from this 1989 Score pack. We also have modern products for today's stars like Patrick Mahomes or Justin Herbert in 2020 Optic. You can even travel back to 1971 and hunt for a Terry Bradshaw rookie in this Topps Pack. We'd love to have you in our next break and pull you a great rookie card, just like Emmitt did!
WHY CHOOSE VINTAGE BREAKS?
Vintage Breaks offers THE BEST VALUE IN BREAKING.
When you check out for a spot on the site, the price you see is the price you pay. Taxes and shipping are included! Your cards always come protected in holders. The last time you mailed a package out had to have set you back more than three bucks, right? If you buy a $3.00 spot, you get your card holdered and shipped for that price.
Lack of product in stores has been a problem; we see the same empty shelves that you do. If you can't find cards, Vintage Breaks is your solution.
FUN! Cards are our passion! Isn't is just more fun to chat with other collectors? Come hang with us and other collectors just like you during our breaks!
Even if you just want to watch the show, chat, and meet new collectors, that's always welcomed!
A Vintage Breaks, we have our main breaking show in New Jersey (The North), to go with our night owls in the South (Georgia), and the West (Arizona). You can always check our CALENDAR to see when we're breaking.
VINTAGE BREAKS IS BUYING!
If you have sealed wax, vintage or modern, that you are considering selling, contact us today to discuss or get our industry-leading purchase offer. We're always interested in both sealed product of both sport and non-sport. Whether you have that rare 1955 Bowman cello pack, a wax box of 1984 Topps football, 1977 Topps Star Wars, Pokémon, or 2019 Panini National Treasures basketball you'd like to sell, we'd love to hear from you!
CONTACT US ANY TIME
If you have any questions about a product, break, shipping, or even if you're interested in SELLING a collection, reach out any time!