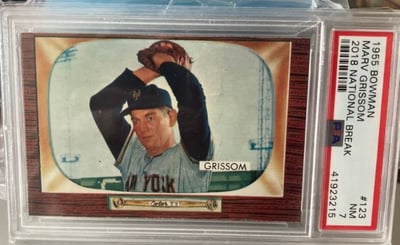 When we pulled a pack-fresh MICKEY MANTLE card out of a sealed 1955 Bowman baseball card pack, we were beyond stunned; there were truly no words to describe our excitement. That pack will always be one our favorite card breaks of all-time! Today, we get to relive that memory and welcome home one of the very cards from that famous pack back here to Vintage Breaks.
WELCOME HOME! When we pulled a Mickey Mantle card from a sealed pack of 1955 Bowman baseball cards LIVE on stage at the National, like you - we couldn't believe our eyes. That day is very special to us here at Vintage Breaks. Today, we are proud to bring home one of the cards from that card break!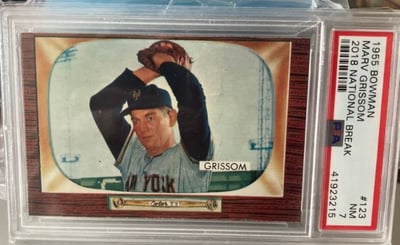 This Marv Grissom, card #123 in the set, came in spot 8 to Matt Payne. Since we were at the National, we had the cards graded on the spot with PSA - you can see the special label: 2018 National Break. Here is Marv coming right out of the pack:

We were lucky enough to see post from a seller on our Twitter account from DR Slab (@SlabCollector) offering the Marv Grissom for sale. We HAD to buy this card! The provenance on these cards is undeniable and quite the attribute to each card we pulled from the famed pack. Since these cards rolled out of the factory in 1955, this Marv Grissom hadn't seen the light of day until 2018. From there, we could always track back to the exact moment in time this card was pulled, and who has owned it. A card nearly 70-years-old that was never lost in a game of FLIP or traded a dozen times before being put into bike spokes - few cards from the 50's like that will ever carry such provenance. A huge thank you to Dr. Slab for the sale!
We're not quite sure what we are going to do with this special card. While it would look nice framed here at the VB office, we may give this card away to you as a prize in an upcoming contest; we know you'll take great card of this card from here on out.
How would you like to own a card from the 1955 Bowman baseball set? Perhaps a MICKEY MANTLE? We do have a set break up with all 320 cards from the '55 set including Mantle, Hank Aaron, Willie Mays, and more! The best part: It's only $27.50 per spot for a card! For details and how to buy a spot, check click here:
WHY CHOOSE VINTAGE BREAKS?
Vintage Breaks offers THE BEST VALUE IN BREAKING.
When you check out for a spot on the site, the price you see is the price you pay. Taxes and shipping are included! Your cards always come protected in holders. The last time you mailed a package out had to have set you back more than three bucks, right? If you buy a $3.00 spot, you get your card holdered and shipped for that price.
Lack of product in stores has been a problem; we see the same empty shelves that you do. If you can't find cards, Vintage Breaks is your solution.
FUN! Cards are our passion! Isn't is just more fun to chat with other collectors? Come hang with us and other collectors just like you during our breaks!
A Vintage Breaks, we have our main breaking show in New Jersey (The North), to go with our night owls in the South (Georgia), and the West (Arizona). You can always check our CALENDAR to see when we're breaking.
VINTAGE BREAKS IS BUYING!
If you have sealed wax, vintage or modern, that you are considering selling, contact us today to discuss or get our industry-leading purchase offer. We're always interested in both sealed product of both sport and non-sport. Whether you have that rare 1955 Bowman cello pack, a wax box of 1984 Topps football, 1977 Topps Star Wars, Pokémon, or 2019 Panini National Treasures basketball you'd like to sell, we'd love to hear from you!
CONTACT US ANY TIME
If you have any questions about a product, break, shipping, or even if you're interested in SELLING a collection, reach out any time!