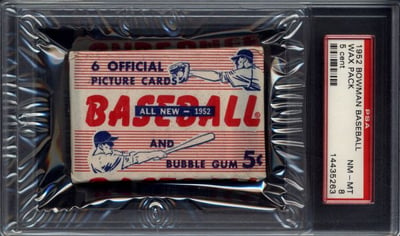 A very rare sealed 1952 Bowman baseball wax pack is now listed for a break! Your shot at a pack-fresh Mickey Mantle or Willie Mays is here as we look to make history at Vintage Breaks.
For 70 years this pack has been sealed. Hidden from the light of day, these 6 cards are ready to make history. Remember when we offered you spots in a 1955 Bowman cello pack and pulled a Mickey Mantle? We're hoping to put another pack-fresh, iconic card in your hands again! A wax pack of 1952 Bowman Baseball is now live in our card breaks.
1952 TOPPS BASEBALL CARDS
Bowman scaled the set size back to a total of 252 cards in 1951; down from 324 compared to the 1951 set. The size is just a tad bigger as well, measuring 2-1/8" by 3-1/8. The front of each card features a hand-painted reproduction of player photos with a colorful design. Bowman included a facsimile of each player on the front of the cards. On the back of the cards you'll find a little blurb about each player. Rather than the stats you're accustom to seeing on modern cards, you'll find lines like "Entered into the Army on May 29, 1952. Will be missed at the Polo Grounds and throughout the league." on the back up Willie Mays' card.
Among the players in the set are:
Mickey Mantle

Willie Mays

Yogi Berra

Roy Campanella

Stan Musial

Warren Spahn

Pee Wee Reese

Robin Roberts
Here are 1952 Bowman cards that our sister company, Just Collect, purchased in The Black Box Collection; you can see how beautiful these cards are!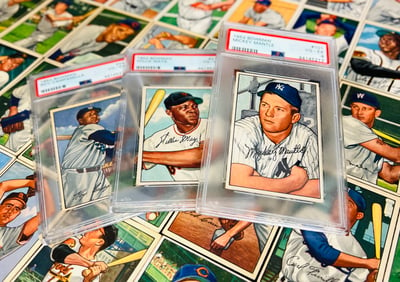 The cards possible in this pack are stellar! Imagine pulling a pack-fresh Mickey Mantle or Willie Mays. There are only two-known PSA 10 Mantle cards on the population report and just 13 PSA 9 copies. Of all cards in the set, PSA has only graded 79 as a ten. Yogi Berra and Pee Wee Reese have zero cards graded Gem Mint 10! You're never guaranteed a PSA 10 but the best way to land one is fresh from a pack.
How rare is this sealed pack? PSA has only graded 16 packs from 1952 Bowman baseball. This pack received a grade 8! Only three packs ever were graded higher.
The smaller set size is in your favor. This pack contains 6 total cards from the 252-card set and a stick of gum. We know what you're thinking - what if the gum has stuck to one of the cards. Since that is possible, the first card in the break will be the card directly under the gum and will NOT count. Instead, we'll give that card away randomly to someone in the break. If you earn the extra "gum card", it's yours to keep. Fingers crossed that the gum is not stuck to the card, but we understand that spending your hard-earned money on a card that could be covered in 70-year-old gum isn't how we do breaks here at Vintage Breaks.
Only FIVE spots are available in the break. Five chances to pull a card fresh from the factory back when Charlotte's Web was a brand new book, Lucille Ball was all about he Vitameatavegamin, the Weber Grill was invented, a new house cost $9,000, and when a gallon of gas set you back just twenty cents. Every spot you purchase guarantees you once card from this pack, and possible two cards. Each spot is $6,000. You can get all details and purchase your spots by clicking the button below. Let's pull you history!
Here is the video of us pulling a pack-fresh 1955 Bowman Mantle from the National in 2018, which sold for $357,483 last year!
WHY CHOOSE VINTAGE BREAKS?
Vintage Breaks offers THE BEST VALUE IN BREAKING.
When you check out for a spot on the site, the price you see is the price you pay. Taxes and shipping are included! Your cards always come protected in holders. The last time you mailed a package out had to have set you back more than three bucks, right? If you buy a $3.00 spot, you get your card holdered and shipped for that price.
Lack of product in stores has been a problem; we see the same empty shelves that you do. If you can't find cards, Vintage Breaks is your solution.
FUN! Cards are our passion! Isn't is just more fun to chat with other collectors? Come hang with us and other collectors just like you during our breaks!
A Vintage Breaks, we have our main breaking show in New Jersey (The North), to go with our night owls in the South (Georgia), and the West (Arizona). You can always check our CALENDAR to see when we're breaking.
VINTAGE BREAKS IS BUYING!
If you have sealed wax, vintage or modern, that you are considering selling, contact us today to discuss or get our industry-leading purchase offer. We're always interested in both sealed product of both sport and non-sport. Whether you have that pack of 1977 Star Wars, that rare 1955 Bowman cello pack, a wax box of 1984 Topps football, Pokémon, or 2019 Panini National Treasures basketball you'd like to sell, we'd love to hear from you!
CONTACT US ANY TIME
If you have any questions about a product, break, shipping, or even if you're interested in SELLING a collection, reach out any time!