Did you ask Santa Claus for a T206 Ty Cobb card for Christmas? How about ringing in the New Year with a 1993 Topps Derek Jeter gold rookie card. Let's make these wishes come true in the new Vintage Breaks event: Celebration of Baseball. You can win over $15,000 in prizes including a Babe Ruth card or thousands in break credit!
Are you on the NICE list this year? If not, that's OK - our new contest here at Vintage Breaks is open to everyone so even if you landed on the NAUGHTY list, you're in - our secret. We're giving away over $15,000 in prizes in the Celebration of Baseball Event!
FOUR contests are currently running, each loaded with prizes!
WHEN:
NOW until 10:00 PM EST. on Sunday, January 23rd
WHERE:
HOW:
CONTEST #1 - PLATINUM VIP BONUS (1) PRIZE!
For every $10,000 you accumulate spending at
now through Sunday, January 23rd at 10:00 PM EST., you will receive one entry into the Platinum VIP Bonus. No limits here! If you spend $20,000, you'll have two entries, etc. ONE prize, and it's incredible. We'll random all the entries live on the show and the top spot wins! WINNER TAKE ALL FOR: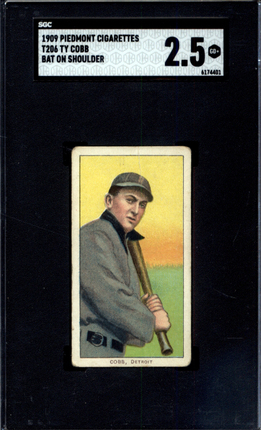 T206 Ty Cobb Bat on Shoulder Variation SGC 2.5!
There are currently only 80 copies of this card graded on the SGC pop report, and this card has great eye appeal. Taking home a Ty Cobb T206 is sure to be the centerpiece of your collection. This card would knock off one of the "big" cards needed if you're looking to complete the iconic T206 set or may be the spark to begin collecting the set.
CONTEST #2 - VIP BONUS (3) PRIZES!
For every $2,500 you accumulate spending at
now through Sunday, January 23rd at 10:00 PM EST., you will receive one entry into the VIP Bonus. No limits here either! If you spend $5,000, you'll have two entries, etc. If you're wondering how much you have accumulated, reach out any time to Sam at (732) 828-2261 or send him an e-mail to Sam@vintagebreaks.com. If you're only a few dollars short of an entry, we don't want you to miss out! We'll random all the entries live on the show and the top 3 win!
VIP BONUS PRIZES:
1. .1929 R316 Kashin Babe Ruth PSA 4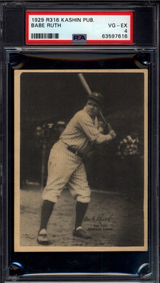 2. .$3,500 Break Credit to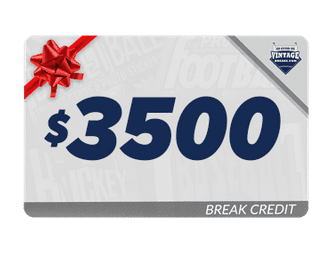 3. 2020 Prizm FOTL Football Box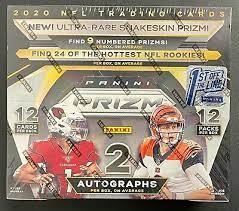 The top prize is a Kashin Babe Ruth. When is the last time you had the chance to get your hands on an original, graded Babe Ruth card? We couldn't have a Celebration of Baseball event without offering you a card from The Great Bambino. Kashin cards were distributed in four boxes with 25 cards each back in 1929, similar to how you would find Drake's Big Hitters from the 1980's.
If you win the $3,500 break credit, you can choose ANYTHING on our website. Perhaps you'd rather break it out into 10 or 20 different pack breaks - that's awesome! Or if you want to go big or go home, you can spend all $3,000 in one shot. Start window shopping on the products you would buy if you won right here.
Third place will give you a first-off-the-line 2020 Prizm football box, on average, will have 1 Shimmer Prizm auto (/35 or less) and 1 additional autograph. There would be 2 Shimmer Prizms /35 or less, 7 numbered Prizms, 2 Silvers, and most importantly - 24 rookies! You could chase rookie cards of Joe Burrow or Justin Herbert. Big question: Will you keep the box sealed or open it?
CONTEST #3 - BUY ANY SPOT PROMO (10) PRIZES!
ANY spot you buy at
now through Sunday, January 23rd at 10:00 PM EST. gets you one entry into the contest. ZERO limits to this contest - if you buy twice on the Vintage Breaks site, you are entered into the contest twice. Checkout 50 different times now through the end of the contest and you'll get 50 cracks at the prize list. We'll random all the entries live on the show and the top 10 win!
The best part about the Buy Any Spot promo is that spots cost as little as $3.00!
BUY ANY SPOT PROMO PRIZES:
1. 1955 Topps Jackie Robinson SGC 3.5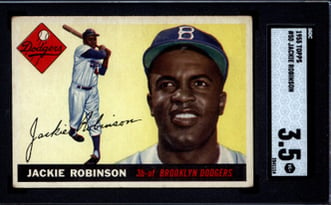 2. 1967 Topps Mickey Mantle SGC 4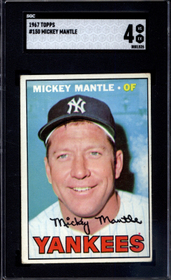 3. 1993 Topps Gold Derek Jeter Rookie PSA 9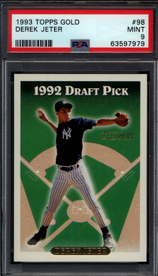 4. $240 Break Credit to
When you think baseball, you just can't leave off the names Jackie Robinson, Mickey Mantle, or Derek Jeter. The top three prizes here are awesome! All three cards are graded for you and ready to be added to your personal collection. Ever since we pulled the 1993 Topps Gold Derek Jeter fresh from a pack, we wanted to give one away.
There are no bad spots here. While we want to focus on baseball, perhaps that's not your sport. We included hockey, football, and basketball wax packs for you! Perhaps you can chase a Dan Marino or John Elway rookie card from the 1984 Topps wax pack, or a second-year Larry Bird or Magic Johnson card from 1981 Topps basketball.
ALL of these 10 prizes are up for grabs in the Buy Any Spot contest. We have spots that start at as little as $3.00! You can search for a Frank Thomas rookie for a $3.00 spot out of 1990 Leaf pack breaks here.
CONTEST #4 - BREAK-A-MANIACS (BAM) APPRECIATION (3) PRIZES!
This is a very special prize - you can't buy in! The only way you can get a spot in this promotion is through bonuses on our shows such as answering trivia questions, as a prize in our social media, or maybe making us laugh!
We'll random all free entries live on the show and the top 3 spots wins:
1. $500 Break Credit to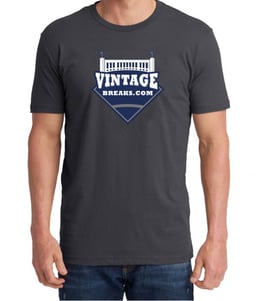 If you started window shopping above, we know you've got your eye on something - $500 would go a long way to buying that, wouldn't it?! You might win a $500break credit for something as simple as a random act of kindness or winning trivia on our show.
is our sister company - they buy and sell whole collections. There eBay store is HERE, and that $250 credit in second place is also good for anything in their store.
USING THE SITE:
If you've never been on our site before:
Step 1
Head to vintagebreaks.com and click either of the SIGN UP buttons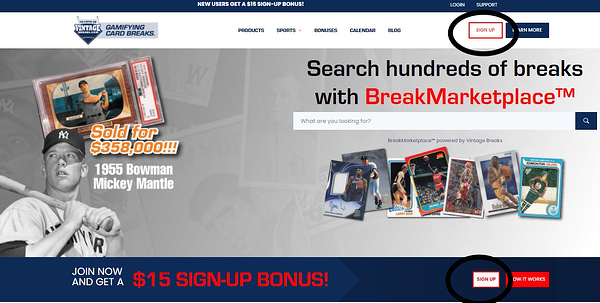 Step 2
Create Your Account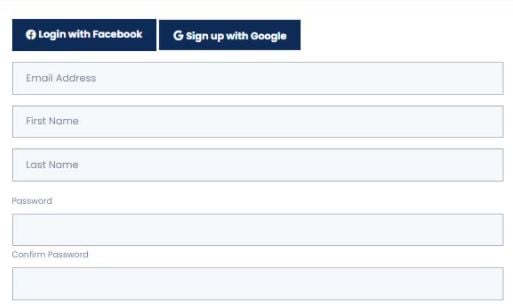 Step 3
Browse items and press Add to Cart when you see something you like. Press the cart icon in the top right when ready to checkout.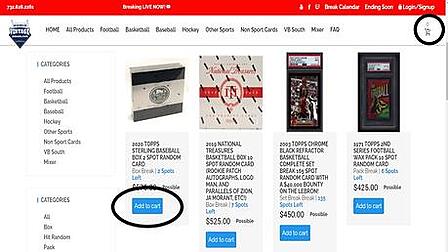 Step 4
Update your quantities for additional spots by toggling the number in the quantity column, and then pressing the Update Quantities button. Press Checkout button, and you're IN!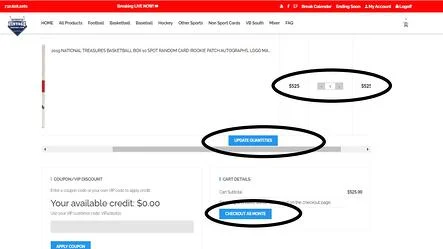 WATCH THE EVENT:
Sunday night, January 23rd at 10:00 PM EST., we'll randomize the lists of all entrants, live on-screen. You'll see the dice roll and randomizing of your name right on the screen. Watch all the action at:
FOR ALL DETAILS CLICK
WHY CHOOSE VINTAGE BREAKS?
Vintage Breaks offers THE BEST VALUE IN BREAKING.
All of these prizes are just bonuses! You still get the spot your purchase on our site, too! You could very well pull a nice rookie card out of a pack during a break, then win the grand prize in our Fall Ball event. Since there are no limits on entries, you could even win multiple prizes!
When you check out for a spot on the site, the price you see is the price you pay. Taxes and shipping are included! Your cards always come protected in holders. The last time you mailed a package out had to have set you back more than three bucks, right? If you buy a $3.00 spot, you get your card holdered and shipped for that price.
Lack of product in stores has been a problem; we see the same empty shelves that you do. Target has paused all card sales! If you can't find cards, Vintage Breaks is your solution!
FUN! Cards are our passion! Isn't is just more fun to chat with other collectors? Social distancing has made that hard, too. Come hang with us and other collectors just like you during our breaks!
Even if you just want to watch the show, chat, and meet new collectors, that's always welcomed!
A Vintage Breaks, we have our main breaking show in New Jersey (The North), to go with our night owls in the South (Georgia), and the West (Arizona). You can always check our CALENDAR to see when we're breaking.
VIDEO OF AN EVENT:
Here is a video of one of our last event where we gave away a 1965 Topps Baseball Complete Set, 2018 Topps Chrome Update Shohei Ohtani Pink Refractor Rookie PSA 10, and many more prizes so you can see how you may take home a prize in our Celebration of Baseball Event: