Wander Franco lit up our Vintage Breaks offices when his autographed rookie emerged from our 2022 Topps Tier One Break. The card is beautiful with an art deco design and features Franco with his eyes up after having just smashed the baseball.
Due to injury, Franco's season hasn't gone according to plan. He started the season strong, but then quadriceps and hamstring injuries caused him to miss a month of action. Then a wrist injury forced him to miss two months of baseball. He has now made his return just in time for a playoff push. If he can stay healthy, and make an impact in the playoffs, the value of this autographed card will skyrocket in value.
You can watch the Tier One break for yourself below.
Vintage Breaks currently has an MLB team break with a box of 2022 Topps Tier One. 6 total boxes in the break and the opportunity for several Wander Franco rookie cards. Purchase your spot for $95 per spot below.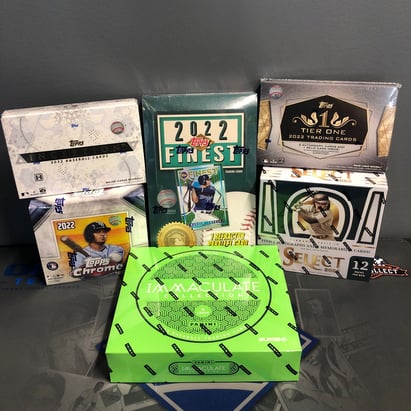 Purchase your spot today and the next big hit could belong to you.
WHY CHOOSE VINTAGE BREAKS?
Vintage Breaks offers THE BEST VALUE IN BREAKING.
When you check out for a spot on the site, the price you see is the price you pay. Taxes and shipping are included! Your cards always come protected in holders. The last time you mailed a package out had to have set you back more than three bucks, right? If you buy a $3.00 spot, you get your card holdered and shipped for that price.
Lack of product in stores has been a problem; we see the same empty shelves that you do. If you can't find cards, Vintage Breaks is your solution.
FUN! Cards are our passion! Isn't it just more fun to chat with other collectors? Come hang with us and other collectors just like you during our breaks!
A Vintage Breaks, we have our main breaking show in New Jersey (The North), to go with our night owls in the South (Georgia), and the West (Arizona). You can always check our CALENDAR to see when we're breaking.
VINTAGE BREAKS ARE BUYING!
If you have sealed wax, vintage or modern, that you are considering selling, contact us today to discuss or get our industry-leading purchase offer. We're always interested in both sealed products of both sport and non-sport. Whether you have that pack of 1977 Star Wars, that rare 1955 Bowman cello pack, a wax box of 1984 Topps football, Pokémon, or 2019 Panini National Treasures basketball you'd like to sell, we'd love to hear from you!
CONTACT US ANY TIME
If you have any questions about a product, break, shipping, or even if you're interested in SELLING a collection, reach out any time!