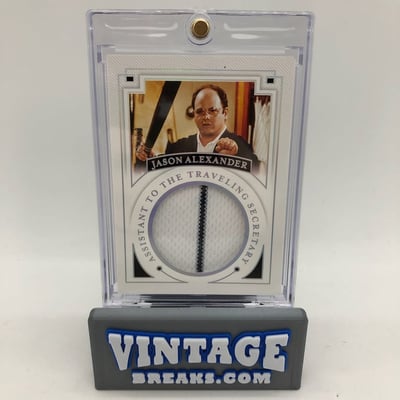 A FESTIVUS MIRACLE! While doing a break of 2021 Panini National Treasures baseball, we pulled THE card you've been hunting - the George Costanza Yankees jersey! Come watch the video and see what other incredible cards were in the card breaks that you won't believe.
During our Vintage Breaks New Year's Eve card breaks fun, we found THE card you've been waiting to see - the New York Yankees assistant to the traveling secretary himself, George Costanza!
While breaking 2021 Panini National Treasures baseball for you, we knew the rumors of a patch card containing a big piece of the Yankees jersey that actor, Jason Alexander, wore while playing George Constanza on Seinfeld was in the product. We tried to pull you this amazing card for Festivus but we apparently didn't air enough grievances. Our New Year's Resolution for 2022 was landing you this card! It finally happened on New Year's Eve for Jeff Sharp! Here's the moment S10 pulled Jeff's card: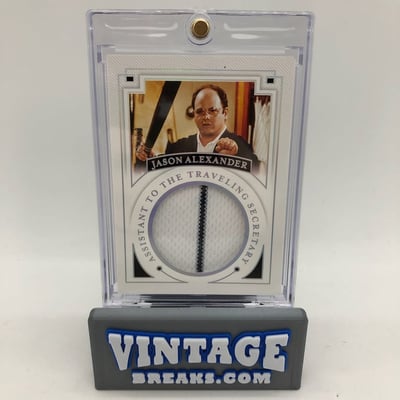 HOW COOL IS THIS CARD?! Numbered to 99 and a big stripe down the middle; we LOVE this insert. Congrats, Jeff! What's even more amazing, if you watch the entire break of the box, Jeff also pulled a Babe Ruth bat piece card from the same box! How often does a George Costanza card overshadow a Babe Ruth card... Though, we're pretty sure even The Babe never went into the owner's office like Costanza did with George Steinbrenner and spout off at The Boss! "All for the glorification if your massive ego!"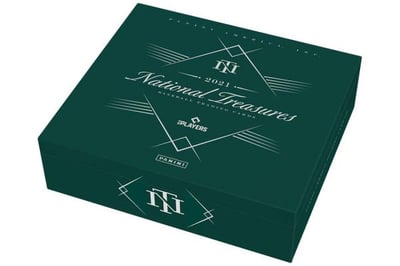 If you were given a Vintage Breaks Gift Card for Festivus (or Christmas and not a note about a donation to The Human Fund, you can try to pull your own Constanza card! You can get into our next break of 2021 Panini Baseball National Treasures by clicking here:

Don't forget about our big EVENT! We're giving away over 15,000 in prizes including a T206 Ty Cobb, a 2020 Prizm Football Box, thousands of dollars in break credit and more! For details, just click:
WHY CHOOSE VINTAGE BREAKS?
Vintage Breaks offers THE BEST VALUE IN BREAKING.
When you check out for a spot on the site, the price you see is the price you pay. Taxes and shipping are included! Your cards always come protected in holders. The last time you mailed a package out had to have set you back more than three bucks, right? If you buy a $3.00 spot, you get your card holdered and shipped for that price.
Lack of product in stores has been a problem; we see the same empty shelves that you do. If you can't find cards, Vintage Breaks is your solution.
FUN! Cards are our passion! Isn't is just more fun to chat with other collectors? Come hang with us and other collectors just like you during our breaks!
A Vintage Breaks, we have our main breaking show in New Jersey (The North), to go with our night owls in the South (Georgia), and the West (Arizona). You can always check our CALENDAR to see when we're breaking.
VINTAGE BREAKS IS BUYING!
If you have sealed wax, vintage or modern, that you are considering selling, contact us today to discuss or get our industry-leading purchase offer. We're always interested in both sealed product of both sport and non-sport. Whether you have that rare 1955 Bowman cello pack, a wax box of 1984 Topps football, 1977 Topps Star Wars, Pokémon, or 2019 Panini National Treasures basketball you'd like to sell, we'd love to hear from you!
CONTACT US ANY TIME
If you have any questions about a product, break, shipping, or even if you're interested in SELLING a collection, reach out any time!