The 2022 National Sports Collectors Convention is UNBELIEVABLE so far, and we're only on day three here in Atlantic City. Let's go behind-the-scenes for big pulls in your card breaks, the rarest items in the hobby, autographs, and a historic break.
ONLY here at The National will see the breaks we have for you, the biggest pulls, and one-of-a-kind items that will blow your mind. We are breaking LIVE at the National, and going behind-the-scenes at the biggest show in the world.
1952 BOWMAN PACK BREAK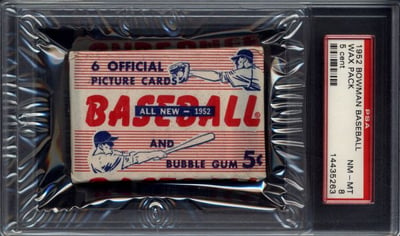 We. Can't. Wait! We have a pack break of 1952 Bowman with potential pack-fresh Mickey Mantle or Willie Mays cards. This is a HISTORIC break. Imagine pulling a pack-fresh Mickey Mantle or Willie Mays. There are only two-known PSA 10 Mantle cards on the population report and just 13 PSA 9 copies. Of all cards in the set, PSA has only graded 79 as a ten. Yogi Berra and Pee Wee Reese have zero cards graded Gem Mint 10! You're never guaranteed a PSA 10 but the best way to land one is fresh from a pack.
How rare is this sealed pack? PSA has only graded 16 packs from 1952 Bowman baseball. This pack received a grade 8! Only three packs ever were graded higher. Let's make history again like we did in 2018 when we pulled a Mantle from a 1955 Bowman cello!
Get your spots here:
AARON JUDGE PATCH AUTO PULL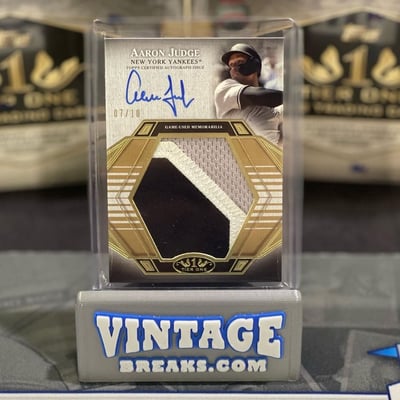 From Topps Tier One, we pulled this amazing /10 patch auto from the Yankees superstar. Loving the away jersey patch!
1952 TOPPS MICKEY MANTLE ROOKIE SGC 9.5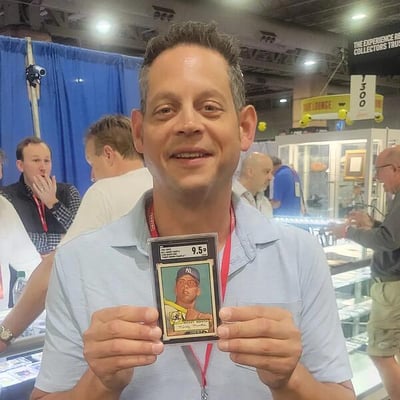 From the 1986 "Mr. Mint" find, this Mantle rookie card is expected to sell for North of TEN MILLION dollars at Heritage Auctions. Here is our owner, Leighton, proudly holding such an iconic piece. Don't forget YOU can try to pull a Mantle rookie in our 1952 Topps baseball set break here:
1985 GARBAGE PAIL KIDS ADAM BOMB

We love breaking 1985 GPK for you! Nice to see FOUR Adam Bomb cards at the booth to bring us back to the days when all we cared about was what cool lunch box we had. I rocked Transformers. You can get into a GPK break here.
1918-22 BABE RUTH GAME USED AND SIGNED BAT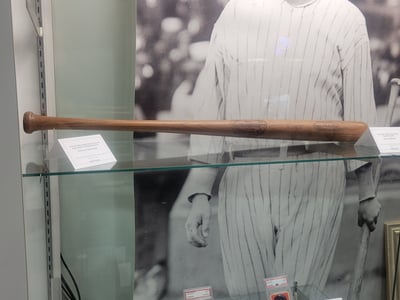 No words needed here; game used by The Great Bambino!
STAFF FUN!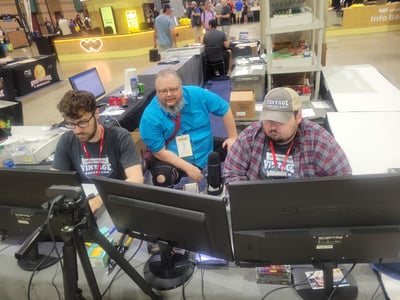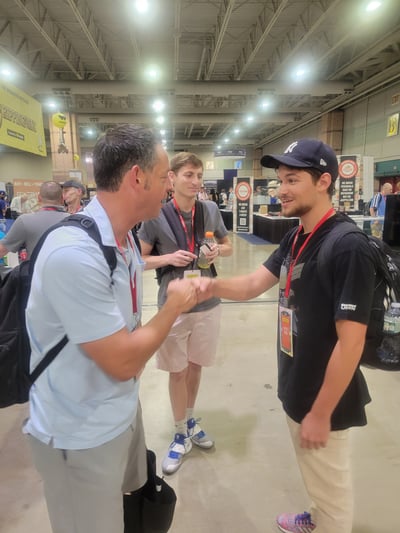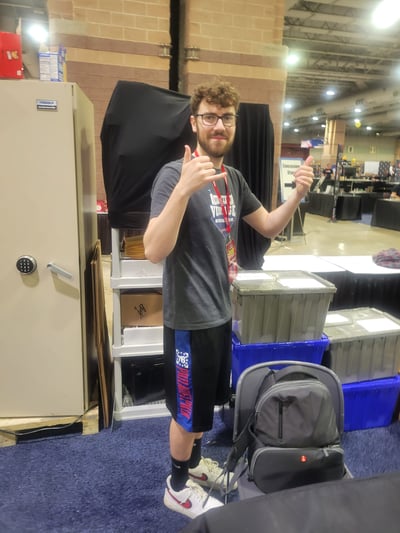 J5 is ALAWYS working to get you the best breaks; here he is on two laptops and a phone!
Make sure to come stop by the Vintage Breaks booth #5050 just inside the Ripping Wax Case Break Pavilion. We can't wait to see you, and pull HISTORY!
WHY CHOOSE VINTAGE BREAKS?
Vintage Breaks offers THE BEST VALUE IN BREAKING.
When you check out for a spot on the site, the price you see is the price you pay. Taxes and shipping are included! Your cards always come protected in holders. The last time you mailed a package out had to have set you back more than three bucks, right? If you buy a $3.00 spot, you get your card holdered and shipped for that price.
Lack of product in stores has been a problem; we see the same empty shelves that you do. If you can't find cards, Vintage Breaks is your solution.
FUN! Cards are our passion! Isn't is just more fun to chat with other collectors? Come hang with us and other collectors just like you during our breaks!
A Vintage Breaks, we have our main breaking show in New Jersey (The North), to go with our night owls in the South (Georgia), and the West (Arizona). You can always check our CALENDAR to see when we're breaking.
VINTAGE BREAKS IS BUYING!
If you have sealed wax, vintage or modern, that you are considering selling, contact us today to discuss or get our industry-leading purchase offer. We're always interested in both sealed products of both sport and non-sport. Whether you have that pack of 1977 Star Wars, that rare 1955 Bowman cello pack, a wax box of 1984 Topps football, Pokémon, or 2019 Panini National Treasures basketball you'd like to sell, we'd love to hear from you!
CONTACT US ANY TIME
If you have any questions about a product, break, shipping, or even if you're interested in SELLING a collection, reach out any time!