100 pieces of signed memorabilia include baseball legends Ty Cobb, Ted Williams, and Mickey Mantle
100 Spot Baseball Autographed Memorabilia HIT Random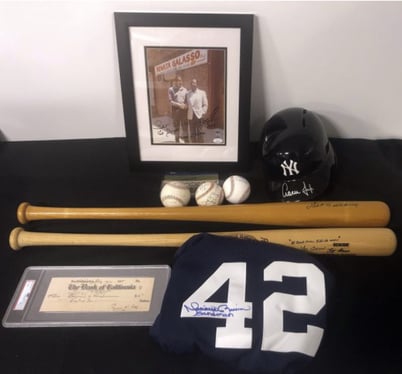 What if you could get autographed memorabilia from baseball's all-time greats while keeping your arm and leg? Would you be interested? Of course, you would! No, we don't have a DeLorean, but what we do have is a 100 Spot Baseball Autographed Memorabilia HIT Random that is available right now at Vintage Breaks.
We are giving you the opportunity to obtain pieces of signed baseball memorabilia from the legends of baseball. The autographed memorabilia break has 100 spots of signed items that include bats, jerseys, photos, and a check signed by Hall of Famer Ty Cobb!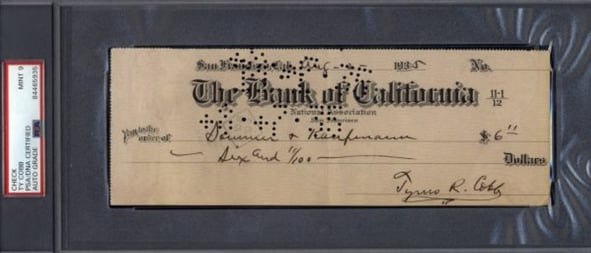 87 years ago, Ty Cobb made a purchase of $6.11 and that very check can be yours. It's fun to imagine what he purchased on August 2, 1935. By this time, Ty Cobb was 48 years old, 7 years removed from his final MLB game, and not yet a Hall of Famer as he would be inducted in 1936. This incredible piece will go to one lucky winner.
Another incredible piece is this autographed bat of Ted Williams.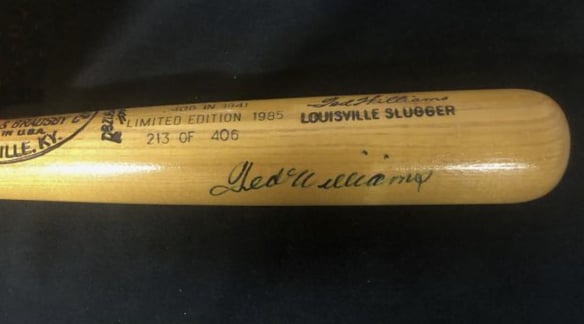 The Ted Williams signature is on a bat commemorating his .406 batting average in 1941 and is numbered 213 of 406. A San Diego native, Teddy Ballgame had a career average of .344 while taking off three seasons to serve in the military during WWII. In the season before joining the military, Williams earned the triple crown with a .356 batting average, 36 home runs, and 137 RBI's. In his return from military service, he earned the MVP for the 1946 season.
This break should not be missed.
Other memorabilia available in our 100 spot break is as follows:
1998 Yankees Team Signed Baseball
Mickey Mantle signed photo
Hank Aaron signed photo
Yogi Berra signed bat
Aaron Judge signed batting helmet
Each spot guarantees you an autographed piece of memorabilia. To purchase your spot and to view the entire list of autographed items in the break, click here:
Good luck! We hope you enjoy the break and find yourself owning an important piece of history.
WHY CHOOSE VITAGE BREAKS?
Vintage Breaks offers THE BEST VALUE IN BREAKING.
When you check out for a spot on the site, the price you see is the price you pay. Taxes and shipping are included! Your cards always come protected in holders. The last time you mailed a package out had to have set you back more than three bucks, right? If you buy a $3.00 spot, you get your card holdered and shipped for that price.
Lack of product in stores has been a problem; we see the same empty shelves that you do. If you can't find cards, Vintage Breaks is your solution.
FUN! Cards are our passion! Isn't is just more fun to chat with other collectors? Come hang with us and other collectors just like you during our breaks!
A Vintage Breaks, we have our main breaking show in New Jersey (The North), to go with our night owls in the South (Georgia), and the West (Arizona). You can always check our CALENDAR to see when we're breaking.
VINTAGE BREAKS IS BUYING!
If you have sealed wax, vintage or modern, that you are considering selling, contact us today to discuss or get our industry-leading purchase offer. We're always interested in both sealed products of both sport and non-sport. Whether you have that pack of 1977 Star Wars, that rare 1955 Bowman cello pack, a wax box of 1984 Topps football, Pokémon, or 2019 Panini National Treasures basketball you'd like to sell, we'd love to hear from you!
CONTACT US ANY TIME
If you have any questions about a product, break, shipping, or even if you're interested in SELLING a collection, reach out any time!