The box-hit from a fresh 1995-96 Fleer Metal box happened to be of The GOAT, Michael Jordan, in our latest card breaks here on Vintage Breaks! Not only did we pull a Maximum Metal Jordan, we also pulled a Slick Silver insert, too! Check out the the video and see how you can get in on the next break.
Not one but TWO inserts of The GOAT? It was that kind of day on Vintage Breaks South this weekend. Gilmore opened up a sealed box of 1995-96 Metal Series 1 for James Phillips. James bought every spot in the break to make it a personal box, and we went hunting for MJ.
Checking the insert ratio of the box, a Silver Spotlight (Series 1 has 200 cards in the set) was inserted in every pack, Slick Silver inserts are 1 in 7 packs, and Maximum Metal inserts are 1 per box of 36 packs. James knew he would pull 1 Maximum Metal and a few Slick Silvers but of which players? Nostalgia hits like Penny Hardaway or Hall of Famers like Jason Kidd or Shaq maybe?. Luck was on James' side as he scoops up a Jordan as one of the Slick Silvers, and the lone Maximum Metal in box turned out to #23, too, or as Gilmore put it - "Michael. Freakin'. Jordan." 😮
Video of the Maximum Metal:
Video of the Slick Silver:
Congrats, James! Those MJ's look AWESOME! Loving the die-cut; really taking us back to the 90's when you could find a pack of hoops cards that had more than four cards and die-cuts were THE cards to own. When Wal-Mart had boxes with 20 + packs and we could find all the boxes you could dream of; those were the days.
Gilmore makes a great point - these cards look great because they weren't in a binder your mom found under your old bed when you go visit. The cards haven't been placed in screwdowns or old top loaders and passed around at card shows. What you get from VB are pack-fresh pulls that we also broadcast live for you and are posted on all of our socials for playback; the provenance is undeniable.
Want in on some 90's hoops breaks yourself? We have a great selection up on our site now! For info, just click the buttons below.
The O.G. Would love to see you pull a sweet refractor from this 1993 Topps Finest break!
Love seeing Reggie Miller on the cover of 1994 Topps Finest Series 2; one of our favorite all-time players!
Second-year Kobe Bryant cards and Tim Duncan rookies are possible from 1997-98 Topps Chrome.
Speaking of Michael Jordan cards, we have a set break of 1987 Fleer with a second-year MJ graded SGC 8.5 for only $32.50 per spot here:
We have vintage basketball, 90's, and modern all available, as well as every sport and non-sports cards, too! Come hop into a break by visiting
Now, let's look at those MJ inserts one more time, shall we? 😍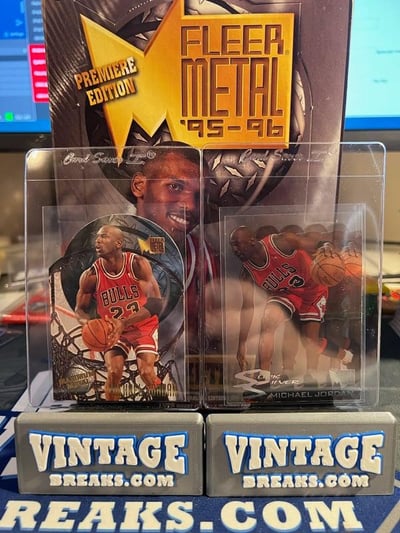 WHY CHOOSE VINTAGE BREAKS?
Vintage Breaks offers THE BEST VALUE IN BREAKING.
When you check out for a spot on the site, the price you see is the price you pay. Taxes and shipping are included! Your cards always come protected in holders. The last time you mailed a package out had to have set you back more than three bucks, right? If you buy a $3.00 spot, you get your card holdered and shipped for that price.
Lack of product in stores has been a problem; we see the same empty shelves that you do. If you can't find cards, Vintage Breaks is your solution.
FUN! Cards are our passion! Isn't is just more fun to chat with other collectors? Come hang with us and other collectors just like you during our breaks!
A Vintage Breaks, we have our main breaking show in New Jersey (The North), to go with our night owls in the South (Georgia), and the West (Arizona). You can always check our CALENDAR to see when we're breaking.
VINTAGE BREAKS IS BUYING!
If you have sealed wax, vintage or modern, that you are considering selling, contact us today to discuss or get our industry-leading purchase offer. We're always interested in both sealed product of both sport and non-sport. Whether you have that rare 1955 Bowman cello pack, a wax box of 1984 Topps football, 1977 Topps Star Wars, Pokémon, or 2019 Panini National Treasures basketball you'd like to sell, we'd love to hear from you!
CONTACT US ANY TIME
If you have any questions about a product, break, shipping, or even if you're interested in SELLING a collection, reach out any time!