We gave away a 1933 Lou Gehrig, a 1959 Topps Mickey Mantle, and tons of break credit in The Greatest Event of All-Time. Here is the list of winners - see if YOU won a prize!
Our Greatest Event of All-Time just took place and we gave away a TON of prizes. As bonuses for entering our breaks or even simply making us laugh, we gave out prizes like a $1,000 break credit, a 2018 Topps Chrome Update box, and even a 1933 Goudey Lou Gehrig card! If you missed our live stream, here is a recap and the video of the drawing so you can see if YOU won a prize.
BUY ANY SPOT PROMO (5) PRIZES!
1. Larry Conger = 1959 Topps Mickey Mantle graded SGC 4
2. Todd Malanowski = T206 Bobby Wallace graded SGC 3
3. Ted Hallson = $250 break credit
4. Robert Alt = $100 break credit
5. Jarel Nimitz = $100 Just Collect eBay store credit.
PLATINUM VIP BONUS (1) PRIZE!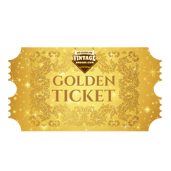 Larry Herbinaux won the Golden Ticket!
We will randomize the list of all Golden Ticket winners and the top spot will choose between a pool of three prizes. One of these three prizes will be a trip to the 2024 National that includes a paid flight and a hotel for two nights! We'll be posting the other two prizes to choose as we get closer to the drawing.
VIP BONUS (3) PRIZES!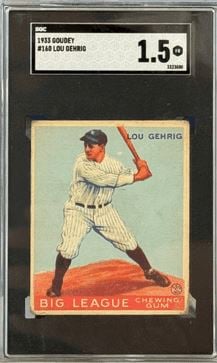 1. Al Sutherland = 1933 Goudey Lou Gehrig graded SGC 1.5
2. Robert Ferguson = $1,000 break credit
3. Jason Serafinski = 2018 Topps Chrome Update Mega Box
BREAK-A-MANIACS (BAM) APPRECIATION (3) PRIZES!
1. Jarel Nimitz = $250 break credit
2. Alexander Patterson = $100 break credit
3. Travis Cool = $50 break credit + VB merchandise
VIDEO OF EVENT PRIZES:
Congrats to you each for winning a prize! If you didn't win a prize in this event, don't worry; we have another event coming in December with more prizes. Keep checking the VB blog here for all the details on the next event!
To join the Vintage Breaks card breaks, you can see all breaks here:
WHY CHOOSE VINTAGE BREAKS?
Vintage Breaks offers THE BEST VALUE IN BREAKING.
When you check out for a spot on the site, the price you see is the price you pay. Taxes and shipping are included! Your cards always come protected in holders. The last time you mailed a package out had to have set you back more than three bucks, right? If you buy a $3.00 spot, you get your card holdered and shipped for that price.
Lack of product in stores has been a problem; we see the same empty shelves that you do. If you can't find cards, Vintage Breaks is your solution.
FUN! Cards are our passion! Isn't is just more fun to chat with other collectors? Come hang with us and other collectors just like you during our breaks!
A Vintage Breaks, we have our main breaking show in New Jersey (The North), to go with our night owls in the South (Georgia), and the West (Arizona). Our newest shows, VB Mid-West, and VB Buffalo are now live to help get our breaks to fit YOUR schedule! You can always check our CALENDAR to see when we're breaking.
VINTAGE BREAKS IS BUYING!
If you have sealed wax, vintage or modern, that you are considering selling, contact us today to discuss or get our industry-leading purchase offer. We're always interested in both sealed product of both sport and non-sport. Whether you have that pack of 1977 Star Wars, that rare 1955 Bowman cello pack, a wax box of 1984 Topps football, Pokémon, or 2019 Panini National Treasures basketball you'd like to sell, we'd love to hear from you!
CONTACT US ANY TIME
If you have any questions about a product, break, shipping, or even if you're interested in SELLING a collection, reach out any time!