Brady. Manning. Herbert. Jones. It's no secret that the NFL is a QB-driven league.; teams are judged by the man under center. Draft Classes graded by the QB's available. In the hobby, box prices are based on the Quarterbacks that have Rookie Cards in the product. In the ultimate team sport, one position reigns supreme: the Quarterback. What about positional player card values? Those values are now on the rise!
From a hobby standpoint, this never made much sense to me, as participants (the word I will use from now on to encompass EVERYONE in the hobby) are, for the most part, die-hard fans, the type of fans that would appreciate and respect what the other, non-QB, 21 players do on the field. Yet for decades, outside of a few exceptions, participants placed little to no value on their cards. Until now.
Welcome to Pulse of The Hobby, a new column by yours truly, Drew, from
. I hope to give you the inside scoop from all things in the hobby we love much like I do in my daily show The Hobby in 60.
A seismic shift is currently going on in the NFL Hobby, and positional players such as RB's, WR's, DB's, etc. are getting more hobby attention than ever before. Hobby love for rookies and up and coming stars making a major impact on the field is no longer reserved to only the man in charge in the huddle. Impact players such as Justin Jefferson, Jonathan Taylor, Deebo, Derrick Henry, Christian McCaffrey & more are seeing their values skyrocket as they continue to dominate on Sundays. Take Deebo Samuel, for instance. One of the most dynamic and explosive players in the game, Deebo was destined for stardom from day one. The hobby agreed, yet during his 2019 Rookie Season a Silver Prizm PSA 10 was valued at a measly $69. Fast forward to Dec 2021, and that same card is valued at $225.71! That's a 189.94% rate of growth! His Prizm Gold Auto /10, ungraded, just sold for an amazing $2,000 on Dec 4th!
In previous years, those would be outliers, but as we look at the big picture, it's clear to see that major attention is being paid to positional players - more so than ever before. Jonathan Taylor's Pink Disco /15 PSA 10 & Optic Gold Auto (ungraded), sold for $1400 & $900 respectively last week.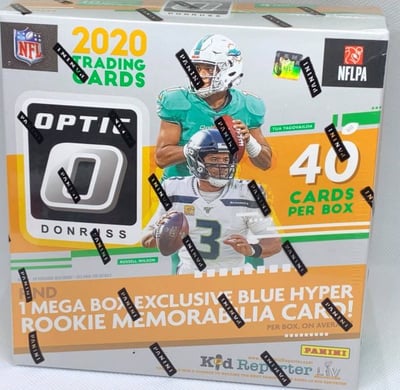 Christian McCaffrey's Contenders Super Bowl Ticket Auto 1/1's, both graded a PSA 8, commanded an INCREDIBLE $7,000!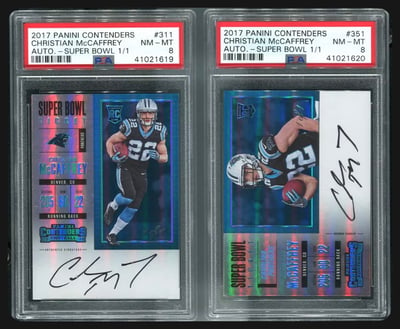 Photo Credit to eBay User prospectcincy
There's a multitude of reasons for this shift in the market. From the sheer volume of new collectors to the exorbitant prices being paid for QB's, they all factor into this new trend. Many collectors have been priced out of the "QB Game," pushing them towards other positions. Make no mistake about it, the QB is still king in the hobby as evident by almost weekly record-breaking sales such as the Herbert NT RPA /99 BGS 9 that sold for $50,000 in early December! The fact remains: the market for positional players is on the rise. The train has left the station, and there's no end in sight - that's a win for the entire hobby.
If you want to get in on trying to pull a card from a positional player with value on the rise, we have all the modern football you could want! You can get in on card breaks from
and
available. If you prefer Donruss or Origins, we have those, too. You could hunt vintage stars in our
if you'd prefer. Come check out all of our breaks at
Don't forget about our big EVENT! We're giving away over 15,000 in prizes including a T206 Ty Cobb, a 2020 Prizm Football Box, thousands of dollars in break credit and more! For details, just click:
WHY CHOOSE VINTAGE BREAKS?
Vintage Breaks offers THE BEST VALUE IN BREAKING.
When you check out for a spot on the site, the price you see is the price you pay. Taxes and shipping are included! Your cards always come protected in holders. The last time you mailed a package out had to have set you back more than three bucks, right? If you buy a $3.00 spot, you get your card holdered and shipped for that price.
Lack of product in stores has been a problem; we see the same empty shelves that you do. If you can't find cards, Vintage Breaks is your solution.
FUN! Cards are our passion! Isn't is just more fun to chat with other collectors? Come hang with us and other collectors just like you during our breaks!
A Vintage Breaks, we have our main breaking show in New Jersey (The North), to go with our night owls in the South (Georgia), and the West (Arizona). You can always check our CALENDAR to see when we're breaking.
VINTAGE BREAKS IS BUYING!
If you have sealed wax, vintage or modern, that you are considering selling, contact us today to discuss or get our industry-leading purchase offer. We're always interested in both sealed product of both sport and non-sport. Whether you have that rare 1955 Bowman cello pack, a wax box of 1984 Topps football, 1977 Topps Star Wars, Pokémon, or 2019 Panini National Treasures basketball you'd like to sell, we'd love to hear from you!
CONTACT US ANY TIME
If you have any questions about a product, break, shipping, or even if you're interested in SELLING a collection, reach out any time!