Brush up on your pack breaking, card sorting, and gum throwing! Yes, gum throwing! Use your unique breaking skills to win free prizes with the Vintage Breaks Olympics!
We want to do something special here at The National to incorporate the Tokyo Olympic Games into our breaks. What better way to do so than to have our own Olympic games!
If you're here at the show, stop by the Vintage Breaks booth #1519 all week, and bring your A-GAME! We've got some free prizes to give away, twice per day, all week! These games are FREE TO PLAY!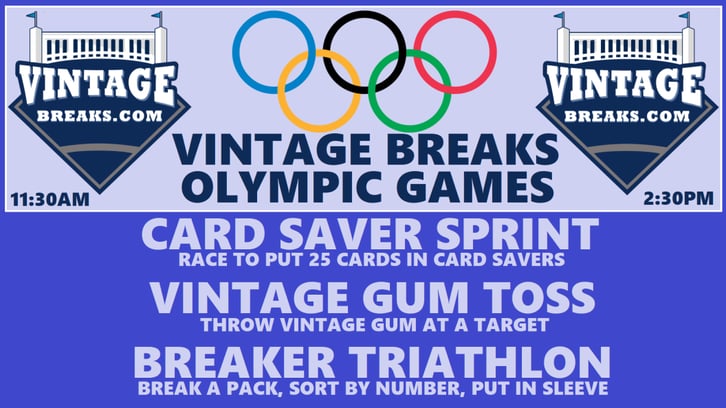 Games are happening twice per day:
Event 1 = Card Save Sprint
How quickly can you put 25 cards into card savers? Get your wheels moving; this is your speed test!
Event 2 = Vintage Gum Toss
Throwing a shot put or discuss here at the National is frowned upon. However, we have all of this vintage gum we can use! Work out those arm muscles and be ready to toss vintage gum!
Event 3 = Breaker Triathlon
We're turning the tables and letting YOU do the breaking! You'll be breaking a pack, sorting the cards by number, and placing them into a sleeve. Are you faster than your favorite breaker?
We'll tally up the points and award you free prizes! This is 100 % FREE to play! See you at the booth!
WHY CHOOSE VINTAGE BREAKS?
Vintage Breaks offers THE BEST VALUE IN BREAKING.
When you check out for a spot the site, the price you see is the price you pay. Taxes and shipping are included! Your cards always come protected in holders. The last time you mailed a package out had to have set you back more than three bucks, right? If you buy a $3.00 spot, you get your card holdered and shipped for that price.
You NEVER go home empty-handed. You always get your spot! Unlike team breaks or division breaks where other breaking companies may pocket your cash and send the unlucky home without a card, you always get your spot at Vintage Breaks.
Lack of product in stores has been a problem; we see the same empty shelves that you do. Target has paused all card sales! If you can't find cards, Vintage Breaks is your solution!.
FUN! Cards are our passion! Isn't is just more fun to chat with other collectors? Come hang with us and other collectors just like you during our breaks.
Even if you just want to watch the show, chat, and meet new collectors, that's always welcomed!
A Vintage Breaks, we have our main breaking show in New Jersey (The North), to go with our night owls in the South (Georgia), and the West (Arizona). You can always check our CALENDAR to see when we're breaking.
CONTACT US ANY TIME
If you have any questions about a product, break, shipping, or even if you're interested in SELLING a collection, reach out any time!