FOUR cards from this 1972 Topps basketball pack break are players in the Basketball Hall of Fame! Only ten cards came in this pack and 40% are of legendary players; check out the pulls that include pack-fresh Pete Maravich and Walt Frazier, as well as a friend of Vintage Breaks!
We don't want to take you back to 2010 when LeBron James said "Not one, not two, not three..." but it felt like that during this 1972 Topps basketball wax pack break. Not one, not two... but FOUR cards from the pack are players enshrined in the Basketball Hall of Fame. What. A. Pack.
Thank you to Lucas, Larry, Rob, and David for purchasing spots in our card breaks that allowed us to open this historic pack for you. While we didn't pull the highly-coveted rookie card of DR. J, Julius Erving, the four HOF players we pulled combined for 32 All-Star games, 3 different scoring champions, and 4 NBA championships.
1972 TOPPS WAX PACK BREAK: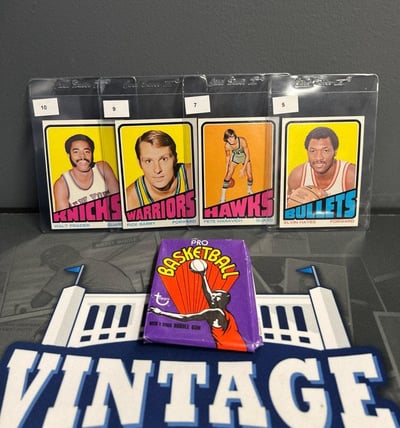 Look at those pack-fresh beauties. Here you can see above the wrapper:
Spot 5 = Elvin Hayes card #150. Hayes was inducted into the HOF in 1990.
Spot 7 = Pete Maravich card #5. Maravich was in the stacked class of 1987.
Spot 9 = Rick Barry card #44. Barry joined Pete in the HOF among the class of 1987.
Spot 10 = Walt Frazier card #60. Frazier was also in the famed class of 1987.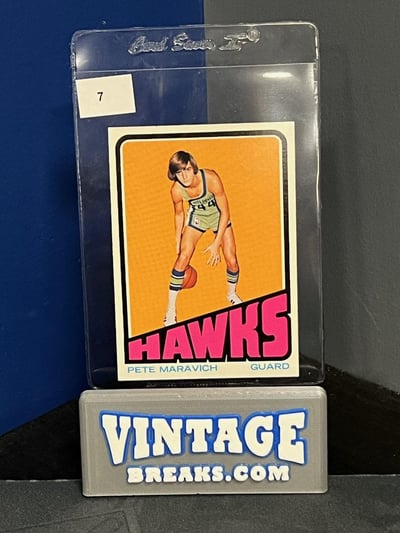 The late-GREAT Pistol Pete Maravich card has a shot at a PSA 9.
What are the odds that Barry and Frazier, both members of the 1987 Basketball Hall of Fame class are pulled back-to-back here. Each card looks clean and has great centering except Frazier; his card is off-center. The PSA pop report has 95 cards graded PSA 9 for Maravich, 46 for Hayes, only 23 for Barry! We're hoping for high grades for you! It's an honor pulling basketball greatness for you.
We have had Rick Barry on the show before. Back during the pandemic we wanted to find a way to bring you a unique breaking experience so we were lucky enough to do a virtual break with Mr. Barry with cards, autographs, and stories for you.
If you'd like to get in on the next basketball break, we have spots for you now! From vintage like 1972 Topps packs to modern 2021 Prizm, you can join us any time here:
WHY CHOOSE VITAGE BREAKS?
Vintage Breaks offers THE BEST VALUE IN BREAKING.
When you check out for a spot on the site, the price you see is the price you pay. Taxes and shipping are included! Your cards always come protected in holders. The last time you mailed a package out had to have set you back more than three bucks, right? If you buy a $3.00 spot, you get your card holdered and shipped for that price.
Lack of product in stores has been a problem; we see the same empty shelves that you do. If you can't find cards, Vintage Breaks is your solution.
FUN! Cards are our passion! Isn't is just more fun to chat with other collectors? Come hang with us and other collectors just like you during our breaks!
A Vintage Breaks, we have our main breaking show in New Jersey (The North), to go with our night owls in the South (Georgia), and the West (Arizona). You can always check our CALENDAR to see when we're breaking.
VINTAGE BREAKS IS BUYING!
If you have sealed wax, vintage or modern, that you are considering selling, contact us today to discuss or get our industry-leading purchase offer. We're always interested in both sealed products of both sport and non-sport. Whether you have that pack of 1977 Star Wars, that rare 1955 Bowman cello pack, a wax box of 1984 Topps football, Pokémon, or 2019 Panini National Treasures basketball you'd like to sell, we'd love to hear from you!
CONTACT US ANY TIME
If you have any questions about a product, break, shipping, or even if you're interested in SELLING a collection, reach out any time!