Not long after pulling a Michael Jordan Green Precious Metal Gem /10 in our card breaks for you, we pulled another stunner of an MJ insert from 2021 Metal Universe - take a look at this Jambalaya insert valued at over $1,000!
2021 Metal Universe has thrown it back to the 1990s and we LOVE IT. The pulls we're seeing take us back to when gas was about $1 a gallon, we had a crush on all the Spice Girls, and we pretended not to like Titanic (it really was a great movie.) because we were too cool. The latest pull from Metal Universe has that 90's feel with a throwback to the 1997 Skybox JAMBALAYA insert. Look at the 2021 version of the Michael Jordan card: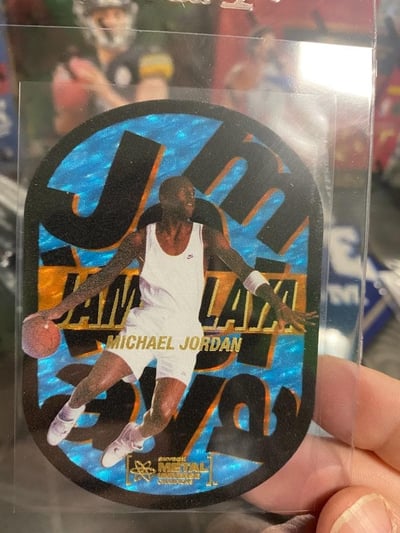 You can see the shape is just like the 1997 version here - rounded top and bottom with the straight edges on the sides. Jordan is mid-flight, ready to throw down an iconic dunk in this card. That block lettering and color mix you see is legit all 1990's, right? The back of the card has a cool purple and blue color mix with MJ's stats and that Skybox logo in the bottom left we remember.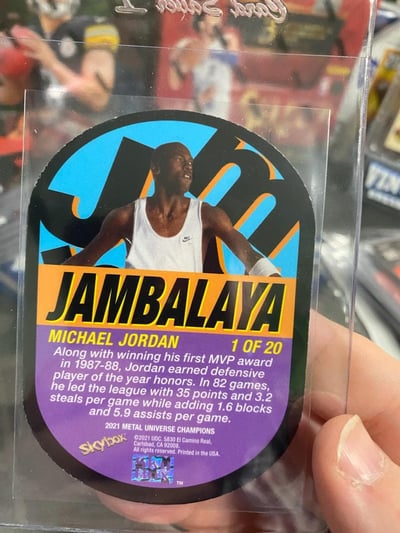 VIDEO OF THE MICHAEL JORDAN JAMBALAYA PULL:
Congrats to Ryan Steele for pulling this throwback; the value is over $1,000 ungraded! S10, the breaker, is feeling much better today. Under the weather during this break, he still had the hot hands. Imagine what S10 can do when he's healthy! Let's find out -you can hop into any of our card breaks 24x7 here:
WHY CHOOSE VINTAGE BREAKS?
Vintage Breaks offers THE BEST VALUE IN BREAKING.
When you check out for a spot on the site, the price you see is the price you pay. Taxes and shipping are included! Your cards always come protected in holders. The last time you mailed a package out had to have set you back more than three bucks, right? If you buy a $3.00 spot, you get your card holdered and shipped for that price.
Lack of product in stores has been a problem; we see the same empty shelves that you do. If you can't find cards, Vintage Breaks is your solution.
FUN! Cards are our passion! Isn't is just more fun to chat with other collectors? Come hang with us and other collectors just like you during our breaks!
A Vintage Breaks, we have our main breaking show in New Jersey (The North), to go with our night owls in the South (Georgia), and the West (Arizona). You can always check our CALENDAR to see when we're breaking.
VINTAGE BREAKS IS BUYING!
If you have sealed wax, vintage or modern, that you are considering selling, contact us today to discuss or get our industry-leading purchase offer. We're always interested in both sealed product of both sport and non-sport. Whether you have that pack of 1977 Star Wars, that rare 1955 Bowman cello pack, a wax box of 1984 Topps football, Pokémon, or 2019 Panini National Treasures basketball you'd like to sell, we'd love to hear from you!
CONTACT US ANY TIME
If you have any questions about a product, break, shipping, or even if you're interested in SELLING a collection, reach out any time!