Precious Metal Gems are back and just as valuable as ever.
When the 2021 Upper Deck Skybox Metal Universe was released, we knew the immense potential this product had to offer. Inserts that were first introduced to collectors in the late 1990s can be found in this new release: Michael Jordan Autographs, Jambalaya, and Precious Metal Gems. The latter, PMG, is one of the most popular inserts of the era, and when you combine the popular insert with a player of Ken Griffey Jr's caliber, you know you have something special. In our first box break of the product, we hit a Ken Griffey Jr. Precious Metal Gems insert and it is beautiful.
Bennett Page is the lucky one who gets to add this to his collection. The Ken Griffey Jr. PMG is numbered out of 150! Congratulations Bennett!
The 2021 Upper Deck Skybox Metal Universe had plenty of big hits still waiting to be pulled. You can learn more about the product here.
If you'd like to purchase a spot in the next break, you can do so here.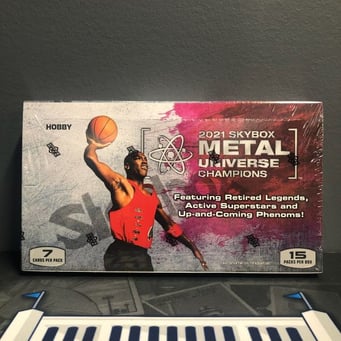 The fun part of Vintage Breaks is that you can see your packs being opened live. Check out the video of the Griffey pull below.
Purchase your spots now and maybe the next big hit will be yours!
WHY CHOOSE VINTAGE BREAKS?
Vintage Breaks offers THE BEST VALUE IN BREAKING.
When you check out for a spot on the site, the price you see is the price you pay. Taxes and shipping are included! Your cards always come protected in holders. The last time you mailed a package out had to have set you back more than three bucks, right? If you buy a $3.00 spot, you get your card holdered and shipped for that price.
Lack of product in stores has been a problem; we see the same empty shelves that you do. If you can't find cards, Vintage Breaks is your solution.
FUN! Cards are our passion! Isn't is just more fun to chat with other collectors? Come hang with us and other collectors just like you during our breaks!
A Vintage Breaks, we have our main breaking show in New Jersey (The North), to go with our night owls in the South (Georgia), and the West (Arizona). You can always check our CALENDAR to see when we're breaking.
VINTAGE BREAKS IS BUYING!
If you have sealed wax, vintage or modern, that you are considering selling, contact us today to discuss or get our industry-leading purchase offer. We're always interested in both sealed products of both sport and non-sport. Whether you have that pack of 1977 Star Wars, that rare 1955 Bowman cello pack, a wax box of 1984 Topps football, Pokémon, or 2019 Panini National Treasures basketball you'd like to sell, we'd love to hear from you!
CONTACT US ANY TIME
If you have any questions about a product, break, shipping, or even if you're interested in SELLING a collection, reach out any time!