Your chance to pull a Michael Jordan or Wayne Gretzky rookie card is here this week! You could also take home vintage cards of legends like Mickey Mantle or Joe Namath, too. Take a look at our newest set breaks available here at Vintage Breaks with iconic sets and cards!
This week Vintage Breaks has several new set breaks available for you to buy into including iconic sets like 1986 Fleer basketball with a Michael Jordan rookie card or 1979 O-Pee-Chee hockey with a Wayne Gretzky rookie card. We have vintage sets available to you know with your shot at a Mickey Mantle card or Joe Namath card. Here a few set breaks we know you'd enjoy!
1979 O-PEE-CHEE HOCKEY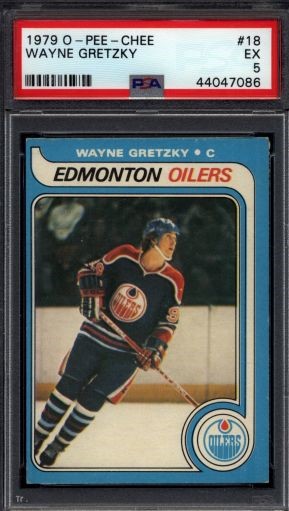 The rookie card of The Great One! 1979 OPC hockey has a total of 396 cards, so we are offering 396 total spots. One spot = 1 card - no skunking here at Vintage Beaks! Once all spots are sold for the set break, we'll will go live on our website and platforms where you can watch the entire break, including the randomization of names. After the randomization, the number corresponding with your name is the card you will receive from the set break. Example - if your name lands in spot 18 after the random, you will take home that exact Wayne Gretzky rookie card above!
This 1979 OPC Hockey set break has the Wayne Gretzky rookie card graded PSA 5, the Bobby Hull card graded PSA 8, and the balance of the set ranging from VG/EX to Near Mint.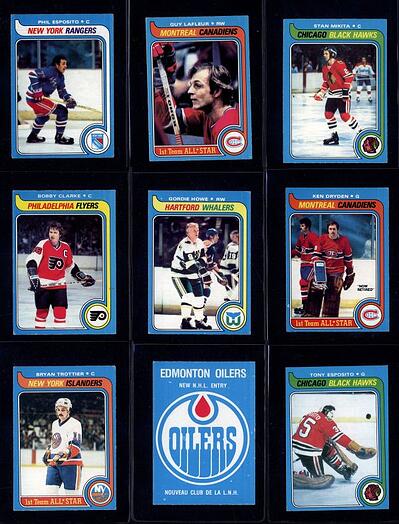 Taxes, shipping, and holders for your cards are included with the purchase price, as well. The price you see on the website is the price you'll pay; no hidden fees! To get a spot in the 1979 OPC Hockey set break, the price is only $19.50 and you can purchase spots HERE:
1986-87 FLEER BASKETBALL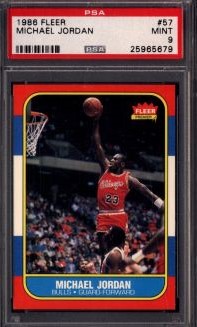 From one GOAT to the next! Here is a 1986-87 Fleer basketball set break featuring a Michael Jordan rookie card graded PSA 9! All 132 cards from the set are included in the break with other highlights like a Charles Barkley rookie card graded PSA 9, and the Karle Malone rookie graded PSA 9. You can pull early cards of Larry Bird or Magic Johnson, and maybe the rookie card of Patrick Ewing. Wish we could go back in time when you and I were collecting those wood-bordered Topps baseball cards that are now worth less than the price we paid in 1987 and tell ourselves out these Fleer basketball cards...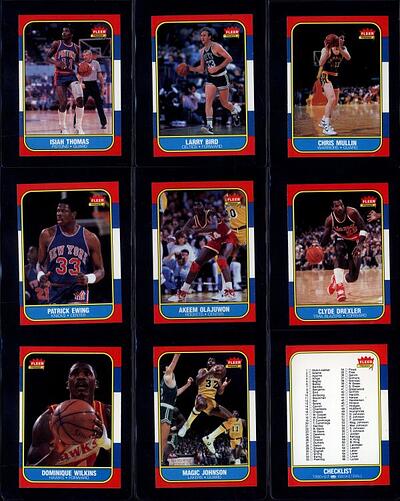 The value of a Jordan card in a PSA 9 is around $25,000 currently! Each spot in the break is $450 here:
1988 FLEER BASKETBALL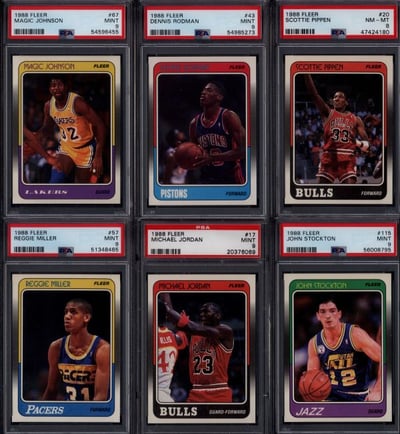 We know that $450 may be out of your price range but you'd love an early Michael Jordan card. There is also a 1988 Fleer basketball set break that includes a PSA 9 Michael Jordan as well as PSA 9 cards for rookies of Reggie Miller and Dennis Rodman. A PSA 8 Scottie Pippen rookie card is also in the set. All 132 cards are in the set break and a price of only $35 per spot here:
1970 TOPPS FOOTBALL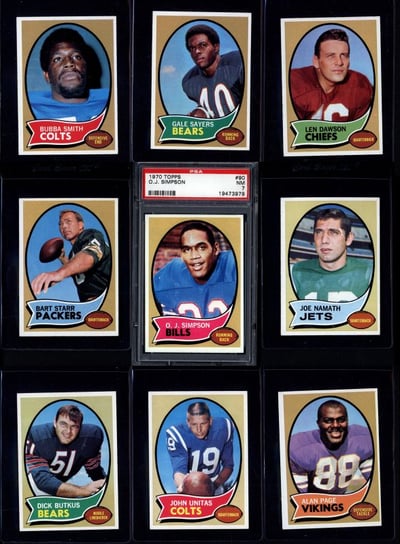 With the NFL playoffs on the horizon, this 1970 Topps football set break here at the right time; pigskin fever is high! There are only 236 cards in the '70 set and is stocked with big names like Joe Namath, Bart Starr, Johnny Unitis, and a PSA 7 OJ Simpson rookie card. The price point is one of the best available at just $13.50 per spot here:
1958 TOPPS BASEBALL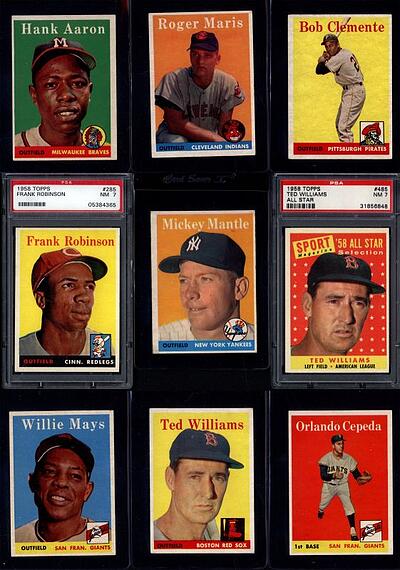 So. Many. Hall of Famers. The 1958 Topps baseball set break today has us hoping that that players and owners can fix the MLB lockout situation in the next few weeks so baseball can start on time! There are 494 cards in the '58 set including Mickey Mantle, Hank Aaron, Willie Mays, Ted Williams, Frank Robinson, and the Roger Maris rookie card! The purchase price per spot is very affordable at $17.50 here:
If you're looking to land a legendary card for your collection like the Michael Jordan rookie card, or you're looking to start building a set, these set breaks offer you a great opportunity! If you have any questions on either set break or product, don't hesitate to reach out! Vintage Breaks is must-see Breaking TV when we go live!

Don't forget about our big EVENT! We're giving away over 15,000 in prizes including a T206 Ty Cobb, a 2020 Prizm Football Box, thousands of dollars in break credit and more! For details, just click:
WHY CHOOSE VINTAGE BREAKS?
Vintage Breaks offers THE BEST VALUE IN BREAKING.
When you check out for a spot on the site, the price you see is the price you pay. Taxes and shipping are included! Your cards always come protected in holders. The last time you mailed a package out had to have set you back more than three bucks, right? If you buy a $3.00 spot, you get your card holdered and shipped for that price.
Lack of product in stores has been a problem; we see the same empty shelves that you do. If you can't find cards, Vintage Breaks is your solution.
FUN! Cards are our passion! Isn't is just more fun to chat with other collectors? Come hang with us and other collectors just like you during our breaks!
A Vintage Breaks, we have our main breaking show in New Jersey (The North), to go with our night owls in the South (Georgia), and the West (Arizona). You can always check our CALENDAR to see when we're breaking.
VINTAGE BREAKS IS BUYING!
If you have sealed wax, vintage or modern, that you are considering selling, contact us today to discuss or get our industry-leading purchase offer. We're always interested in both sealed product of both sport and non-sport. Whether you have that rare 1955 Bowman cello pack, a wax box of 1984 Topps football, 1977 Topps Star Wars, Pokémon, or 2019 Panini National Treasures basketball you'd like to sell, we'd love to hear from you!
CONTACT US ANY TIME
If you have any questions about a product, break, shipping, or even if you're interested in SELLING a collection, reach out any time!