"Please be an auto - please be an auto - PLEASE BE AN AUTO!" Ask and you shall receive from the Card Gods, S10! Our breaker, S10, just pulled a 2017-18 Prizm Fast Break Disco rookie auto of Celtics star, Jayson Tatum!
S10 was all of us during this break. While breaking a box of 2017-18 Prizm Fast Break basketball, pack five brought the goods! When Thomas Moody has his packed broken, the third card was upside down. The name on the back was Jayson Tatum, the Boston Celtics star, and the hit of the product. S10 froze for a second. He then did what you and we do all the time - asked the Card Gods for that card to be an auto.
VIDEO OF THE JAYSON TAUTM ROOKIE ATUO:
AUTO INDEED! Congrats to Thomas for this hit! Right now Tatum is averaging 30.3 ppg and his Celtics have the second-best record in the NBA. We checked recent sales and the last raw copy of this card sold for $1,430. The price for the last PSA 10 that sold is $2,286. Not bad for a spot that was only $65!
Can we take a look at S10's face once more when he saw the back of this card as he opened the pack?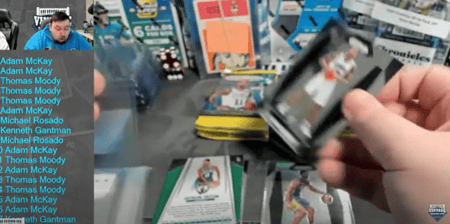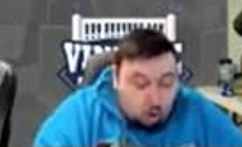 We're with you, S10 - we're with you. Shout out to the head of our shipping team, Kris, too. Kris isn't a basketball fan. In fact, while opening the previous pack, she said that Dirk Nowitzki played for "the blue team." She did know this Tatum card was a BIG pull, though, and she's already getting it packaged up to send out to Thomas ASAP!
If you want to try and pull a Tatum auto for yourself, we do have more spots available! Or maybe you want a player from the blue team...
You can get your 2017-18 Prizm Fast Break spots here for $65 per pack:
WHY CHOOSE VINTAGE BREAKS?
Vintage Breaks offers THE BEST VALUE IN BREAKING.
When you check out for a spot on the site, the price you see is the price you pay. Taxes and shipping are included! Your cards always come protected in holders. The last time you mailed a package out had to have set you back more than three bucks, right? If you buy a $3.00 spot, you get your card holdered and shipped for that price.
Lack of product in stores has been a problem; we see the same empty shelves that you do. If you can't find cards, Vintage Breaks is your solution.
FUN! Cards are our passion! Isn't is just more fun to chat with other collectors? Come hang with us and other collectors just like you during our breaks!
A Vintage Breaks, we have our main breaking show in New Jersey (The North), to go with our night owls in the South (Georgia), and the West (Arizona). Our brand new show, VB Mid-West is also coming to you live during the morning! You can always check our CALENDAR to see when we're breaking.
VINTAGE BREAKS IS BUYING!
If you have sealed wax, vintage or modern, that you are considering selling, contact us today to discuss or get our industry-leading purchase offer. We're always interested in both sealed product of both sport and non-sport. Whether you have that pack of 1977 Star Wars, that rare 1955 Bowman cello pack, a wax box of 1984 Topps football, Pokémon, or 2019 Panini National Treasures basketball you'd like to sell, we'd love to hear from you!
CONTACT US ANY TIME
If you have any questions about a product, break, shipping, or even if you're interested in SELLING a collection, reach out any time!