On Sunday, we gave away incredible prizes during our Baseball is Here Event including a 1956 Topps Roberto Clemente graded PSA 6. If you missed the event live, we have the recap for you; check to see if YOU won a prize!
We celebrated return of baseball last month by doing what we love - giving you prizes! When the MLB season started, we began the Baseball is Here Event. From the start of the season until 10:00 PM April 30th, we awarded entries to win six prizes including cards like a PSA 6 1956 Topps Roberto Clemente, a PSA 10 Topps Chrome Update Shohei Ohtani rookie, and even a full box 0f 2022 Topps National Treasures baseball. We always award our prizes the same way we complete our breaks - LIVE for you to watch. If you missed our event live, we want to give you a recap both to congratulate our winners and for you to check if YOU won!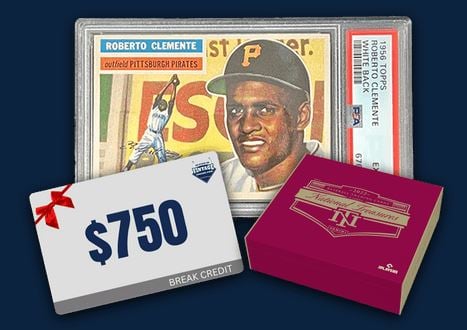 1956 Topps Roberto Clemente PSA 6 = Larry Herbinaeux
$750 Break Credit to Vintage Breaks = Rhyan Kyle
2022 National Treasures Baseball Box = David Tanner

2018 Topps Chrome Shohei Ohtani rookie PSA 10 = Stephen Garrett
$100 Break Credit to Vintage Breaks = Adam McKay
$50 Break Credit to Vintage Breaks + VB Merchandise = Jeff White
Congratulations to Larry, Rhyan, David, Stephen, Adam, and Jeff! We love offering you several opportunities to win a prize here at VB. Each prize that Stephen, Adam, and Jeff won were all FREE! This "BAM", or Break-A-Maniac, prize was one you could not buy into; we gave spots away for things such as making us laugh, doing something kind, or winning trivia in our chats. The prizes that Larry, Rhyan, and David won are just that - prizes. Each still received the cards, packs, and boxes of the breaks they joined to gain an entry into this event; the prizes are just an extra thank you from us.
Make sure to follow us here at VB and keep an eye out for our NEXT event! You may wind up winning big just list these Break-A-Maniacs.
WHY CHOOSE VINTAGE BREAKS?
Vintage Breaks offers THE BEST VALUE IN BREAKING.
When you check out for a spot on the site, the price you see is the price you pay. Taxes and shipping are included! Your cards always come protected in holders. The last time you mailed a package out had to have set you back more than three bucks, right? If you buy a $3.00 spot, you get your card holdered and shipped for that price.
Lack of product in stores has been a problem; we see the same empty shelves that you do. If you can't find cards, Vintage Breaks is your solution.
FUN! Cards are our passion! Isn't is just more fun to chat with other collectors? Come hang with us and other collectors just like you during our breaks!
A Vintage Breaks, we have our main breaking show in New Jersey (The North), to go with our night owls in the South (Georgia), and the West (Arizona). Our brand new show, VB Mid-West is also coming to you live during the morning! You can always check our CALENDAR to see when we're breaking.
VINTAGE BREAKS IS BUYING!
If you have sealed wax, vintage or modern, that you are considering selling, contact us today to discuss or get our industry-leading purchase offer. We're always interested in both sealed product of both sport and non-sport. Whether you have that pack of 1977 Star Wars, that rare 1955 Bowman cello pack, a wax box of 1984 Topps football, Pokémon, or 2019 Panini National Treasures basketball you'd like to sell, we'd love to hear from you!
CONTACT US ANY TIME
If you have any questions about a product, break, shipping, or even if you're interested in SELLING a collection, reach out any time!