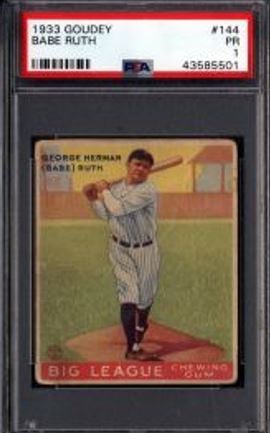 If there is one baseball card you want to own, it's a Babe Ruth; there is no player more iconic in the history of the game than The Babe. We just listed a new break of 1933 Goudey baseball cards that includes a graded Babe Ruth! Check out how you can get in on our latest card breaks and try to land The Great Bambino!
The Sultan of Swat! The King of Crash! We can't say that without using our Sandlot voice. You have the opportunity today to land yourself an authentic Babe Ruth baseball card from the 1933 Goudey set.
1933 GOUDEY BREAK WITH BABE RUTH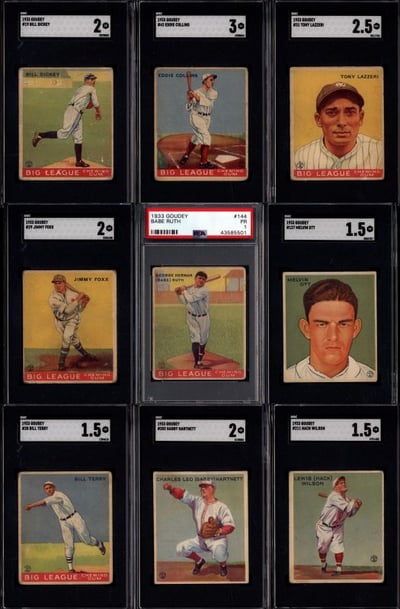 We JUST listed a brand new partial set break of 120 cards, all from the 1933 Goudey baseball set!
The set was released at time when the US was in a rough spot; America was in the midst of The Great Depression. Back when hardly anyone could spare a few pennies to pick up packs of gum in hopes of pulling a card of their favorite ball players, Goudey took a gamble and released the 1933 set. We're grateful this set has stood the test of time for us to appreciate today. You may recall your grandparents or parents collecting these cards and telling you stories of how they wished they held onto their cards. This exact batch of cards survived all the moms cleaning out bedrooms and is coming your way in our break.
For the break, we have selected 120 cards from the 240-card set for you, and we picked out some of the most incredible cards to be included. The main attraction is card #144 - Babe Ruth! This particular card features The Babe taking one of his legendary cuts. We've already graded the Ruth for you with PSA, too, saving you the time and fees it would normally take to grade cards.
Highlights of cards included in the break:
Babe Ruth #144 PSA 1
Jimmy Foxx # 29 SGC 2.5
Mel Ott #127 SGC 1.5
Bill Dickey #19 SGC 2
Eddie Collins #42 SGC 3
Hack Wilson #211 SGC 1.5
The 120 cards in the break range from FR/GD to VG/EX and averages GD to VG condition.

For all details and how you can buy into the 1933 Goudey partial set break at only $275 per spot, click:
We do all of our breaks live so you can watch your card being pulled. Here's a sample of one of our set breaks:
WHY CHOOSE VINTAGE BREAKS?
Vintage Breaks offers THE BEST VALUE IN BREAKING.
When you check out for a spot on the site, the price you see is the price you pay. Taxes and shipping are included! Your cards always come protected in holders. The last time you mailed a package out had to have set you back more than three bucks, right? If you buy a $3.00 spot, you get your card holdered and shipped for that price.
Lack of product in stores has been a problem; we see the same empty shelves that you do. If you can't find cards, Vintage Breaks is your solution.
FUN! Cards are our passion! Isn't is just more fun to chat with other collectors? Come hang with us and other collectors just like you during our breaks!
A Vintage Breaks, we have our main breaking show in New Jersey (The North), to go with our night owls in the South (Georgia), and the West (Arizona). You can always check our CALENDAR to see when we're breaking.
VINTAGE BREAKS IS BUYING!
If you have sealed wax, vintage or modern, that you are considering selling, contact us today to discuss or get our industry-leading purchase offer. We're always interested in both sealed product of both sport and non-sport. Whether you have that rare 1955 Bowman cello pack, a wax box of 1984 Topps football, 1977 Topps Star Wars, Pokémon, or 2019 Panini National Treasures basketball you'd like to sell, we'd love to hear from you!
CONTACT US ANY TIME
If you have any questions about a product, break, shipping, or even if you're interested in SELLING a collection, reach out any time!