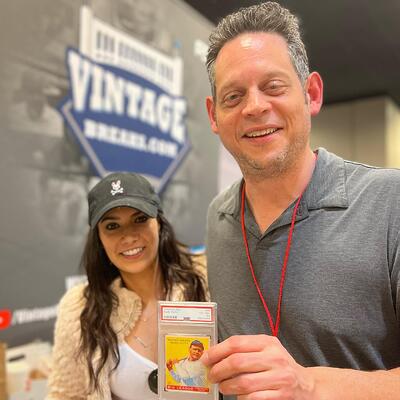 MLB host and sports reporter, Alex Giaimo, paid a visit to the Vintage Breaks booth while attending The Philly Show last weekend. She wanted to take some time to chat and see her "holy grail" card in person. That card is the 1933 Goudey Babe Ruth graded a 4.5 by PSA. A collector herself, she once hit it big with a 2019 Bowman Chrome one of one Superfractor from a break. Speaking of hitting it big, you can hit the exact Babe Ruth card Alex came to see in our 250 Card Vintage Hit Random.
Even if the 1933 Goudey Babe Ruth isn't your "holy grail" card, it could be the 1956 Topps Mickey Mantle (PSA 5), the 1948 Leaf Warren Spahn (PSA 1.5), or the 1955 Topps Hank Aaron 2nd year card (SGC 4.5): all of which are available in our Hit Random. In addition to the Mantle, Spahn, and Aaron, the other top hits include:
1956 Topps Ted Williams (SGC 4.5)
1960 Topps Willie Mays (PSA 6)
1969 Topps Reggie Jackson (SGC 5)
1959 Topps Johnny Unitas (PSA 7)
1959 Topps Roberto Clemente (PSA 5)
1967 Topps Mickey Mantle (SGC 3.5)
1967 Topps Hank Aaron (PSA 6)
1988 Fleer All-Star Michael Jordan (PSA 9)
There are a total of 250 cards available in our Hit Random. To view the entire list of cards and to purchase your spot in the break, click here:
Here is a video of a Hit Random to see how the break will take place:
WHY CHOOSE VINTAGE BREAKS?
Vintage Breaks offers THE BEST VALUE IN BREAKING.
When you check out for a spot on the site, the price you see is the price you pay. Taxes and shipping are included! Your cards always come protected in holders. The last time you mailed a package out had to have set you back more than three bucks, right? If you buy a $3.00 spot, you get your card holdered and shipped for that price.
Lack of product in stores has been a problem; we see the same empty shelves that you do. If you can't find cards, Vintage Breaks is your solution.
FUN! Cards are our passion! Isn't is just more fun to chat with other collectors? Come hang with us and other collectors just like you during our breaks!
A Vintage Breaks, we have our main breaking show in New Jersey (The North), to go with our night owls in the South (Georgia), and the West (Arizona). You can always check our CALENDAR to see when we're breaking.
VINTAGE BREAKS IS BUYING!
If you have sealed wax, vintage or modern, that you are considering selling, contact us today to discuss or get our industry-leading purchase offer. We're always interested in both sealed product of both sport and non-sport. Whether you have that packs of 1977 Star Wars, that rare 1955 Bowman cello pack, a wax box of 1984 Topps football, Pokémon, or 2019 Panini National Treasures basketball you'd like to sell, we'd love to hear from you!
CONTACT US ANY TIME
If you have any questions about a product, break, shipping, or even if you're interested in SELLING a collection, reach out any time!