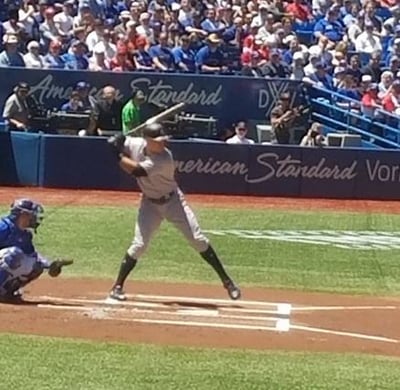 A decision has been made on where the Aaron Judge's historic 62nd home run baseball is heading. After turning down a MASSIVE offer for the ball, Cory Youmans is putting that treasured ball he caught from the AL MVP up for auction with Goldin.
Cory Youmans caught the ball that New York Yankees star, Aaron Judge, hit for his American League record 62nd home run. He could have met Judge and exchanged the ball for memorabilia but did not want to make the decision on the spot. After all, there was a massive bounty on the ball.
ESPN states Youmans turned down an offer of 3 MILLION dollars already! Instead the ball will he heading to auction with Goldin. You can see the ball and auction details HERE. Bidding starts on November 29th with an opening bid of one million dollars.
The record amount paid for a baseball is 3.05 million for the baseball Mark McGwire hit for his 70th home run (an MLB record at the time).
Two questions for you!
1. Do you think this Aaron Judge 62nd home run ball will break the all-time record (3.05 million)?
2. Would YOU have given the ball back to Judge rather than auctioning it off?
There is no wrong answer! We have breakers here at Vintage Breaks that would have given the ball back to Judge and others that are dreaming buying buying a sealed pack of 1952 Topps baseball in hopes of pulling a Mickey Mantle rookie card. Comment here on the blog or any of our social media pages:
If you're looking to pull an Aaron Judge card in any of our baseball cards we have a wide variety for you to choose from! To see our baseball card breaks simply click here:
We pulled an autographed Judge rookie card in our breaks before!
WHY CHOOSE VINTAGE BREAKS?
Vintage Breaks offers THE BEST VALUE IN BREAKING.
When you check out for a spot on the site, the price you see is the price you pay. Taxes and shipping are included! Your cards always come protected in holders. The last time you mailed a package out had to have set you back more than three bucks, right? If you buy a $3.00 spot, you get your card holdered and shipped for that price.
Lack of product in stores has been a problem; we see the same empty shelves that you do. If you can't find cards, Vintage Breaks is your solution.
FUN! Cards are our passion! Isn't is just more fun to chat with other collectors? Come hang with us and other collectors just like you during our breaks!
A Vintage Breaks, we have our main breaking show in New Jersey (The North), to go with our night owls in the South (Georgia), and the West (Arizona). You can always check our CALENDAR to see when we're breaking.
VINTAGE BREAKS IS BUYING!
If you have sealed wax, vintage or modern, that you are considering selling, contact us today to discuss or get our industry-leading purchase offer. We're always interested in both sealed product of both sport and non-sport. Whether you have that pack of 1977 Star Wars, that rare 1955 Bowman cello pack, a wax box of 1984 Topps football, Pokémon, or 2019 Panini National Treasures basketball you'd like to sell, we'd love to hear from you!
CONTACT US ANY TIME
If you have any questions about a product, break, shipping, or even if you're interested in SELLING a collection, reach out any time!