The National guide has all the information you need to make your visit easier.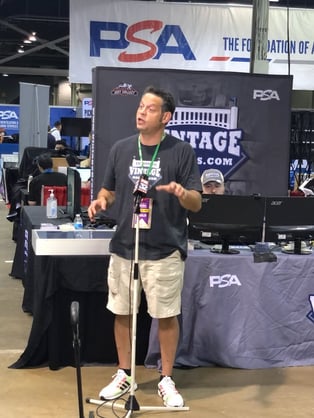 The National Sports Collectors Convention will be the place to be this week. People from all over the country will convene at the Atlantic City Convention Center to buy, trade, and sell while also reconnecting with old friends and meeting new people. There will be a lot to do at The National. With that in mind, we have compiled a guide for you that will help in your planning.
Vintage Breaks
Vintage Breaks will be at The National. Visit us at booth 936 on the show floor and in booths 5049 and 5050 in the breakers pavilion. Stop by and say hello and maybe take a photo with your favorite breakers.
Schedule
Tickets to The National can be purchased here.
The National show hours will be as follows:
Wednesday

3:30 PM - 8 PM
VIP entrance time is 3:30 PM
General Admission time is 4 PM
Thursday - Saturday

9:30 AM - 6 PM
VIP entrance time is 9:30 AM
General Admission entrance time is 10 AM
Sunday

9:30 AM - 5 PM
VIP entrance time is 9:30 AM
General Admission time is 10 AM
As mentioned earlier, there will be a lot happening this week at The National. To help you prepare and to make the most out of your time, the schedule of events can be found here.
Autographs
Autograph seekers will not be disappointed at the list of athletes appearing at The National. Top stars from a variety of sports will be present in the Autograph Pavilion. Here is a short example of who will be signing at The National this week.
Baseball

Rickey Henderson
Reggie Jackson
David Ortiz

Football

Barry Sanders
Joe Montana
Lawrence Taylor

Basketball

Julius Erving
Paul Pierce
Allen Iverson

Boxing

MMA
For a complete list of signers, schedules, and tickets, you can click the link here.
WHY CHOOSE VINTAGE BREAKS?
Vintage Breaks offers THE BEST VALUE IN BREAKING.
When you check out for a spot on the site, the price you see is the price you pay. Taxes and shipping are included! Your cards always come protected in holders. The last time you mailed a package out had to have set you back more than three bucks, right? If you buy a $3.00 spot, you get your card holdered and shipped for that price.
Lack of product in stores has been a problem; we see the same empty shelves that you do. If you can't find cards, Vintage Breaks is your solution.
FUN! Cards are our passion! Isn't is just more fun to chat with other collectors? Come hang with us and other collectors just like you during our breaks!
A Vintage Breaks, we have our main breaking show in New Jersey (The North), to go with our night owls in the South (Georgia), and the West (Arizona). You can always check our CALENDAR to see when we're breaking.
VINTAGE BREAKS IS BUYING!
If you have sealed wax, vintage or modern, that you are considering selling, contact us today to discuss or get our industry-leading purchase offer. We're always interested in both sealed product of both sport and non-sport. Whether you have that pack of 1977 Star Wars, that rare 1955 Bowman cello pack, a wax box of 1984 Topps football, Pokémon, or 2019 Panini National Treasures basketball you'd like to sell, we'd love to hear from you!
CONTACT US ANY TIME
If you have any questions about a product, break, shipping, or even if you're interested in SELLING a collection, reach out any time!