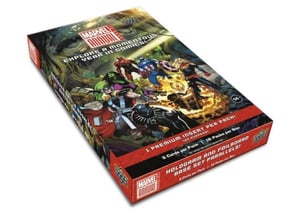 Spots are now available in our 2021 Upper Deck Marvel Annual Hobby Box. With 100 cards in the base set, 2021 Upper Deck Marvel Annual chronicles the memorable moments and characters that are paramount to Marvel's popularity.
Look for all-time favorites such as Captain America, Spider-Man, Black Panther and many more!
Variant Tier cards are included one per pack as well as insert cards which include Annual Impact, Humble Beginnings, Number 1 Spot, and Star Rookies. Among the limited parallels are the serially numbered Hologram cards and the Sparkling Foilboard which are new to this year's set.
The Lenticular Splash-ticular cards are included at one per box and have short prints and super short print versions.
The big hits include Sketch cards, Battle Booklet Sketches, and 1/1 Printing Plates. Autograph hits are also possible with Creators Corner cards that feature the signature of the artists, writers, and pencilers that are responsible for the creation of every comic book.
The design looks great! With each character leaping off the card, this will be a fun set to collect. This product is for everyone: the young and old alike. For those adults that have been collecting comic books since childhood, it is a remembrance of a time when things were simpler and going to the comic book store with your parents was exciting.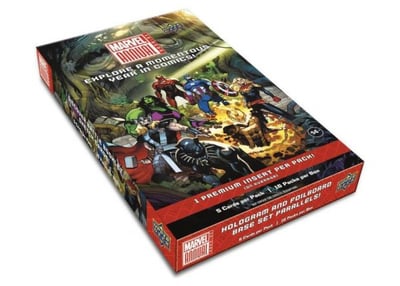 Reminisce with us or introduce your child to the wonderful world of Marvel Comics by purchasing your spot for only $17.50 here:
WHY CHOOSE VINTAGE BREAKS?
Vintage Breaks offers THE BEST VALUE IN BREAKING.
When you check out for a spot on the site, the price you see is the price you pay. Taxes and shipping are included! Your cards always come protected in holders. The last time you mailed a package out had to have set you back more than three bucks, right? If you buy a $3.00 spot, you get your card holdered and shipped for that price.
Lack of product in stores has been a problem; we see the same empty shelves that you do. If you can't find cards, Vintage Breaks is your solution.
FUN! Cards are our passion! Isn't is just more fun to chat with other collectors? Come hang with us and other collectors just like you during our breaks!
A Vintage Breaks, we have our main breaking show in New Jersey (The North), to go with our night owls in the South (Georgia), and the West (Arizona). You can always check our CALENDAR to see when we're breaking.
VINTAGE BREAKS IS BUYING!
If you have sealed wax, vintage or modern, that you are considering selling, contact us today to discuss or get our industry-leading purchase offer. We're always interested in both sealed product of both sport and non-sport. Whether you have that rare 1955 Bowman cello pack, a wax box of 1984 Topps football, 1977 Topps Star Wars, Pokémon, or 2019 Panini National Treasures basketball you'd like to sell, we'd love to hear from you!
CONTACT US ANY TIME
If you have any questions about a product, break, shipping, or even if you're interested in SELLING a collection, reach out any time!