The crown jewel of basketball cards could be yours in our newest set break! A PSA 8 Michael Jordan rookie card highlights our new 1986-87 Fleer basketball break. Read how you can land this monster pull.

Imagine owning the GOAT of basketball cards - a Michael Jordan rookie. How about owning that card for only $185? You read that correctly - just $185 for your shot at a PSA 8 1986-87 Fleer MJ rookie!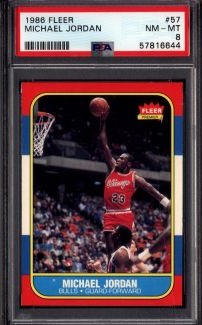 1986-87 FLEER BASKETBALL
When Topps left the hoops game after 1981-82, there was a void in the market. STAR came in and produced basketball sets as the only company with a license to print NBA cards. However, Star's cards came with low print runs that make the cards not readily available and rather than selling wax packs, the company sold cards in team bags. You can read about the STAR cards here from our sister company, Just Collect.
Fleer came back on the scene in 1986 and released a 132-card set. Cards were sold in wax packs again for about 40 cents per pack with 12 cards per pack + 1 sticker, and 36 packs per box. Travel back to 1986 when you had Zelda paused on your Nintendo or you turned down MTV as they played Aerosmith and Run DMC for the eight time that day (you still rocked out each time, though), because your parents brought you home a pack of Fleer cards they found at at the gas station as a little surprise for you. You tore into the wax, at the delicious (was it, though?) gum and put your eyes on your very first Michael Jordan card.
Until that '86 Fleer card, Michael Jordan didn't have a licensed, base-set issued rookie. You and I consider the Fleer MJ his true and most-desired rookie card, and with the NBA season in full swing, we had to offer you a chance to pull this iconic card in our new set break. Come party like it's 1986 again!
SET BREAK WITH MICHAEL JORDAN PSA 8 ROOKIE CARD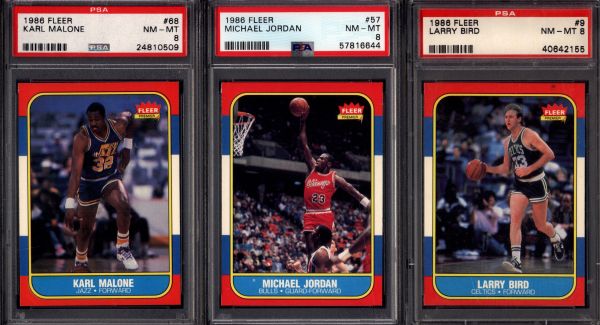 EVERY spot you buy in our 1986-87 Fleer basketball set break guarantees you 1 card; you will not go home empty-handed in this break. All 132 cards are included in the break so that PSA 8 MJ rookie IS available.
The Larry Bird card (#9) is graded PSA 8 as is Karl Malone (#68). The other cards in the set are not graded but range from EX/MT to NM/MT.
All the stars are here - Ewing, Magic, Barkely, Olajuwon, and more.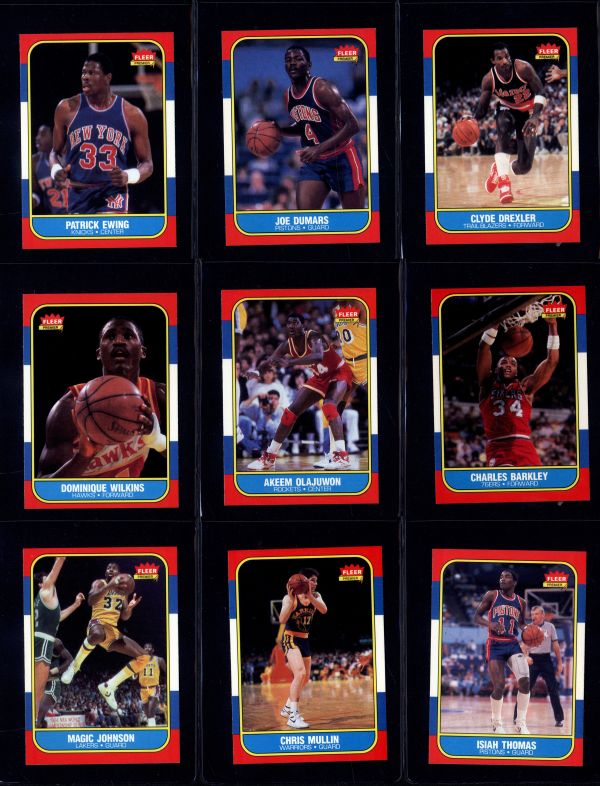 Each spot in the break is only $185, which includes tax, holder, and shipping! For every spot you purchase, you'll have the same odds as your neighbor - 1 in 132 to land card #57, Michael Jordan. If you've been looking at the secondary market you know that a PSA 8 MJ rookie is selling for around $10,000 right now; not a bad ROI on $185. The Set Break offers you a chance at a huge card for just a few dollars.. You also have the chance to build up your set at a lower cost - maybe you need that Karl Malone for your PC!
You can buy your spots HERE
If you're new to set breaks, here is a video of our last 1986-87 Fleer set break:
WHY CHOOSE VINTAGE BREAKS?
Vintage Breaks offers THE BEST VALUE IN BREAKING.
When you check out for a spot on the site, the price you see is the price you pay. Taxes and shipping are included! Your cards always come protected in holders. The last time you mailed a package out had to have set you back more than three bucks, right? If you buy a $3.00 spot, you get your card holdered and shipped for that price.
Lack of product in stores has been a problem; we see the same empty shelves that you do. Target has paused all card sales! If you can't find cards, Vintage Breaks is your solution!
FUN! Cards are our passion! Isn't is just more fun to chat with other collectors? Come hang with us and other collectors just like you during our breaks!
Even if you just want to watch the show, chat, and meet new collectors, that's always welcomed!
A Vintage Breaks, we have our main breaking show in New Jersey (The North), to go with our night owls in the South (Georgia), and the West (Arizona). You can always check our CALENDAR to see when we're breaking.
VINTAGE BREAKS IS BUYING!
If you have sealed wax, vintage or modern, that you are considering selling, contact us today to discuss or get our industry-leading purchase offer. We're always interested in both sealed product of both sport and non-sport. Whether you have that rare 1955 Bowman cello pack, a wax box of 1984 Topps football, 1977 Topps Star Wars, Pokémon, or 2019 Panini National Treasures basketball you'd like to sell, we'd love to hear from you!
CONTACT US ANY TIME
If you have any questions about a product, break, shipping, or even if you're interested in SELLING a collection, reach out any time!