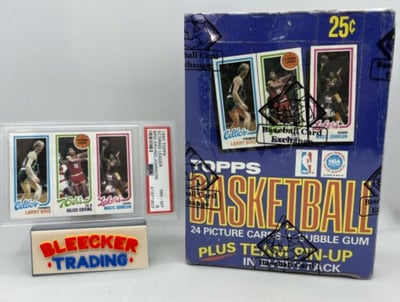 Your chance to own a Magic Johnson and Larry Bird rookie card is here! We just listed a brand new, special wax box break of 1980-81 Topps basketball that comes with three special bonuses in the break including a PSA-graded Magic-Bird rookie card!
The 1980 Topps Larry Bird - Magic Johnson - Dr. J card is one of the most iconic cards of all-time. Here you have rookie cards of Bird and Magic on THE SAME CARD alongside the legendary Dr. J. Last August, a PSA 10 example sold for $861,000! Today we are giving you a crack at pulling your very own Magic-Bird rookie card, not only straight out of a sealed wax box, but we're also adding in a graded card as a bonus in our special 1980 Topps basketball card break!
In partnership with Bleecker Trading we are proud to offer this 1980 Topps Basketball Wax Box Break. The wax box contains 36 packs with each pack holding 8 cards for a total of 288 total cards.
Each spot in this break will guarantee you 1 card from the wax box!
After all 288 spots are sold, we will open the box live on all of our channels for you to witness your historic break. All spots, 1-288, will be randomized on our show and you'll personally see each pack be opened. After we break the entire box and all 288 cards are given out, we will do a second random for the special bonuses including a PSA 8 Larry Bird - Magic Johnson rookie card!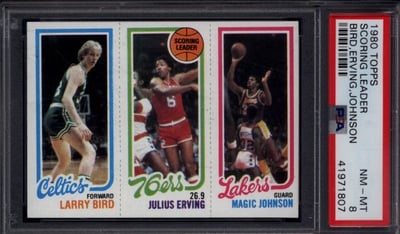 288 total spots (1 card from the 1980 Topps basketball wax box per spot)
1st bonus prize = PSA 8 Magic-Bird rookie card
3rd bonus prize = Bleecker Trading & Vintage Breaks Mystery Swag Bag
You could be lucky enough to pull a pack-fresh Magic-Bird rookie card live during the break AND then land on the PSA 8 Magic-Bird bonus rookie card! That $1,000 break credit to our site is as good as cash, too; you can buy anything you'd like over at VB with that credit.
If you're looking to land an iconic card for your personal collection or trying to complete your 1980 Topps basketball set break and need a few cards, don't miss out on this special break today. Just looking at this box with that original price of 25 cents per pack and all the wax goodness hiding inside...we can't wait to bring these cards to see their first glimpse of light ever!
Each spot = $295.00 and you can buy your spots by clicking HERE:
WHY CHOOSE VINTAGE BREAKS?
Vintage Breaks offers THE BEST VALUE IN BREAKING.
When you check out for a spot on the site, the price you see is the price you pay. Taxes and shipping are included! Your cards always come protected in holders. The last time you mailed a package out had to have set you back more than three bucks, right? If you buy a $3.00 spot, you get your card holdered and shipped for that price.
Lack of product in stores has been a problem; we see the same empty shelves that you do. If you can't find cards, Vintage Breaks is your solution.
FUN! Cards are our passion! Isn't is just more fun to chat with other collectors? Come hang with us and other collectors just like you during our breaks!
A Vintage Breaks, we have our main breaking show in New Jersey (The North), to go with our night owls in the South (Georgia), and the West (Arizona). You can always check our CALENDAR to see when we're breaking.
VINTAGE BREAKS IS BUYING!
If you have sealed wax, vintage or modern, that you are considering selling, contact us today to discuss or get our industry-leading purchase offer. We're always interested in both sealed product of both sport and non-sport. Whether you have that rare 1955 Bowman cello pack, a wax box of 1984 Topps football, 1977 Topps Star Wars, Pokémon, or 2019 Panini National Treasures basketball you'd like to sell, we'd love to hear from you!
CONTACT US ANY TIME
If you have any questions about a product, break, shipping, or even if you're interested in SELLING a collection, reach out any time!