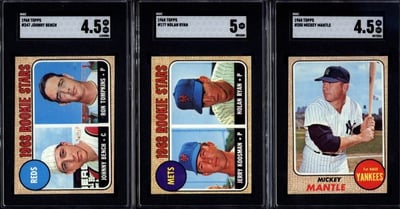 Your chance to take home the most affordable Nolan Ryan rookie card possible is here at Vintage Breaks! We just listed a complete set break of 1968 Topps baseball with a graded Nolan Ryan rookie. This set also has a Johnny Bench rookie card, Mickey Mantle, Willie Mays and more! See how you can get into these incredible card breaks.
Imagine owning a Nolan Ryan rookie card for just $17.50. Under twenty smackers for the rookie card of one of the greatest pitchers in MLB history? Yes, please. We just listed our newest set break and Mr. Seven No-Hitters is up for grabs in this complete 1968 Topps baseball set break.
1968 TOPPS BASEBALL SET BREAK
All 598 cards from the 1968 Topps set are in this break. We have already had SGC professionally grade the three big cards you're looking to land, too.
Nolan Ryan - Jerry Koosman (177) is graded SGC 5
Johnny Bench and Ron Tompkins (247) is graded SGC 4.5
Mickey Mantle (280) is graded SGC 4.5
The '68 set has plenty of Hall of Fame and Star cards including Hank Aaron, Tom Seaver, Willie Mays, Roberto Clemente, Pete Rose and many more names you either collected yourself as a kid or heard your dad tell you fun stories about putting his '68 Bench rookie in his bike spokes. The price for a spot in the set break is one of our best yet; only $17.50 per spot! Shipping is included the price, too! At that price, maybe you can buy dad a spot or two and see if you can replace his old Johnny Bench rookie.
As there are 598 cards in the set, only 598 spots in the break will be sold - this ensures that you will take home a card from the set. The list of name is always randomized LIVE on the show as the break occurs; you have the same chance as everyone else in the break to land the cards you desire.
For all information on the 1968 Topps baseball set break and how you can purchase a spot for only $17.50 per spot, click this button:
Here is a video of a set break of 1956 Topps baseball cards so you can see how the set breaks work:
WHY CHOOSE VINTAGE BREAKS?
Vintage Breaks offers THE BEST VALUE IN BREAKING.
When you check out for a spot on the site, the price you see is the price you pay. Taxes and shipping are included! Your cards always come protected in holders. The last time you mailed a package out had to have set you back more than three bucks, right? If you buy a $3.00 spot, you get your card holdered and shipped for that price.
Lack of product in stores has been a problem; we see the same empty shelves that you do. If you can't find cards, Vintage Breaks is your solution.
FUN! Cards are our passion! Isn't is just more fun to chat with other collectors? Come hang with us and other collectors just like you during our breaks!
A Vintage Breaks, we have our main breaking show in New Jersey (The North), to go with our night owls in the South (Georgia), and the West (Arizona). You can always check our CALENDAR to see when we're breaking.
VINTAGE BREAKS IS BUYING!
If you have sealed wax, vintage or modern, that you are considering selling, contact us today to discuss or get our industry-leading purchase offer. We're always interested in both sealed product of both sport and non-sport. Whether you have that rare 1955 Bowman cello pack, a wax box of 1984 Topps football, 1977 Topps Star Wars, Pokémon, or 2019 Panini National Treasures basketball you'd like to sell, we'd love to hear from you!
CONTACT US ANY TIME
If you have any questions about a product, break, shipping, or even if you're interested in SELLING a collection, reach out any time!