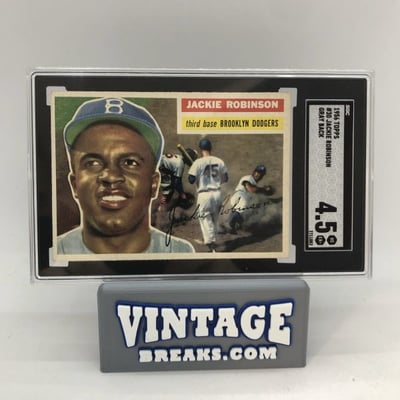 Available now on Vintage Breaks is our Special 300 Spot Baseball Mixer with the top prize being a 1956 Topps Jackie Robinson SGC 4.5. This special baseball mixer will be hosted by Leighton "L-Train" Sheldon!
In addition to Jackie Robinson, those in the break will also be in the running for a spot in a 2021 National Treasures Baseball Box, 2021 Topps Five Star box, and 2021 Panini Immaculate Baseball box.
This mixer is a beautiful blend of vintage and ultra-modern baseball cards. For some, the sight of the 1956 Topps design will bring back memories of opening packs, trading them with friends and then inserting the players they didn't like in the spokes of their bikes as they rushed home to listen to the game on the radio or watch it on TV. For others, it's a reminder of how cool it must have been to be able to purchase a pack of baseball cards for as little as 1 penny.
The ultra-modern cards give participants the opportunity to pull a card that can potentially be life changing while showcasing the beauty of today's standards that were not thought possible just 30 years ago.
No matter what your preference, this is a mixer for all collectors. The breakdown of prizes is as follows:
Top Prize:

1956 Topps Jackie Robinson SGC 4.5
2nd Place

: $250 break credit to Vintage Breaks

3rd - 10th place:

a spot in the 2021 National Treasures Baseball Box

11th & 12th place:

a spot in the 2021 Topps Five Star Box

13th - 18th place:

a spot in the 2021 Panini Immaculate Baseball Box

19th & 20th place: $50 Just Collect eBay store credit
The remaining spots from 21 - 300 will receive a random vintage baseball card from the 1950's or 1960's.
Purchase your spot to the Special 300 Spot Baseball Mixer for just $25 here:
WHY CHOOSE VINTAGE BREAKS?
Vintage Breaks offers THE BEST VALUE IN BREAKING.
When you check out for a spot on the site, the price you see is the price you pay. Taxes and shipping are included! Your cards always come protected in holders. The last time you mailed a package out had to have set you back more than three bucks, right? If you buy a $3.00 spot, you get your card holdered and shipped for that price.
Lack of product in stores has been a problem; we see the same empty shelves that you do. If you can't find cards, Vintage Breaks is your solution.
FUN! Cards are our passion! Isn't is just more fun to chat with other collectors? Come hang with us and other collectors just like you during our breaks!
A Vintage Breaks, we have our main breaking show in New Jersey (The North), to go with our night owls in the South (Georgia), and the West (Arizona). You can always check our CALENDAR to see when we're breaking.
VINTAGE BREAKS IS BUYING!
If you have sealed wax, vintage or modern, that you are considering selling, contact us today to discuss or get our industry-leading purchase offer. We're always interested in both sealed product of both sport and non-sport. Whether you have that rare 1955 Bowman cello pack, a wax box of 1984 Topps football, 1977 Topps Star Wars, Pokémon, or 2019 Panini National Treasures basketball you'd like to sell, we'd love to hear from you!
CONTACT US ANY TIME
If you have any questions about a product, break, shipping, or even if you're interested in SELLING a collection, reach out any time!