See the winner of the 1952 Topps Mickey Mantle rookie card as part of a set break of the 1952 Topps Baseball set.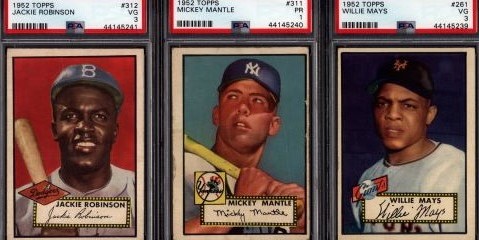 On the same night that Vintage Breaks gave away 15k in prizes including a T206 Ty Cobb as part of The National Event, we also did a 1952 Topps Baseball set break that included the Mickey Mantle rookie card. With this special break, we offered our customers the rare chance to get a Mickey Mantle rookie card for $395!
As you know, the 1952 Topps Mickey Mantle rookie card #311 is the holy grail of rookie cards. It also has the unfortunate luck of being part of the sixth series of the set. The sixth series is the final series in the set and thus wasn't released until Fall, but by then the interest in baseball cards had waned and collectors turned their attention to football. With a lot of inventory and nowhere for it to go, Topps made the decision to dump it into the Atlantic Ocean; adding to the allure of Mickey Mantle's rookie card.
Now, one person will get to claim the Mickey Mantle rookie card as their own. The set has other iconic cards including Willie Mays and Jackie Robinson. Without further ado, here are the winners of the key cards in the set:
#1 Andy Pafko PSA 1 - Danny Brewington
#11 Phil Rizzuto PSA 1.5 - Joseph Bunevith
#33 Warren Spahn PSA 3 (MC) - Lance Dobbins
#36 Gil Hodges PSA 3 - William Zeltner
#37 Duke Snider PSA 2 - Timothy Marley
#191 Yogi Berra PSA 2 - Brain Cartwright
#195 Minnie Minoso - Stewart Polo
#261 Willie Mays PSA 3 - Nick G
#311 Mickey Mantle PSA 1 - Josh Brueckner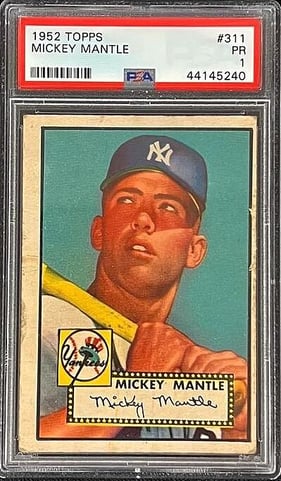 #312 Jackie Robinson PSA 3 - Stephen Bione
#314 Roy Campanella PSA 4 - Paul Kangas
#333 Pee Wee Reese PSA 3.5 - Brendan Mooney
#407 Ed Mathews PSA 2.5 - Zach Dickson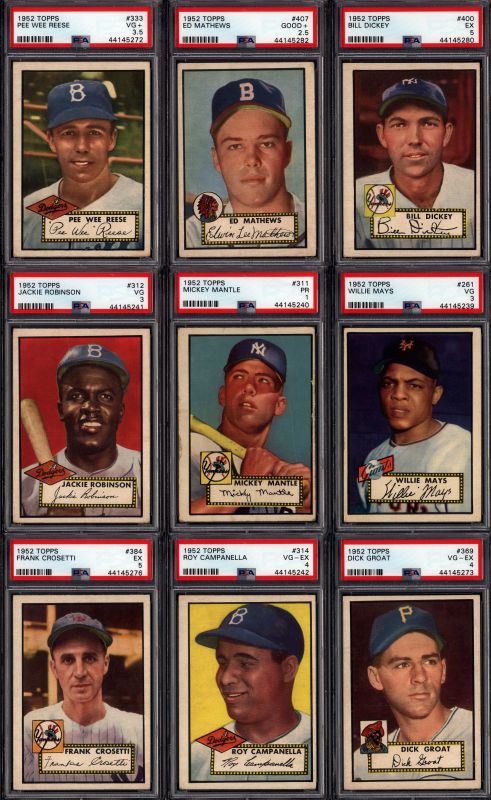 A complete list of names is available here.
Congratulations to Josh Brueckner on getting the Mantle rookie and thank you to everyone who participated.
You can also watch the action unfold below.
You can check out Vintage Breaks at any time. There, you can browse all of our products, and bonuses, and learn more about how our set breaks work. See you there!
WHY CHOOSE VINTAGE BREAKS?
Vintage Breaks offers THE BEST VALUE IN BREAKING.
When you check out for a spot on the site, the price you see is the price you pay. Taxes and shipping are included! Your cards always come protected in holders. The last time you mailed a package out had to have set you back more than three bucks, right? If you buy a $3.00 spot, you get your card holdered and shipped for that price.
Lack of product in stores has been a problem; we see the same empty shelves that you do. If you can't find cards, Vintage Breaks is your solution.
FUN! Cards are our passion! Isn't it just more fun to chat with other collectors? Come hang with us and other collectors just like you during our breaks!
At Vintage Breaks, we have our main breaking show in New Jersey (The North), to go with our night owls in the South (Georgia), and the West (Arizona). You can always check our CALENDAR to see when we're breaking.
VINTAGE BREAKS ARE BUYING!
If you have sealed wax, vintage or modern, that you are considering selling, contact us today to discuss or get our industry-leading purchase offer. We're always interested in both sealed products of both sport and non-sport. Whether you have that pack of 1977 Star Wars, that rare 1955 Bowman cello pack, a wax box of 1984 Topps football, Pokémon, or 2019 Panini National Treasures basketball you'd like to sell, we'd love to hear from you!
CONTACT US ANY TIME
If you have any questions about a product, break, shipping, or even if you're interested in SELLING a collection, reach out any time!